News
Used car values on the up in April – BCA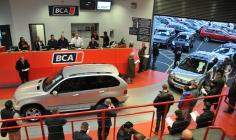 The headline average value of used cars increased £166 (2.2%) on previous months' figures to £7,553 in April, according to the BCA's latest Pulse report.
The rate constitutes the highest monthly value for 2014 so far and the second highest on record, contradicting the previous trend of significant falls being registered in the month of April.
The month also registered the second consecutive increase of fleet,lease and dealer sectors to record levels, as well as an improvement in nearly-new values.

However, BCA data also showed average performance against CAP Clean fell by 2.5% to 95.77%, seen as an indication of more pragmatic consumers considering performance compared to guide values.
The month of April also marked a £1,051 (16.6%) increase in used values, with both average vehicle age and mileage down to 61 months and 55,500 respectively.
Simon Henstock, operations director at BCA UK, said: "While average values continue to surge ahead, the market was much tougher in April than we have seen so far this year.
"Buyers were presented with greater choice as volumes rose and conversion rates came under pressure as a result."
He added: "There are signs that sellers are being more pragmatic about values, as performance against CAP Clean declinednoticeably compared to March.
"Dealer part-exchange vehicles saw performance fall over three points down to 93.3%, with fleet/lease vehicles falling by a similar margin from 98.5% to 95.6%."