News
Used car values' quarterly high, Q1 2013 – BCA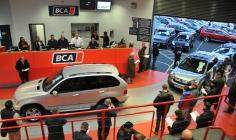 Following five months of used car prices at auction averaging above £6,500, including a record monthly high in December 2012, British Car Auctions (BCA) has reported a record quarterly high for average used car price performance for the opening three months of 2013.
The average value of a used car reached £7,064 between January and March 2013, 6.27% above the average for the previous quarter, and up by 15.54% on Q1 2012, itself a record high at the time.
According to BCA, the rise in prices suggests an increased importance of supply, although earlier this week vehicle valuation firm CAP advised second-hand stock availability was increasing with a potential and commensurate drop in prices expected.

Fleet and part-ex records
Average values for fleet and lease and for part exchange cars also hit record quarterly highs. Fleet and lease values were up 4.62% on Q4 2012 to £8,697 and up by 13.85% year-on-year. The average part exchange value stood at £3,568, up 10.60% quarter-on-quarter and 23.42% year-on-year. This included the highest-ever monthly value for part exchanges of £3,588, recorded in January.
Average mileage was down for the third consecutive quarter, by 1,500 miles to approximately 56,500 miles, the lowest since 2010.
Average fleet and lease mileages were roughly 3,000 miles below the figure for Q1 2012, which BCA believed could indicate fleet and lease operators are less likely to extend in-service periods or striving for greater efficiency in journeys.
richard.brown@timetric.com