News
Used car values rise again in May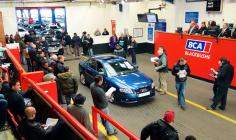 Used car values continued to climb incrementally in the private sector despite the oversupply of poor condition and high mileage vehicles continuing through May, according to remarketers British Car Auctions (BCA).
The rise in May 2014 compared to April was £44, taking the average price for a used car to £7,597. May prices were £552 above the same period in 2013, a rise of 7.8% with the average mileage and age remaining static over the 12 months.
Used car values against CAP also saw a rise on the previous year, with the figure now standing at 96.45% for May 2014 compared to 95.17% for May 2013. The figure also marked an increase in CAP Clean performance of nearly a percentage point after a sharp drop in April.

Dealer's were also offering better part-exchange values for the third month running, with averages reaching record levels in May. The value offered for part exchange rose by £66 to over £4,000. Year-on-year this marked an 8.4% or £330 increase in value, while the age and mileage of the vehicles exchanged were down on the year before.
Nearly new vehicles also increased in value for the third consecutive month. The average price was £21,502 in May, an increase on the previous month of £568. The figure represents a CAP Clean figure of 101% as the volumes of nearly new cars remains 'very low.'
Fleet and lease cars were the losers of the month, with values falling £87 compared to April. The dip in values however didn't affect the overall rise in used fleet values year-on-year with values having risen by £733 to £9,537. CAP Clean values were also nearly a point higher than in the previous year at 95.92%.