News
Used value slide appears halted – BCA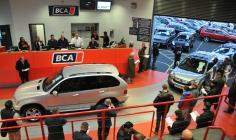 The average value at auction of a used car was up 17.37% year-on-year in June but down by 0.64% compared to May to £7,000, according to British Car Auctions (BCA).
June marked the fifth month out of six so far this year the average value has hit a minimum of £7,000, according to BCA's monthly Pulse Report, meaning the slide from December's high of £7,361 appears to have stabilised rather than continued further downward.
The average monthly used value for the first half of the year worked out at £6,958, compared to the first half of 2012 when the average monthly value was £5,987.

The average age of a car at auction was 59.90 months, down by 4.77% year-on-year, with average mileage down by 7.50% to 55,316 miles. However, average sale against CAP was down by 0.48ppts compared to a year ago at 95.70%.
Despite data from G3 Remarketing indicating the worth of vehicle refurbishment, Simon Henstock, UK operations director at BCA, said trade buyers were "showing less interest in cars requiring significant work to bring them up to 'showroom condition' unless these vehicles are priced very competitively."
Fleet and lease
Ex-fleet and lease vehicles hit an all-time high of £8,860 in June, up 0.64% on May and up 10.17% on June 2012.
At 95.74% the average sale against CAP improved from 94.80% in May but was down from the 96.81% a year ago.
Sale compared to manufacturer's retail price improved marginally month-on-month to 41.97% and up 1.78ppts on the value for June 2012.
Average mileage was 44,962 and average age was 39.44.
Part-ex and nearly new
Average values for part exchange vehicles dropped 0.70% from last month's record high to £3,692, up 28.64% year-on-year.
Part exchange values since the 13.47% month-on-month jump of December 2012 have remained above £3,500.
Year-on-year, the average mileage was down 4.43% to 71,573 and average age down 2.92% to 86.83 months while sale against CAP was up 1.7ppts to 94.47%.
The average value of nearly-new vehicles was down by 7.83% month-on-month to £18,360, with sale against CAP down by a percentage point to 97.50%. The average age at auction was 8.78 months and average mileage was 8,935.
richard.brown@timetric.com