News
VW Bank Ireland: Five years and €500m written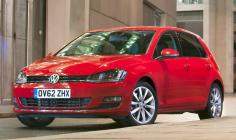 April 2013 marked five years since Volkswagen Bank opened for business in the Irish market, during which time the company has provided €500m in car loans to the nation's consumers.
The finance provider estimated it has "injected almost €2bn" into the Irish economy, with car loans for 2012 topping €125m.
Volkswagen said Volkswagen Bank's provision of flexible finance contributed to the brand's top position in Ireland, while the Bank also provided finance and support to the group's other marques: Audi, Seat and Škoda.

Mutlu Gur, general manager of Volkswagen Bank, said: "Volkswagen Bank has been in a position to deliver competitive and flexible finance options to consumers and businesses to meet their motoring needs. The finance packages offered by Volkswagen Bank have allowed our brands to continue to increase their share at a time when the industry was falling."