News
VWFS begins work on new UK headquarters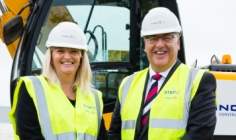 Volkswagen Financial Services (VWFS) has officially begun building a new four-storey headquarters in Milton Keynes, following a groundbreaking ceremony.
The ceremony took place at the site on Wednesday 31 July, and was attended by Graham Wheeler and Lisa Stacey, joint managing directors of VWFS, as well as local dignitaries.
The new grounds are due to be completed in late 2014, and will house all VWFS staff, who are currently deployed on two separate sites in Milton Keynes.

VWFS experienced strong growth in 2012, and grew by a further 5%, year-on-year, in H1 2013 and the new office has been designed to include future staff increases.
Wheeler said: "Our move to these new offices will allow us to remain close to our sister company, the Volkswagen Group in Yeomans Drive, and provide enough space for our future growth plans."