News
White Clarke Group opens Beijing Office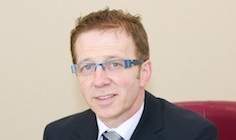 Automotive and asset finance software company White Clarke Group (WCG) has opened a new office in Beijing.
The opening was timed to coincide with the publication of WCG's latest industry white paper, "China – Asset and Auto Finance Country Survey 2013."
WCG has reported a rapid rise in requests for its services in the region, and is currently managing the implementation of its end-to-end technology platform system across China.

Brendan Gleeson, director of global business development and strategy for WCG, noted China is nowhere near its full potential, adding: "All the key drivers are in place – huge market size, fast growth rate and low penetration of leasing.
"New business volumes are forecast to grow by 30-50% in 2013 and government incentives are in place to encourage leasing activities in infrastructure development, renewable energy, and leasing finance for SMEs in particular."