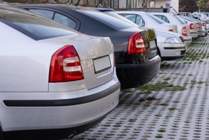 Ebbon-Dacs, an e-procurement specialist for major leasing and fleet management companies, has opened an office in Hamburg as part of a German fleet market expansion.
The UK, Oxford-based firm has formed Ebbon-Dacs Deutschland under country head, Hans-Christian Preymann, to replicate the success of the operation it set up in the Netherlands four years ago.
Ebbon-Dacs said its Netherlands office sources over 30,000 vehicles annually for Dutch fleet customers through its market-leading-procurement platform, Leaselink, including Athlon Car Lease, the country's largest leasing company.

Ebbon-Dacs has already begun talks with leasing and fleet management companies in Germany, with dealer groups, manufacturers and importers.
"This is a natural extension for us," said Robert Pilkington, managing director of the Leaselink International division of Ebbon-Dacs.
"We know that to build a successful solution in a major new market takes many years' effort, but by starting this process based on our second generation technology, we know we have a great starting point. We can also offer our UK customers who have a presence in Germany a powerful e-purchasing option."