Features
Europe: SUVs light up sales figure
Economic growth across the EU pushed car sales to a 10-year high last year, with growing consumer demand for SUVs more than compensating for negativity around diesel vehicles. Paul Golden assesses the state of play in the region.
At first glance, the European car market might have been expected to experience a challenging 2017 as the fallout from the VW scandal continued.
Yet a spokesperson for the European Automobile Manufacturers' Association (ACEA) notes that sales were up for the fourth year running – for the first time since 2007, more than 15 million new passenger cars were registered.

While consumers started to move away from diesel cars, overall sales grew on the back of strong results of the SUV segment. According to Felipe Munoz, global automotive analyst at market intelligence firm Jato, one of the most important factors in this trend was VW Group's increased focus on SUVs, after a number of years when its commitment to that market was less than robust.
"SUV was the big performer of the year, with volumes up by 19.5% to 4.56 million units," he says. "This means its market share jumped from 25.2% in 2016 to 29.3% last year. MPVs were the biggest losers as their registrations fell by 15.1% to 1.2 million units or 7.8% market share, the lowest since the turn of the century."
Mid-size sedans and compact cars also saw lower sales, partly because of the success of the mid-size and compact SUVs.
Loading ...
The main driver for the overall increase in sales was the improving macroeconomic climate across Europe, observes LMC Automotive EMEA analyst David Oakley.
The eurozone's GDP growth of 2.5% in 2017 was its strongest calendar-year increase in a decade, while the Russian economy emerged from recession to return to growth, he says.
"In addition, a number of other economic factors created a more favourable environment for consumers, such as falling unemployment and low levels of inflation. Meanwhile, the global upswing in trade benefited the manufacturing base of economies such as Germany and central and eastern Europe was boosted by increased EU funding."
Oakley notes that last year's upswing in demand for SUVs continued into the early months of 2018, with the segment recording a 30% market share across Europe in January, the first time that it had secured such a high percentage of total sales.
"Although that figure slipped back slightly to 29.6% in February, our full year 2018 forecast has the SUV pan-European market share at 29.8%," he continues. "Conventional body styles are losing out, with a year-to-date market share of 48.3% compared with 51.1% in the same period of 2017. This segment is set to stay below 50% for the foreseeable future, whereas a decade ago, a market share in excess of 60% would have been the norm."
The premium segment lost a little ground in the first two months of the year, but Oakley does not expect this trend to continue throughout the rest of the year, with LMC Automotive's current full year forecast standing at 16.6%.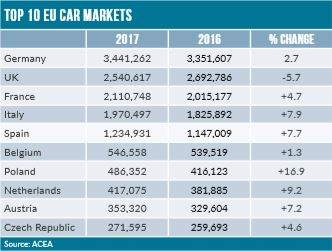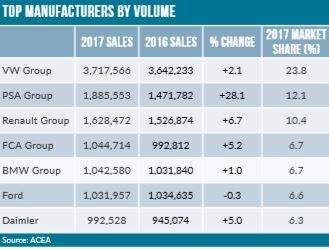 The exception among Europe's major markets was the UK, where car sales fell by 5.7% in 2017 – although this should be viewed in the context of the record sales volume recorded in 2016.
"The UK market received a boost in the early months of last year from a pull-forward in sales ahead of tax changes in April, but suffered after this point," explains Oakley. "At the same time, inflation remained above wage growth for much of the year – constraining UK consumers' spending power –and Brexit-related uncertainty, plus confusion over government plans on diesel vehicles didn't help the market either."
The ACEA spokesperson notes that growth was sustained across all vehicle segments in Europe, with demand especially strong for new light commercial vehicles (up 3.9% from 2016).
Vans accounted for more than 80% of all new commercial vehicles sold in the EU last year, although after a couple of strong years, growth in registrations of both cars and commercial vehicles is expected to slow down in 2018, mainly due to political and economic uncertainty.
Much of the market discussion last year focused on diesel cars. The ACEA spokesperson notes that in the EU-15, diesel's market share fell from 49.9% to 44.8% of total passenger car registrations in 2017.
However, diesel still plays a leading role in a number of EU markets – for example, in Ireland almost two thirds (65.2%) of passenger cars run on diesel, while diesel also has a dominant market share in Portugal (61.5%) and Italy (56.3%). Almost 90% of all vans and more than 95% of the EU truck fleet run on diesel.
The drop in diesel sales is expected to continue in 2018, albeit it will moderate according to Munoz. "There is a lack of trust among consumers – they are worried about the bans and new taxes, so they should continue shifting to petrol or electric or hybrid cars. The brands will try to reverse the trend by launching better engines, but the damage is already done, and it is difficult to change the consumers' minds."
The western European new diesel passenger car market peaked in 2011 at a 55% market share, and has been falling since that time with the rate of decline steepening in the wake of the VW scandal, adds LMC Automotive global powertrain director Al Bedwell.
"Diesel's market share for 2017 was 44.4%, and to February of this year the figure was 39.9%," he says. "For 2018 we anticipate a share of around 38%, which implies a slowing in the rate of decline, despite the continued bad news."
Bedwell believes the industry will have to support diesel in order to achieve CO2 targets, and observes that the EU6d RDE diesels that are coming to market will be very clean.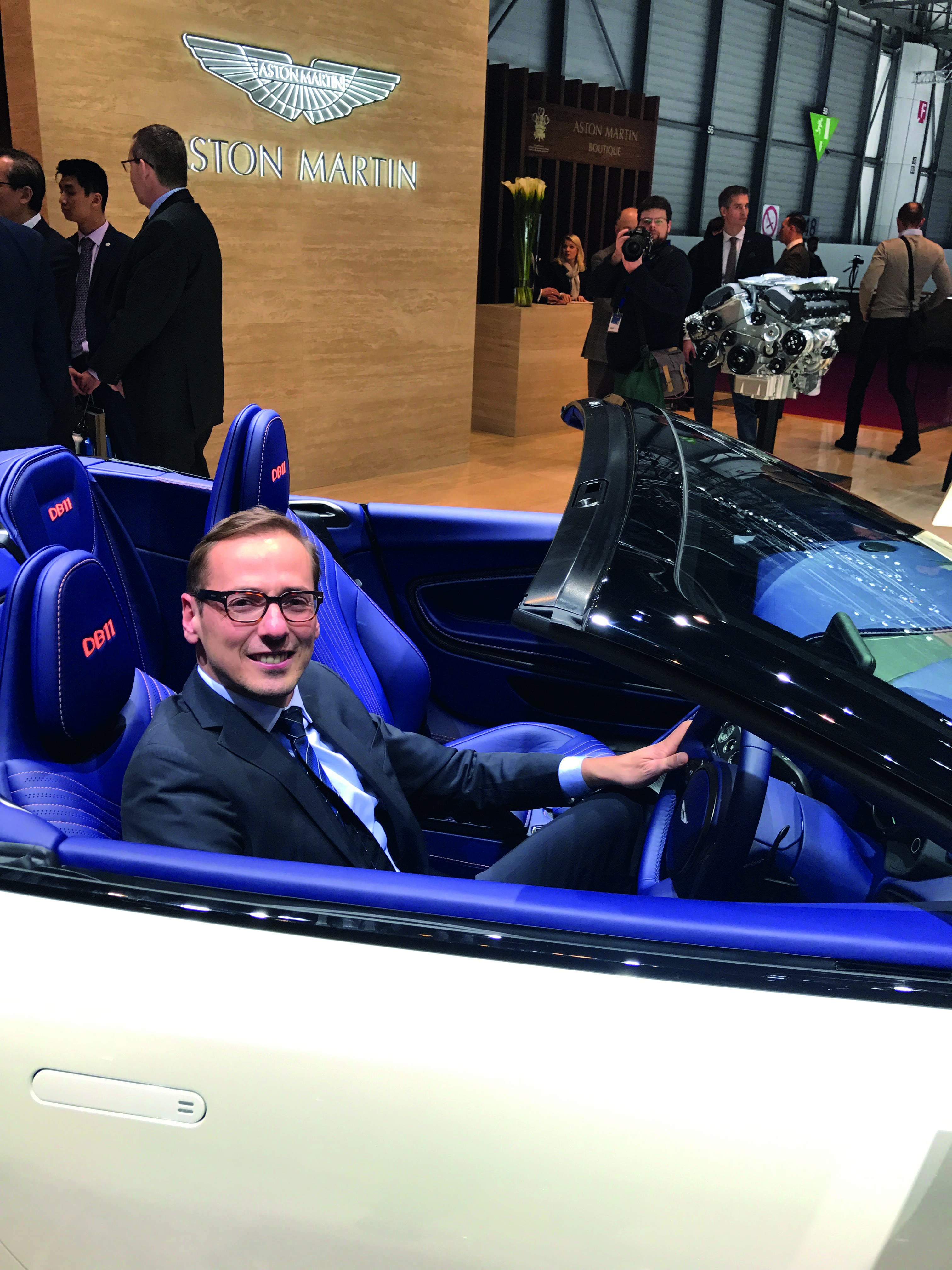 "We doubt that the anti-diesel sentiment can be reversed, but believe that diesel still has a part to play as long as rational actions – based on the logical case for diesel rather than the emotional one – are taken," he continues. "We do see further a decline, though, since efforts to make diesel clean are adding cost and potential city bans – even though they won't apply to new diesel cars – are undermining confidence. But other powertrains are getting more costly too, so diesel's fiscal position isn't changing in isolation."
A spokesperson for Audi emphasises the role of diesel technology in reducing CO2 emissions, noting that almost every other licensed car in western Europe is diesel-driven, and that in the premium segment the share is even higher.
The Audi spokesperson agrees that the overall market in Europe is expected to decline in 2018, especially in Germany and the UK. "We therefore expect a slight decline in our sales as well. In addition to that development, we will have to manage a large number of product introductions."
Looking ahead, new research suggests that stringent emission requirements, increased and improved offerings from automakers and a growing sense of environmental concern among customers will see the hybrid electric car market in Europe expand at a CAGR of 28.5% between now and 2023. Producers of gas-powered vehicles are keen not to get left behind by the growth of the electric car market, with the secretary general of natural and bio gas vehicle association NVGA Europe stating recently that he expected to achieve a 10% share of the car market by 2030.