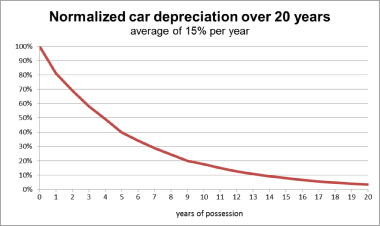 Depreciation rates are consistent only in the fact that cars will always lose value the moment they're driven off the lot.
When considering depreciation rates, a consumer has to consider not only how much value the vehicles will drop by, but also if they are hoping to buy the vehicle outright at the end of any finance deal.
If entering on a finance deal, there is a likelihood that many similar types of vehicle will be leased in the same manner. This means that values will drop in the same time as many of the same vehicle re-enter the market at the same time, and if you have decided to complete the final balloon payment you could be owning a car with a limited resale value. Deals such as PCP are designed to protect the consumer from being impacted by depreciation rates.

Depreciation rates will stay at a relatively stable rate for the customer on a finance deal, thanks to the obligation of dealerships to set a guaranteed future value at the start of the agreement. The customer will pay off a set monthly rate, and assuming the car is handed back at the end of the agreement it's for the dealer to assess if they've set the used value of the car correctly.
Of course, dealerships will include conditions on how consumers keep the car to ensure a steady return, the most notable of these being a limit on how many miles a year the customer can drive the car. Other conditions include the quality of upholstery and tyres, or if any issues arise upon mechanic appraisal such as a gearbox fault.
If depreciation rates do change, it's going to be most impactful when agreeing on a car finance agreement at the very beginning. If the rate has fluctuated, this could negatively impact the guaranteed future value and if a consumer isn't aware of this they could be in for a shock when applying for finance and expecting a similar rate as their previous finance agreement.