Uncategorized
What is depreciation and how will it impact my vehicle?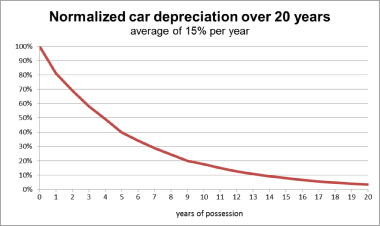 Outside of rarities and certain prestige motors, all vehicles will lose value over time. What's important for a consumer to know is what their vehicle's depreciation will be, and how it might relate to a finance repayment.
This is most important for those with Personal Contract Plan (PCP) agreements, but is an integral part of all vehicle sales. Through PCP, monthly payments relate to paying off the relative depreciation of the vehicle over the course of the plan. However, each vehicle has a guaranteed future value at the end of term, the difference making up the consumer's regular payments.
Depreciation drops can be significant, often in the region of 15-35% fall in the value of the car in the first year of ownership, and as high as 50% or more over three years.

What is depreciation: the causes
There are a wide range of factors in what can affect the levels of depreciation in a vehicle. Forseeing a glut of the same type of used car entering the market at the same time may cause a financier to mark a guaranteed future value lower.
Charges on diesel vehicles have caused significant drops in sales and value of used diesel cars in the past year, which can link to any guaranteed future value. A vehicles rating under incoming Worldwide Harmonised Light Vehicle Test Procedure (WLTP) emissions regulations can also relate to a vehicle's depreciation. For used vehicles it's also worth checking mileage and number of previous owners, both of which can have a significant impact on depreciation.
The example below gives an idea of how depreciation in a vehicle works.
An individual has bought a vehicle on finance. The vehicle's current value is £28,000, plus VAT. After three years its guaranteed future value is to be £16,000.
The annual charge for depreciation would be:
28,000-16,000 is £12,000.
12,000 divided by 36 months (three years)= £334 a month payment.
There will be extra charges involved in finance agreements, including the 'balloon payment' at the conclusion of a PCP deal if the consumer wishes to buy the vehicle outright. Different types of car credit can be explored here.