Comments
Halifax offers customers the stickiest rewards programme
With competition increasing to an all-time high, current account providers are doing all they can to keep their customers. Halifax and its rewards seems to have found a winning formula.
GlobalData's 2019 Banking and Payments Survey found that the joint most important reason why dissatisfied consumers stayed with their current account providers was due to their rewards programmes. Of those who stayed because of this reason, the most used bank was Halifax with 24% of respondents.
Halifax offers a fee-free Rewards current account that allows customers to undergo everyday banking for no charge (if they stay in credit). With this account, customers are eligible to receive £2 a month when they pay in at least £750 a month and pay out at least two different direct debits.

New customers can also receive a fee-free arranged overdraft for six months, as well as up to 15% cashback by using their Reward card at particular retailers (including Coop, Costa, Hilton Hotels, and Sky).
Customers can get cashback by using Halifax debit and credit cards, as can individuals with joint cards, but the cashback amount changes from retailer to retailer. Offers are based on an individual's spending habits, so they can get cashback on everyday purchases.
Customers are able to keep track of the amount they have received through the Cashback Extras hub on their mobile banking app, and can also see which retailers are currently participating in the scheme. Cashback is paid to the customers on the last working day of each month in a lump sum.
Nationwide is at the other end of the scale when it comes to customer retention through rewards and the reason behind this is clear to see. The bank ran its own cashback scheme like Halifax, through which customers could get up to 20% cashback on purchases.
However, participating locations typically included more obscure shops such as Savile Row Company and restaurants like Toby Carvery, which were not based on customers' shopping habits. The scheme was removed in April 2019 after the building society admitted it was "not sufficiently meeting the wider needs of members." The only reward available now is 5% AER for a year on balances up to £2,500, providing the customer pays in £1,000 a month – after the year the rate falls to 1% AER. Customers are also able to complete everyday banking for free.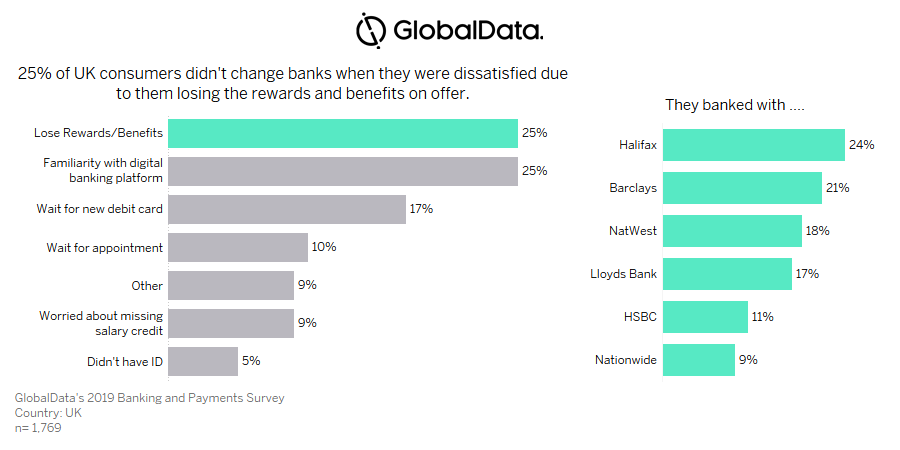 Latest reports from
GlobalData is this website's parent business intelligence company.