News
Shotgun merger? Deutsche Bank Commmerzbank merger talks resume
Deutsche Bank Commmerzbank merger talks are back on the agenda. On this very day, 10 March, Deutsche Bank was born, 149 years ago. But with Deutsche Bank Commerzbank merger talks resuming, a big party a year from now looks improbable. Deutsche Bank Commerzbank merger talks initially kicked off in 2016 but fell apart quickly. Germany's two largest listed banks then launched restructuring programmes, with to date, limited success.
Talks resurfaced in late 2018 with news that the German finance ministry is considering various merger options. In particular, it is suggested that the German government may acquire a majority stake in Deutsche Bank. Other scenarios include Deutsche Bank raising funds to purchase Commerzbank. A third option envisages creating a holding company to own both banks.
Deutsche Bank Commerzbank merger: rationale
Under Deutsche Bank CEO, Christian Sewing, the bank is slowly starting to deliver on promised cost cuts. It is a however a slow process. The consensus among analysts is that Deutsche Bank will miss its return in equity targets under its own steam.

Investor sentiment towards Deutsche remains gloomy. The bank's share price is so low that Deutsche is trading at less than one-third of its book value.
Deutsche Bank's restructured retail banking division will deliver results but not in the short term. And then there is the German economy. If a forecast downturn comes to pass, Deutsche and Commerzbank together may be stronger.
There seems little scope for a cross-border merger partner to emerge. There is talk from time to time of Deutsche theoretically tying the knot with an ING, BNP Paribas or UBS.
In the unlikely event of such an outcome, the German government is an unlikely supporter of such a marriage.
Deutsche Bank Commerzbank merger: the case against
The best argument is that a shotgun marriage of two struggling banks does not magic up a strong successor. And then there is Deutsche Bank's recent acquisition track record. Take Deutsche Postbank as the perfect example.
Deutsche Bank acquired Deutsche Postbank from Deutsche Post in 2010.
The deal does not go down in banking history as a stellar example of how to execute a purchase. For a time, Deutsche dithered and delayed and then performed a major U-turn and decided to sell Postbank.
It finally gave up trying to sell Postbank in March 2017 having found no takers.
The next U-turn results in Deutsche Bank belatedly integrating Postbank into the enlarged group.
The merged unit, dubbed DB Privat- und Firmenkundenbank AG, has more than 20 million retail banking customers: good.
Around one half of the customer base uses the bank's digital channels, which is reasonable. But it has an eye-wateringly high cost-income ratio. If, and it is a big if, Deutsche cost cutting plans go to plan, DB Privat- und Firmenkundenbank AG might gets its cost-income ratio down to 65% by 2022.
Group wide, Deutsche Bank's cost-income ratio in fiscal 2018 is an embarrassingly high 92.7%. The Commerzbank cost-income ratio is little better at 80.3%.
Commerzbank: 2020 strategic plan hit and miss
Commerzbank remains in recovery mode and is turning its own corner slowly. The German government retains a 15% stake in Germany's number two lender.
But Commerzbank did report a number of positives in its fiscal 2018 results. A Commerzbank dividend is back on the agenda after three years. Successes include client gains with a net increase of 400,000 retail banking customers. It is also making progress to digitise the bank albeit it is behind its digital 2020 targets.
On the other hand, Commerzbank has cut its 2020 revenue targets. The bank also requires to reduce its return on capital targets. Commerzbank is making progress even if it will not meet all of its targets by 2020. Short term the market remains unimpressed. Deutsche Bank and Commerzbank were two of the worst performing bank shares in 2018. In 2018 Deutsche Bank and Commerzbank share prices fell by 53% and 46% respectively.
For the year to date, Deutsche Bank's share price has partially recovered, gaining 11%.
Meantime, Commerzbank's shares are up by 20% for the year to date.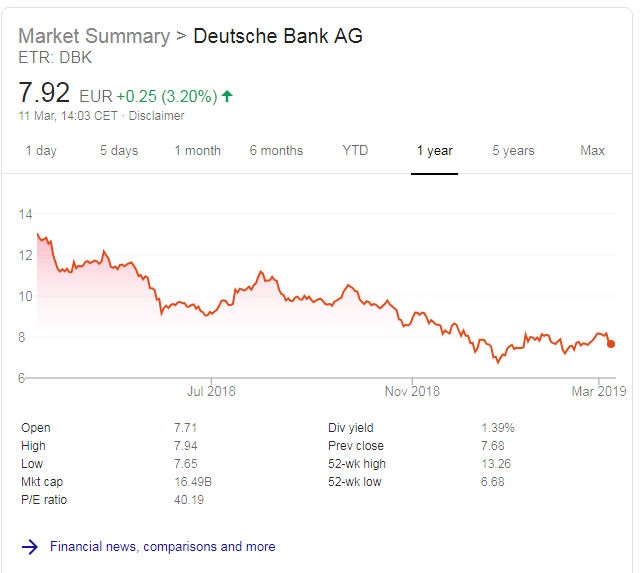 Free download worth over $5000
Download our 2018 Technology, Media and Telecoms Predictions Report
Worth up to $5,850
In this report, we look at the 30 big tech themes for 2019, identifying winners and losers for each theme. This report will impact all industries helping:
CEOs/Senior Staff: in all industries understand the disruptive threats to their competitive landscape
Investors: Helps fund managers focus their time on the most interesting investment opportunities in global TM