News
Personal banking service quality UK: First Direct just pips Metro Bank
The latest CMA personal banking service quality scores are in and yet again First Direct, Metro Bank and Nationwide dominate.
It is a case of same old, same old with First Direct, Metro Bank and Nationwide the top three ranked. And yet again Royal Bank of Scotland ranks last (46%).
But this time, First Direct just pips Metro Bank by one percentage point (83% v 82%) for overall service quality.

Nationwide (74%) again ranks third top of the 16 largest personal current account providers.
The last UK personal banking service quality scores were published in August 2019.
On that occasion, Metro Bank and First Direct were joint first, each with 82% ahead of Nationwide (74%). At the bottom of the class, RBS scored 46% some way behind the next two weakest performers. Six months ago Cooperative Bank and Tesco Bank both scored 55%. Clydesdale and TSB both on 56% rounded out the bottom five.
Do you see impact on recruitment in your company due to COVID-19 pandemic?
Lay-offs expected (39%, 24 Votes)
Recruitment on Hold (31%, 19 Votes)
Lay-off announced (18%, 11 Votes)
Increased Hiring (6%, 4 Votes)
No Impact (6%, 4 Votes)
Total Voters: 62
Loading ...
Personal banking service quality UK: RBS remains bottom
There is little change at the bottom of the league with RBS still scoring 46%. Tesco Bank (49%), TSB 55% and Clydesdale and Yorkshire Bank and Coop (56%) still have work to do.
Customers with personal current accounts are asked how likely they would be to recommend their provider. In particular, their provider's online and mobile banking services, services in branches and overdraft services to friends and family.
The results show the proportion of customers who said they were 'extremely likely' or 'very likely' to recommend each service.
Ipsos Mori carried out the independent survey between January 2019 and December 2019.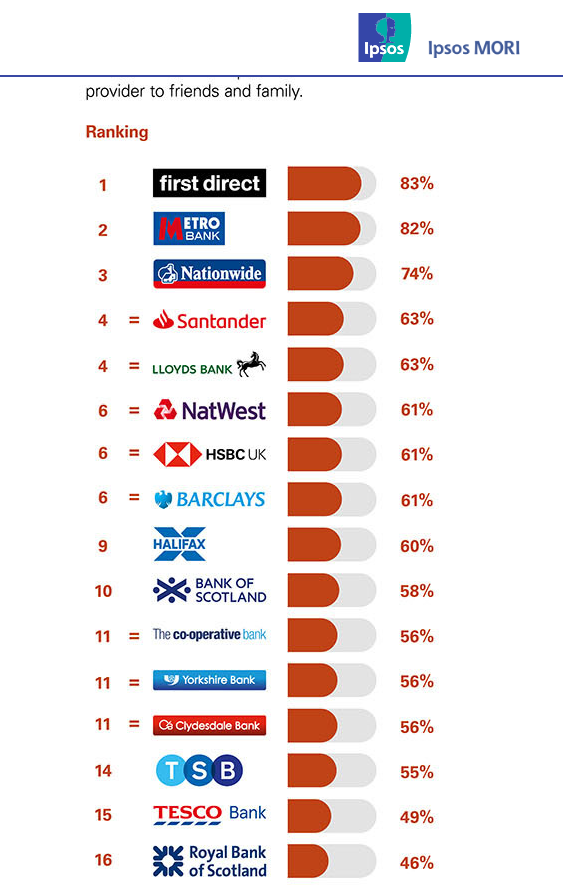 Personal banking service quality: Metro tops for branches, online and mobile
For many, the perception of Metro Bank is of a branch (or store) focused provider. And it is no surprise that Metro Bank ranks first for service in branches (84%). For branch service quality, Nationwide (80%) Lloyds (71%) and HSBC (70%) round off the top four places.
But Metro Bank also ranks top for online and mobile banking services with 85%. Barclays (83%) and First Direct (83%) and Halifax (80%) also perform strongly.
Clydesdale (67%), Coop (64%) and Tesco Bank (62%) rank weakest for online and mobile.
RBS versus NatWest
The results are released just after RBS announces long overdue plans to rebrand at group level from RBS to NatWest.
And the relative strength of the NatWest brand compared to RBS is highlighted by the CMA rankings.
For overall service quality, NatWest ranks sixth equal with 61% against RBS last with 46%.
For online and mobile, NatWest ranks 9th with 76% against RBS 12th on 70%.
NatWest and RBS both score weakly in the services in branches ranking. NatWest is third bottom with 63% while RBS is last with 50%.