News
RBC Q12020 net income +11% on strong retail, capital markets growth
RBC Q12020 net income rises by almost 11% year-over-year to C$3.51bn ($2.66bn) for the three months to end January.
The earnings beat analyst forecasts and result in RBC increasing its dividend by almost 3%.
In particular, the RBC Q12020 results are driven by record earnings in Capital Markets. In addition, strong earnings growth in Personal & Commercial Banking reflects continued strong growth in RBC's Canadian Banking franchise.

Solid earnings growth in Wealth Management and Insurance also contribute to the increase. On the other hand, Investor & Treasury Services report a drop in net income.
The results also highlight lower provisions for credit losses with total PCL on loans ratio of 26 basis points. PCL on impaired loans ratio of 21 bps improves 6 bps from the prior quarter. This is due to lower provisions on impaired loans in Personal & Commercial Banking and Wealth Management.
RBC Q12020 Personal & Commercial banking highlights
Net income of C$1.69bn rises by 7% y-o-y. This is driven by strong growth in residential mortgages, and strong average deposit growth of 9% in Canadian Banking. At the same time, higher mutual fund distribution fees reflect higher balances driven by strong market appreciation and net sales. As a result, non-interest income rises by 8% year-over-year.
Loading ...
These factors were partially offset by lower spreads. In particular, the P&C net interest margin of 2.72% is down by 7 bps y-o-y and by 4 bps q-o-q.
This is mainly due to the impact of competitive pricing pressures and changes in product mix. Net income is also impacted by an increase in technology and related costs. Specifically, there is higher investment in digital initiatives for both personal and business banking units.
Of particular note is the Canadian Banking unit cost-income ratio. The rate drops to 41.3% down by 30 basis points y-o-y.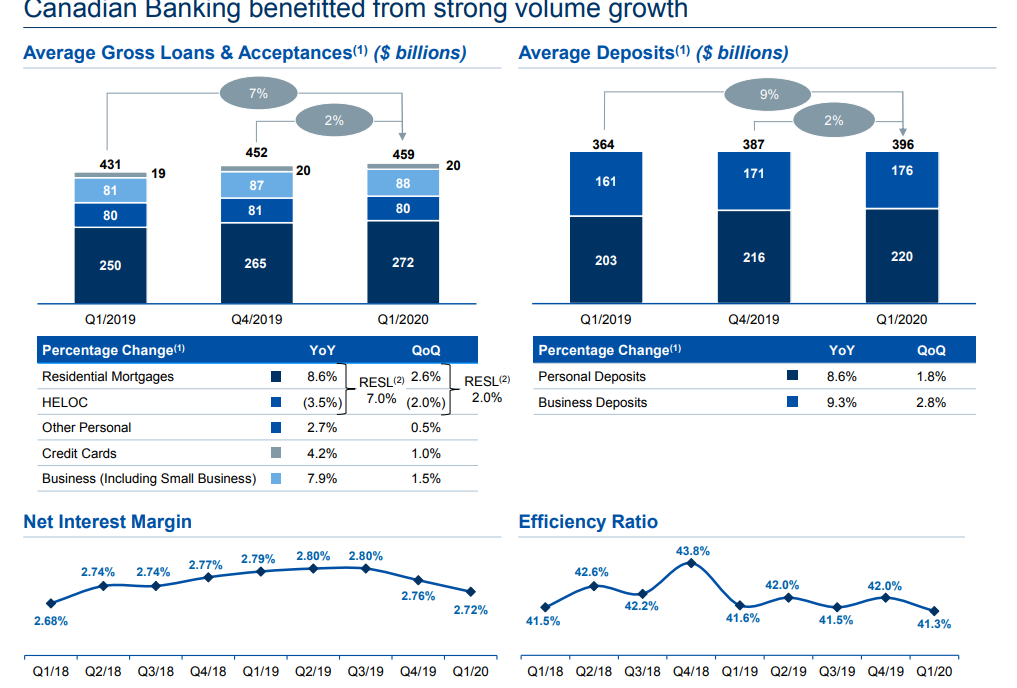 RBC Q1 2020 wealth management highlights
Net income of C$623m increases 4% y-o-y, primarily due to an increase in average fee-based client assets reflecting market appreciation. This is largely due to strong North American equity markets and net sales. This all contributes to solid revenue growth of 7% y-o-y.
Higher transaction volumes also contribute to the increase. These factors are partially offset by higher variable compensation commensurate with revenue growth, as well as higher technology costs.
Other notable metrics include a 70 basis points reduction in the Wealth Management (non-US) cost-income ratio.
US wealth management, including City National, reports a 2% rise y-o-y in net income.
Net interest income at City National is flat y-o-y as double-digit loan and deposit growth is offset by lower spreads.
Elsewhere, RBC's Capital Markets net income soars by 35% y-o-y to C$882m. This is primarily due to higher fixed income trading revenue across all regions. Furthermore, there is particular strength in corporate bond and interest rate trading. Higher M&A activity, primarily in North America, and higher debt origination, largely in the US, also contributes to the increase.
RBC Q12020 digital highlights
RBC ends the first quarter with 7.4 million active digital users. The digital adoption rate of 52.5% is up by 125 basis points y-o-y. Meantime, the bank's 90-day active mobile users increase 15% from a year ago to 4.6 million.
Moreover, the bank reports a 22% rise in mobile sessions from the year ago quarter.
Self-serve transaction rise by 170 basis points to 88.8%. RBC ends the first quarter with 1,206 branches, flat year-over-year.
"We had a strong start to the year with earnings growth of 11% y-o-y, says RBC CEO, President Dave McKay. "These results reflect the underlying strength of our diversified business mix, our focused strategy, and our colleagues' unwavering commitment to creating more value for clients as we position the bank for the future. In addition to delivering record earnings this quarter, we are pleased to increase our quarterly dividend by 3%."