News
Scotiabank Q1 2020 earnings beat forecasts with net income +3.5%
Scotiabank Q1 2020 earnings are ahead of analyst forecasts with net income rising by 3.5% year-over-year to C2.33bn ($1.75bn).
The first quarter numbers reflect strong volume growth combined with higher non-interest income. Specifically, Canadian Banking adjusted earnings increase by 5% year y-o-y. At the same time, the bank's Canadian Banking unit continues to improve its productivity ratio.
Scotiabank aims to derive around 40% of group earnings from its Canadian Banking unit. In the first quarter the unit contributes around 37% of earnings.

Moreover, Scotiabank Q1 2020 highlights include positive metrics from its Capital Markets division. For example, Global Banking and Markets adjusted earnings increase by 35% over the same period last year. This is driven by a strong performance across the trading businesses and by group wide asset growth.
Meantime the bank's International Banking unit delivers strong loan and deposit growth in the Pacific Alliance. Scotia is also accelerating its footprint optimisation programme. Examples include the successful completion of the sale of operations in Puerto Rico, the US Virgin Islands and El Salvador. At the same time the bank is reducing its investment in Thailand.
On the other hand, the International Banking unit reports net income down by 30% y-o-y.
Loading ...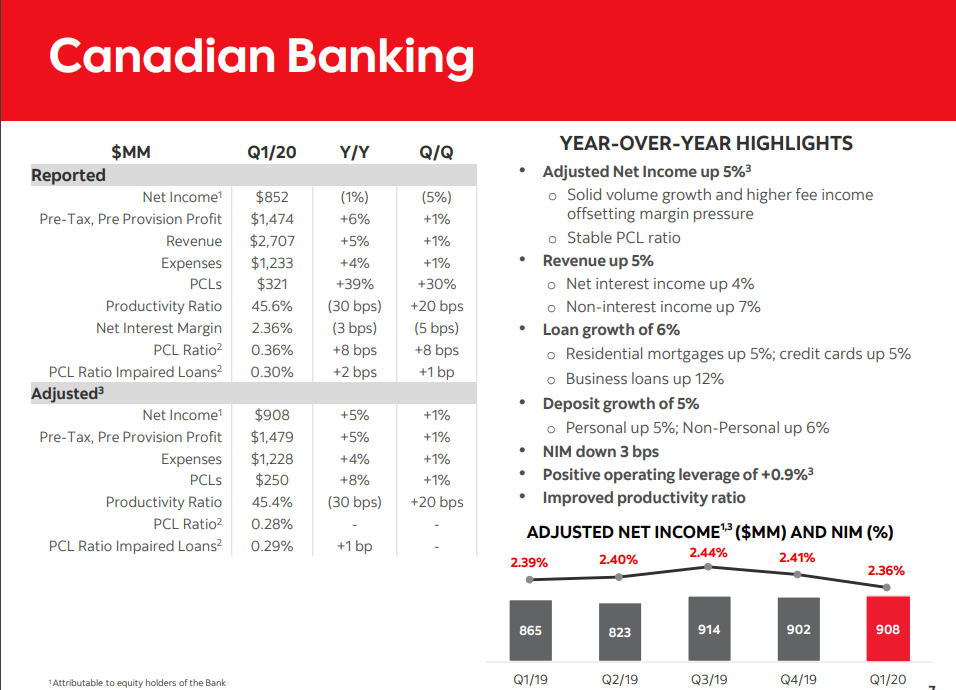 Scotiabank Q1 2020 highlights
For the first time, Scotiabank reports as a separate business line numbers from its Global Wealth Management unit. Its adjusted earnings rise by 11% y-o-y. The unit now accounts for around 13% of overall earnings.
"We are pleased with our balanced performance this quarter having delivered solid results across all our businesses. Our asset quality remains strong," says Brian Porter, President and CEO of Scotiabank.
"We are realising the benefits from our technology investments through an improved productivity ratio and greater customer satisfaction," adds Porter. "We are confident in our future as the leading bank in the Americas. The re-positioning of the Bank's geographic footprint has simplified and focused the Bank."
Scotiabank Q1 2020 digital banking highlights
Digital retail sales now account for 30% of all sales. The bank is targeting a goal by this metric of 50%.
Furthermore, the bank's digital adoption rate rises from 39% to 41% against its target of 70%.