Comments
Generation Z is more financially cautious than expected
The typical stereotype of 18–24-year-olds, who are often portrayed as living for the moment, enjoying gap years, and generally uninterested in financial planning, seems outdated. Rapidly increasing educational costs, greater job insecurity, a scarcity of well-paying jobs, and higher property prices have led Generation Z to pay greater attention to future economic wellbeing.
GlobalData's 2019 Retail Banking and Payments Survey shows that Generation Z is more concerned with deferring consumption and taking care of financial wellbeing instead of living for now. Therefore, banks' acquisition strategies for Generation Z customers should initially focus more on promoting savings tools instead of enticing them with credit card offers.
Generation Z is often referred to as the most tech savvy ever. While that is certainly true, it does not necessarily translate into an automatic preference for digital self-service. Just under half of Generation Z respondents in the survey are keen to receive expert advice when dealing with their finances, and these consumers will likely want reassurance from human interaction. In order to maximise their acquisition potential within this segment, banks must cater for this requirement.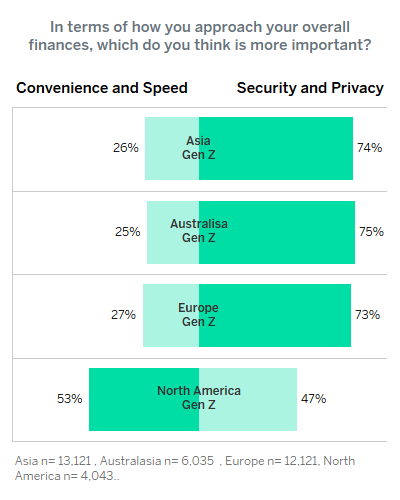 Incumbents that consider themselves to be 'fast followers' in terms of their innovation/digital offering can take comfort from the next graph. Approximately three in five Generation Z consumers prefer tried-and-tested methods over new experiences. However, 'fast followers' can play both cards by marketing both their provenance and new innovations to Generation Z consumers, maximising their appeal.
With social media platforms being part of daily life for much of Generation Z, banks could be forgiven for thinking that security and privacy are of less importance to them than convenience and speed. It turns out they are not.
This is likely to be a reaction to the revelations of data privacy infringements by large social media platforms, but may also reflect elevated cautiousness when it comes to financial services. Banks seeking to offer innovation products and services based on consumer data must ensure that their data-sharing communication is clear.
Nonetheless, convenience and speed are also very important and cannot be ignored, especially for the tech-dependent Generation Z, but these should not be prioritised at the expense of security and privacy.
Latest reports from
GlobalData is this website's parent business intelligence company.