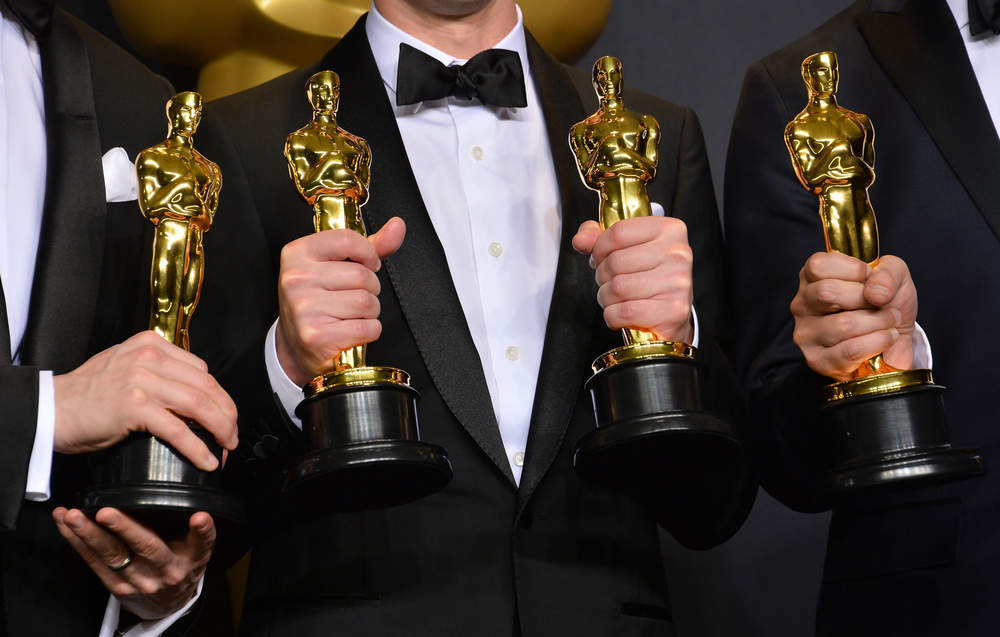 It's been a long week for London-based film fans. The BFI London Film Festival just wrapped up on Sunday 15th October, after a solid week and a half of pretty much non-stop screenings across the UK's capital.
While the London Film Festival isn't quite as well-known as Cannes, Toronto, or Venice it is one of the last major film festivals before awards season begins in earnest. It might give us some indication about which films we'll see at this years BAFTAs and Oscars.
Of course, the BFI London Film Festival has already held its own awards show. In the past, winners of these awards have been nominated and won some of the more minor Oscars and BAFTAs. It's definitely worth checking out that list. Andrey Zvyagintsev's Loveless, for example, will almost certainly be nominated for Best Foreign Language Film at both.
However, in terms of the major categories (Best Actor, Best Actress, Best Director, and Best Picture) chances are awards will be won by BFI's headlining films. Having watched most of the headliners ourselves we'll go through each of them, gauging our reaction and general critical reception to work out which stands the best chance of winning big awards.
These are our 2018 Oscar predictions.
Breathe:
Directed by:
Andy Serkis
How well do you
really

know your competitors?

Access the most comprehensive Company Profiles on the market, powered by GlobalData. Save hours of research. Gain competitive edge.
Company Profile – free sample
Thank you!
Your download email will arrive shortly
Not ready to buy yet? Download a free sample
We are confident about the unique quality of our Company Profiles. However, we want you to make the most beneficial decision for your business, so we offer a free sample that you can download by submitting the below form
By GlobalData
Starring:
Andrew Garfield, Claire Foy, Tom Hollander, Hugh Bonnerville
Official BFI Synopsis:
When dapper and adventurous Robin Cavendish (Garfield) meets self-assured Diana (Foy) at a cricket match, a whirlwind romance ensues. Soon after their wedding, they set out for Nairobi where Robin works as a tea broker. But their new life together takes an abrupt turn when he contracts polio and is given only weeks to live. Determined that her husband's life should not be restricted by medical and social prejudice, Diana ignores all advice and breaks him out of hospital. With the support of her twin brothers (both Hollander) and friend Teddy (Bonneville), an Oxford professor who invents a wheelchair with a respirator attached, Diana creates an environment in which Robin can thrive and he goes on to lead a long and full life.
What could it win?:
Sadly, this one seems decidedly unlikely to win Best Picture thanks to middling-to-average reviews. Still, Claire Foy and Andrew Garfield are said to the be the best parts of this film, so the thought of them taking home Best Actor/Actress awards isn't entirely inconceivable!
Three Billboards Outside Ebbing, Missouri:
Directed by:
Martin McDonagh
Starring:
Frances McDormand, Woody Harrelson, Sam Rockwell, Abbie Cornish, John Hawkes, Peter Dinklage
Official BFI Synopsis:
It's been seven months since her daughter was murdered and foul-mouthed, tough-as-nails Mildred Hayes (McDormand) is fed up. Fuelled by grief and outraged that the investigation has gone quiet, she provokes the local police department with a series of messages plastered on three disused billboards outside her home town of Ebbing, Missouri. So begins a rapidly escalating and very public feud between Mildred and venerated community leader and family man, Chief Willoughby (Woody Harrelson). The situation is exacerbated when blundering side-kick, Officer Dixon (Sam Rockwell) gets involved. Just as unhinged as Mildred, but with a significantly lower IQ, Dixon's penchant for violence is stoked by his leaden, borderline psychotic mother to whom he is unhealthily attached.
What could it win?:
If Frances McDormand isn't nominated for Best Actress the Oscars is a joke. On paper, Mildred Hayes is a very one-note kind of role, but McDormand brings all the layers and shades of grey she has to the part. What results is a character who it's impossible not to read into. She's constantly flitting between emotions, never quite going so far as to give us the full picture of what's going on in her head. Still, the glimpses we get of Hayes' mindset are testament enough to McDormand's ability.
Equally, Sam Rockwell and Woody Harrelson would both make fine contenders for Best Actor. The former is in the film for slightly longer, but the latter had a decidedly meatier part. One option could be for Harrelson to get a Best Actor nomination and Rockwell to be nominated for Best Supporting Actor. Or vice versa. Either way, both are great.
Call Me By Your Name:
Directed by:
Luca Guadagnino
Starring:
Armie Hammer, Timothée Chalamet, Michael Stuhlbarg, Amira Casar, Esther Garrel, Victoire Du Bois
Official BFI Synopsis:
Timothée Chalamet is riveting as Elio, a musically gifted 17-year-old whose idyllic summer break takes a tumultuous turn when Oliver (Armie Hammer) arrives to stay at the family palazzo. The physical embodiment of ancient Greco-Roman beauty, Oliver is an all-American doctoral student on a 6-week research trip working with Elio's father, an antiquities professor. While Oliver slips effortlessly into the heady rhythm of the Italian summer – al fresco dining, bicycle rides and midnight swims – Elio's casual flirtation with local girlfriend Marzia (Esther Garrel) is soon eclipsed by a more sensual, volatile attraction.
What could it win?:
One of the major contenders for Best Picture, no one would be surprised to see Call Me By Your Name nominated for multiple awards. It definitely checks many of boxes, a realistic film, an adaption of a novel, set in the recent past, an emotive, poignant storyline with LGBT diversity front and centre. But aside from being an Academy wishlist come true, Call Me By Your Name is also a genuinely beautiful film. The cinematography on show is bright, warm and colourful. The storyline is passionate, poignant and evocative. It's a film that invites further viewings, offering something new each time.
Armie Hammer and Timothée Chalamet could both definitely be options for Best Actor. At Verdict, we'd say that Chalamet just about edges it over Hammer, but honestly either of them would be strong contenders.
Battle Of The Sexes:
Directed by:
Valerie Faris and Jonathan Dayton
Starring:
Emma Stone, Steve Carell, Andrea Riseborough, Sarah Silverman, Bill Pullman, Alan Cumming, Elisabeth Shue
Official BFI Synopsis:
The sexual revolution is in full swing and Billie Jean King is number one, but why won't the US Tennis Association respond to her call for gender equality? Together with the founder of World Tennis magazine Gladys Heldman (Sarah Silverman), she sets forth to lobby the Board, riled by the blatant discrepancy between the prize money offered to male and female players (sound familiar?). Faced with mocking resistance from the blokes in power, the women establish an alternative tournament (now the WTA). Initially buoyed by the success of their venture and the camaraderie of her fellow players, Billie Jean is soon thrown off her game by a blossoming romance with Marilyn Barnett (Andrea Riseborough), the arrival of title contender Margaret Court and an unexpected late night call from one-time men's champ, Bobby Riggs.
A seasoned hustler with a gambling habit and a wife (Elisabeth Shue) who is fast running out of patience, Riggs pitches a challenge match that King ultimately can't resist – 'male chauvinist pig versus hairy legged feminist!'.
What could it win?:
Considering its leading player, Emma Stone, won Best Actress last year for La La Land expectations were high for this one. By all accounts, Battle Of The Sexes hit the mark. In fact, many critics say it's the best performance of Stone's career. Expect to see her back for Best Actress for the second year running.
Equally, Steve Carell could certainly receive his second Best Actor nomination for his role here.
As for the rest of the film, it hits a lot of the same boxes Call Me By Your Name did. Plus, in the age of Trump, the film's feminist discourse is eerily timely. Could that woo members of the Academy? Sure. This one is likely to get nominated. Still, the 'great but not excellent' reviews might stand in its way.
Still, Faris and Dayton will almost certainly get nods for Best Directors. However, the transitions between King and Riggs' storylines have been criticised for their lack of smoothness in a few places, so we wouldn't expect a win here.
Downsizing:
Directed by:
Alexander Payne
Starring:
Matt Damon, Christoph Waltz, Hong Chau, Kristen Wiig
Official BFI Synopsis:
In a future that could very well be right now, Norwegian scientists discover a method for shrinking people to pocket-size as part of a grand design to limit humanity's footprint and save the world. Five years later, a thriving parallel 'small' economy has evolved, complete with lifestyle choices and luxury miniature communities. Beige, work-a-day Paul Safranek (Damon) wants to scale-up his options by sizing-down, but things begin to go awry when wife Audrey (Kristen Wiig) gets cold feet.
What could it win?:
This one honestly feels unlikely to win anything. Despite a few positive reviews, in Verdict's opinion Downsizing was a total mess. The film jumps about between plot points about everything from global warming to marriage to oppressive regimes then back to global warming. Matt Damon gives a perfectly serviceable performance but it's far from his best work. The rest of the cast prove mostly forgettable. It would be surprising to see this one nominated for any major awards.
Film Stars Don't Die In Liverpool:
Directed by:
Paul McGuigan
Starring:
Annette Bening, Jamie Bell, Julie Walters, Kenneth Cranham, Stephen Graham, Frances Barber
Official BFI Synopsis:
In 1981, decades after she rose to fame in Hollywood, the Academy Award®-winning star of The Big Heat, In a Lonely Place and The Bad and the Beautiful, Grahame (Bening) is treading the boards in a modest theatre production when she collapses in a Lancaster hotel. Her health failing, she reaches out to former lover, Liverpudlian actor Peter Turner (Bell). When Peter takes her back to his family home, to the care of his sympathetic mother (Julie Walters), memories of their grand affair soon come flooding back.
What could it win?:
This is an odd one. On the one hand, featuring the story of Gloria Grahame, an Oscar winning actress, Film Stars Don't Die In Liverpool might appeal to the Academy's nostalgic tendencies. On the other hand, being such a decisively British film, it might put them off. This would be a welcome surprise at the Oscars, but we'd say you probably shouldn't count on it.
However, Annette Benning could very well receive a nod for Best Actress. She's has previously been nominated for playing a similar character in The Grifters and most reviewers maintain she's better in this that she was in that. Could it happen? Very possibly.
Journey's End:
Directed by:
Saul Dibb
Starring:
Sam Claflin, Asa Butterfield, Toby Jones, Tom Sturridge, Stephen Graham, Paul Bettany
Official BFI Synopsis:
Monday, 18 March 1918. C Company, led by Captain Stanhope (Sam Claflin) is about to take its posting on the front line. Intelligence suggests an imminent German attack and having been all but abandoned by the Commanding Officers, Stanhope knows there is little chance of survival. Trench supplies and munitions are depleted, as is the troop's morale. In these appalling conditions, each man's character is laid bare.
What could it win?:
Everyone loves a good war movie, but unfortunately 2017 has seen two major ones. Few reviews have been written about Journey's End without some kind of comparison to Christopher Nolan's Dunkirk. Few of those comparisons have been favorable. The actors have all be praised for being roundly decent in roles that didn't ask much of them.
In addition, director Saul Dibb has often been accused of tripping himself up in adapting the original play on which this film is based. In his attempts to expand the scope of the play, the whole story comes unspooled, says the Guardian's review.
The Killing Of A Sacred Deer:
Directed by:
Yorgos Lanthimos
Starring:
Colin Farrell, Nicole Kidman, Barry Keoghan, Raffey Cassidy, Sunny Suljic, Alicia Silverstone
Official BFI Synopsis:
Steven (Colin Farrell) is a wealthy cardiothoracic surgeon who lives a harmonious existence with his ophthalmologist wife Anna (Nicole Kidman) and their two children Kim and Bob. Unbeknownst to his magazine-perfect family, Steven has formed an odd friendship with fatherless teenager Martin, to whom he brings gifts and offers financial support. When Steven decides to introduce Martin to his unsuspecting family, the sinister intentions of this strange young man become frighteningly clear.
What could it win?:
The idea of The Killing Of A Sacred Deer winning Best Picture seems exceptionally unlikely. For a start, it's technically a horror. In it's 90 years, the only horror film ever to win an Oscar for Best Picture is Silence Of The Lambs. Secondly, The Killing Of A Sacred Deer is just deliciously weird. If Call Me By Your Name hits all of the Oscars favourite boxes, The Killing Of A Sacred Deer does the opposite.
Still, Yorgos Lanthimos' last screenplay, was nominated for Best Screenplay and people largely agree this film was better. Improved odds are definitely a thing.
Plus, while it might not have the mass-market appeal of a traditional Best Picture, a Best Director award could certainly happen. No one does this kind of unsettling, psychological horror/thriller like Lanthimos and it's high time he got some credit for that.
Last Flag Flying:
Directed by:
Richard Linklater
Starring:
Steve Carell, Bryan Cranston, Laurence Fishburne
Official BFI Synopsis:
It's 2003 and Larry 'Doc' Shepherd (Steve Carell) walks into a roadside dive looking for Sal (Bryan Cranston), whom he hasn't seen since they served in the Vietnam War. A charming loudmouth with a flagrant disregard for authority, Sal is soon enlisted in Doc's get-the-gang-back-together quest. When they track down Mueller (Laurence Fishburne), they discover he has traded one uniform for another and is now a happily married preacher. The sobering reason for this reunion is revealed when Doc asks for help burying his own son who has returned from Iraq in a casket.
What could it win?:
Like Downsizing, for us here at Verdict, Last Flag Flying proved to be a major disappointment. What begins as a middle-of-the-road buddy roadtrip comedy offers to becoming a damning indictment of America's military obsession. Unfortunately, the film never really pushes that criticism far enough leaving the film totally toothless. It would be a huge surprise to see this one at the BAFTAs, as it espouses a very quintessentially American worldview.
Still, it's not totally inconceivable that Bryan Cranston, the best part of The Last Flag Flying, could be nominated for a Best Actor Oscar. But we wouldn't put huge amounts of money on it.
Mudbound:
Directed by:
Dee Rees
Starring:
Carey Mulligan, Jason Clarke, Jason Mitchell, Mary J Blige, Rob Morgan, Garrett Hedlund
Official BFI Synopsis:
Laura's (Carey Mulligan) story spurs the plot. With spinsterhood looming, despite being attracted to his debonair brother Jamie (Garrett Hedlund), Laura agrees to marry Henry McAllan (Jason Clarke), and he soon moves the family to the mud-caked Mississippi Delta. Meanwhile, Hap Jackson (Rob Morgan) and his wife Florence (a transformed Mary J Blige) struggle to make small gains sharecropping when the McAllans take their lease. As a post-war comradeship develops between Jamie and the Jacksons' eldest son, distinguished war hero Ronsel (Jason Mitchell), tensions with bitterly racist McAllan patriarch, Pappy erupt into violence.
What could it win?:
Best Picture for sure. Mudbound could clean up at the Oscars. It's a strong film, with strong performances from its stars, and a strong vision from its director. Plus, it's a period drama about race relations in America. This is Oscar gold right here. A Best Picture nomination is almost a certainty, to be honest.
And frankly, each member of the cast could almost certainly be in with a Best Actor nomination chance.
As for Best Director, Dee Rees absolutely deserves it. Without a doubt. Unfortunately (as we'll come onto later) as a black woman, she's statistically unlikely to be nominated, let alone win. Still, if the Academy wants to smash that glass ceiling and change history there are few better directors and films to do that with than this.
The Shape Of Water:
Directed by:
Guillermo del Toro
Starring:
Sally Hawkins, Michael Shannon, Richard Jenkins, Doug Jones, Michael Stuhlbarg, Octavia Spencer
Official BFI Synopsis:
At the height of the Cold War, in a secret US laboratory, a young, mute woman begins to communicate with a strange, aquatic creature. Elisa (Sally Hawkins), whose only friends are her gay artist neighbour (Richard Jenkins) and a fellow cleaner (Octavia Spencer), is alarmed by the behaviour of research head Strickland (a deliciously cruel Michael Shannon), who sees the creature as nothing more than an oversized lab rat. A fellow scientist (Michael Stuhlbarg) of dubious connections is decidedly more curious, especially when he sees a bond forming between Elisa and the creature.
What could it win?:
Few conversations about Best Picture come up without mention of The Shape Of Water. And, to be fair, it would be a thoroughly earned nomination. Unfortunately, The Shape Of Water is technically a science-fiction film. The last time a genre film like that won a Best Picture Oscar was in 2003 with Lord Of The Rings: Return Of The King. The Academy has showed an inclination towards realistic films and biopics over recent years. It might be nominated for Best Picture, but we'd be surprised to see it win.
Still, del Toro could definitely be a contender for Best Director here. His film is whimsical, joyful, and shows a huge amount of range. It's a definite step away from what del Toro has done before, and that chameleon-like switch could stand in his favour.
Sally Hawkins could also win Best Actress. She plays a mute character, speaking in sign-language throughout the film. Despite her lack of vocal communication, Hawkins imbues her character, Elisa, with such depth and warmth, it's easy for audiences to track her emotions through the briefest clues. Definitely an award-worthy performance.
Also, although it's not traditionally thought of as one of the 'big awards', it would be a crime if The Shape Of Water didn't win an award for Best Original Score. The music in this film is like a character in and of itself, adding some special fancifulness to the film.
You Were Never Really Here:
Directed by:
Lynne Ramsay
Starring:
Joaquin Phoenix, Ekaterina Samsonov, Alessandro Nivola, Alex Manette, John Doman, Judith Roberts
Official BFI Synopsis:
Joe (Phoenix) is a Gulf War veteran and former FBI agent turned killer-for-hire, specialising in saving victims from child sex rings and living at home with his ailing mother. When Nina, a US Senator's daughter is kidnapped, he is contracted to dispense with the perpetrators and save the girl (Ekaterina Samsonov is hauntingly good). Having located Nina in a seedy New York brothel, Joe's escape plan suddenly derails, unleashing a maelstrom of violence that ultimately takes him deeper into the hallucinatory darkness and closer to the truth.
What could it win?:
Absolutely nothing. Unfortunately, You Were Never Really Here isn't going to be released until 2018, making it ineligible for the Oscars. It will be eligible for the 2019 Oscars which will look back at 2018, but in all honesty, critics will probably have forgotten about it by then.
Lady Bird:
Directed by:
Greta Gerwig
Starring:
Saoirse Ronan, Laurie Metcalf, Tracy Letts, Lucas Hedges, Timothée Chalamet, Beanie Feldstein
Synopsis:
Saoirse Ronan plays Christine McPherson (Lady Bird, no relationship with the wife of LBJ), a rebellious student at a conservative Catholic Sacramento high school who wants to escape her family and small town constraints to go to college in New York. Meanwhile, her mother, Marion McPherson (Laurie Metcalf), is a California nurse. She works tirelessly to keep her family afloat after her husband (Tracy Letts) loses his job. She also maintains a turbulent bond with a teenage daughter who is just like her — loving, strong-willed and deeply opinionated.
What could it win?:
As a comedy, Lady Bird seems pretty unlikely to win Best Picture, though a nomination would not be amiss. Greta Gerwig's directoral debut is an innovative take on the classic high school movie we've seen over the years. It's a great film and would be very deserving of a Best Picture win, despite its genre.
Equally Greta Gerwig would be an excellent choice as Best Director though her inexperience may not permit her a win. Equally, let's be frank, as a woman it's statistically unlikely she'd be named best director. Only one woman has ever won the honour. Then again, maybe the increased scrutiny into the Academy's voters might encourage them to vote with diversity in mind.
The most likely option is for either Saoirse Ronan and/or Laurie Metcalf to be nominated for Best Actress. Both are thoroughly deserving of the award after their beautiful, soulful performances here.