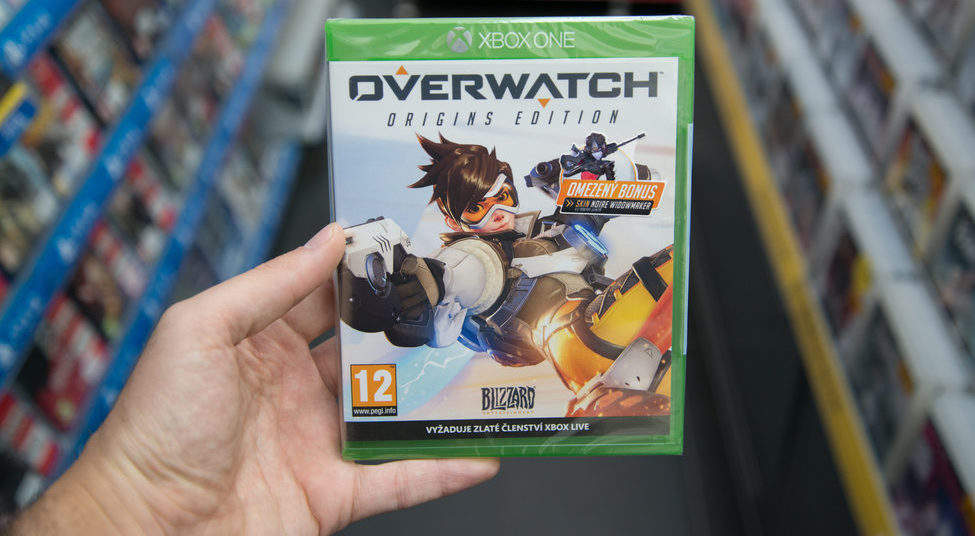 The online multiplayer phenomenon Overwatch was the second biggest earning title in the premium PC market in 2017 — a year since its release in May 2016.
Activision Blizzard's popular first-person shooter brought in $382 million in 2017, more than 12 months on from its release. According to market research company SuperData, this was $164 million more than that generated by Destiny 2, a title released by the developer last year.
The success of Overwatch was also highlighted in Activision Blizzard's 2016 annual report. The company notes that the title helped to produce better than expected revenues in both the PC and console markets.
Likewise, Overwatch also helped boost sales in the Asia-Pacific and Americas region. Revenue in the Americas region climbed by $1 billion from $2.4 billion to $3.4 billion year over year. The previous 12 months saw revenue grow by just $200 million. In addition, the Asia-Pacific region saw revenue grow by 53% to $964 million.
Overwatch is the golden child of what has been an incredible two years for the company.
On the day that Overwatch was released, shares opened at $37.93. This has since doubled. The Activision Blizzard stock price currently sits at around $70, having peaked at $79.63 last month.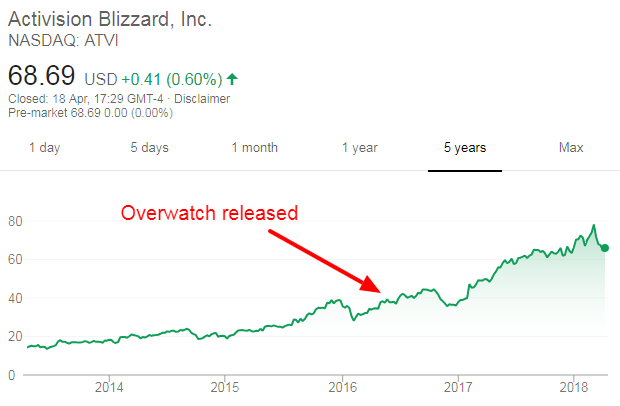 The catalyst for Activision Blizzard stock price growth
According to Jurre Pannekeet, head of esports at video game market intelligence company Newzoo, Activision Blizzard's recent growth is a result of the company's willingness to move with the times.
Pannekeet told Verdict:
What I believe to be a crucial point in the increase in valuation and the peak we saw last month is how well ATVI [Activision Blizzard] is positioned to benefit from changes in the games market.
When massively multiplayer online roleplaying games were at their peak, Blizzard led the way with World of Warcraft. As gamers ushered in the age of esports, Blizzard has switched its focus to developing titles such as Hearthstone, Heroes of the Storm, StarCraft II and, most recently, Overwatch.
"The company has been a leader in developing an esports scene around its games," Pannekeet said.
In fact, Blizzard designed Overwatch specifically to appeal to esports viewers, the company stated in its report:
Our franchises deliver competitive experiences as enduring as any traditional sport.

This is the thinking that inspired us when we created Overwatch, a game designed for online competition, with memorable characters, an immersive world, and fast-paced gameplay designed for the most accessible competition and compelling viewing.
According to data provided by Newzoo, esports will become a $1.7 billion industry by 2021. Blizzard is well positioned to capture a large share of this market. The Overwatch League only started in January. However, it is already one of the highest earning and most widely followed esports competitions running.
Pannekeet said:
The success of the Overwatch League has been a big boost for ATVI, especially. It has received a lot of investment from teams buying into the league, secured several large sponsorship deals, and its viewership has rivalled that of League of Legend's top tier leagues, the most popular esports game.
Recurring revenues
Activision Blizzard is also well positioned to benefit from the shift towards games as a service, where games are developed as a continuing revenue model by implementing ways to encourage users to part with their money long after the initial sale, Pannekeet explained.
Having spent over a decade encouraging users to pay a monthly fee to play World of Warcraft, this is something that Blizzard has more experience in than most companies.
The proof is in the numbers. Of the $6.6 billion that Activision Blizzard made in 2016, $3.6 billion was from in-game purchases. This revenue stream had increased 126% year over year.
Activision Blizzard has proven that it can keep up with the times and, as a result, investors have become more open to backing the company on the stock exchange.
Pannekeet told Verdict:
There are several factors for Activision Blzizard's stock value growth over the past two years. It's important to first note that before the launch of Overwatch, ATVI stock wasn't performing strongly due to a disappointing Call of Duty release in late-2016.

I think the market was, therefore, cautious with its valuation of ATVI stock at that moment.

Since then, Activision Blizzard has had tremendous success in the games market. Overwatch became a big success after its release, and the latest release of Call of Duty performed well in terms of sales again.
What does the future hold for Activision Blizzard?
Last year was a fairly light one for the company, particularly for the Blizzard Entertainment subdivision behind Overwatch. The developer's only release came in the form of a remastered version of 1998 strategy game StarCraft. Blizzard put out Overwatch in 2016, as well as the World of Warcraft: Legion expansion.
Activision released Call of Duty: WWII and Destiny 2, two big titles. However, there were still fewer releases than in 2016. In that year, Activision provided Call of Duty: Infinite Warfare and Skylanders Imaginators. It also released a remastered version of the hugely popular Call of Duty: Modern Warfare.
Regardless, the company has shown faith in its games as a service model and is reaping the rewards.
Games such as World of Warcraft, Hearthstone, Overwatch and Call of Duty — which all include subscriptions, in-game item purchases and season passes to create revenue — will continue to generate money for Activision Blizzard long after their release.
However, the Activision Blizzard stock price could see further growth if the company continues to focus on the right things.
Pannekeet said:
"Activision Blizzard is well positioned to benefit from growth trends in the gaming space, but there are still possibilities to increase its growth."
Esports
Two years on from release, Overwatch has already overtaken established esports such as Dota 2 and Counter-Strike: Global Offensive.
Blizzard's hit shooter was the second most watched game on streaming platform Twitch last month behind only League of Legends. According to Newzoo, more than 90 million hours of Overwatch content has already been consumed this year, with the majority of this time spent watching the Overwatch League, Blizzard's flagship esports competition.
Morgan Stanley estimates that the league could be worth as much as $720 million a year to the company in the future. The Overwatch League got off to a good start through a $90 million streaming rights deal, the biggest in the history of esports, coupled with the $240 million brought in by franchising fees.
With StarCraft II, Heroes of the Storm and Hearthstone, three other Blizzard titles, also developing considerable esports followings, this seems to be a promising area for future growth.
Mobile
Following the $5.9 billion purchase of King, the mobile developer behind popular games such as Candy Crush and Farm Heroes, mobile is already Activision Blizzard's biggest market.
King titles attracted 405 million monthly active users on average throughout 2016. In comparison, Blizzard recorded 35.5 million MAUs and Activision recorded 50 million.
This is an area that Activision Blizzard will continue to target by bringing its PC and console titles into the mobile world, Pannekeet believes.
"We have seen that mobile games are becoming increasingly immersive experiences and are attracting more core players to the mobile screen," he said. "With King's business and Hearthstone, the company has a good position in the casual player scene on mobile. However, it doesn't have highly immersive games published on mobile yet.

"Using its existing intellectual property to create such core titles on mobile is an opportunity for growth."
A job listing on the King careers webpage last year revealed that a Call of Duty mobile game is in the works.
Verdict approached King to ask if there are plans to bring other Activision Blizzard titles to mobile. However, the mobile developer has yet to provide a response.
Regardless, this would be a good move for the company. Mobile gaming generated more revenue than PC and console gaming combined in 2017, according to information published by SuperData.