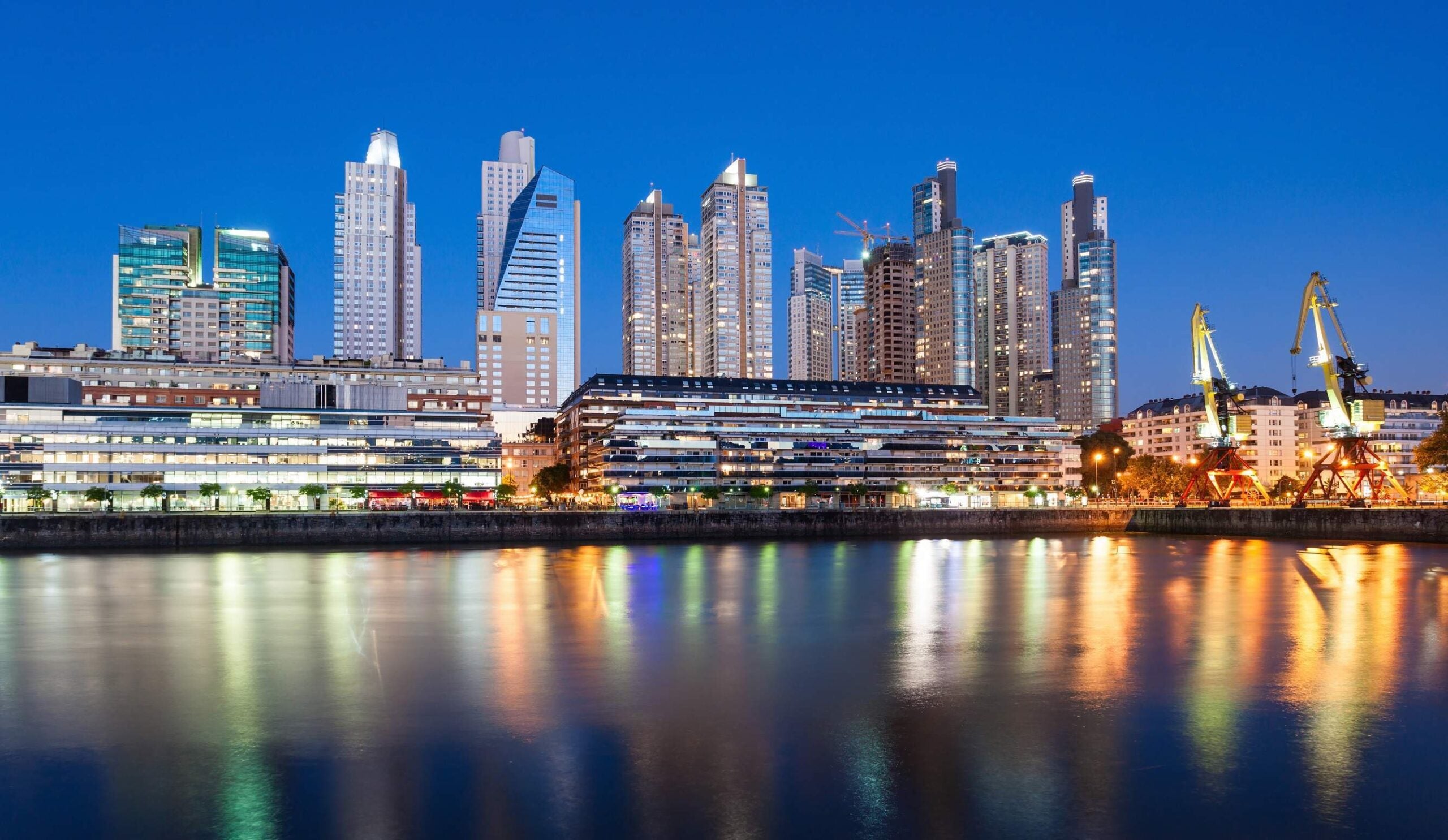 Since the right-leaning Mauricio Macri gained the presidency in 2015, he's been trying to integrate Argentina back into the international community.
According to the IMF, Argentina is the second largest economy in South America by share of world GDP (PPP). However, despite only being second to Brazil, the country's share of world GDP is less than half of Brazil's, accounting for 0.9 percent compared to Brazil's 2.8 percent.
The country's GDP began to take off in 2014 and is set to grow rapidly over the next few years (see chart below). Household income growth also suggests there may be more money available for spending on luxuries in coming years — if Macri is able to pull off his plan.
Source: GlobalData
After years of rule under the Kirchners, first Neston Kirchner who was president between 2003 and 2007, then his wife Kristina who was in office from 2007 to 2015, president Macri has had his work cut out to open up the country.
How well do you
really

know your competitors?

Access the most comprehensive Company Profiles on the market, powered by GlobalData. Save hours of research. Gain competitive edge.
Company Profile – free sample
Thank you!
Your download email will arrive shortly
Not ready to buy yet? Download a free sample
We are confident about the unique quality of our Company Profiles. However, we want you to make the most beneficial decision for your business, so we offer a free sample that you can download by submitting the below form
By GlobalData
What is with the sudden change in Argentina's trade status?
Since gaining office two years ago, Macri has been working towards growing Argentina's economy.
"Macri wants to cut down spending and lower trade barriers," Juan Ferrero, lecturer in Latin American studies at the University of Bath, tells Verdict.

"He made a couple of important measures soon after taking office, including eliminating tax on exports of gains, scrapping capital controls and the restrictions to buy US dollars for everyone."
What happened before?
Under the Kirchners' period of rule, Argentina was quite protectionist. This wasn't helped by the fact Argentina was in default from 2001-2016.
"For the past 11 to 15 years, Argentina was sort of an international pariah in terms of foreign credit and loans," explains Ferrero.
Since then, Macro has paid off the so-called Paris Club and vulture funds, to pull Argentina out of default.
What does Macri want to do?
He wants to make the country more attractive to foreign investments, thanks to his and his administration's pro-market ideology.
Already there have been partnerships made with different countries to encourage their businesses to come into Argentina. For instance, the UK's international trade minister Greg Hands announced in March that the government's export credit agency will offer up to $1.2bn in support to help UK companies secure business in Argentina.
"Argentina has huge potential to be a modern vibrant economy, which is why we are reintroducing financial support for UK companies to maximise investment opportunities and wealth creation," said Hands.
As well, the department for international trade (DIT) announced a new UK-Argentina Commercial Dialogue group with the Argentine Production Ministry. The group wants to boost bilateral trade and investment by helping to develop new commercial links and reduce existing barriers between the two countries.
How will this help the country grow?
"Having access to international credit is important for development. At the moment, in the context of the Fed raising interest rates, it means developing countries have to offer better conditions to attract foreign investment," says Dr Ferrero.
Measures such as this should help the country grow, but analysts at HSBC are sceptical. According to the bank's Global Connections report, despite Macri's measures, analysts are "doubtful these will substantively change the nature of Argentina's trade relationship with the rest of the world."
What are the industries that want to invest in Argentina?
Transport seems to be the major one at the moment, as the government announced it will invest $14bn to improve the rail systems, roads and airports.
"One of the broader policies of the administration is to really improve the country's infrastructure. Argentina has the largest rail network of Latin America, but the vast majority of it is in disuse," Jimena Blanco, head of the Americas research team at political risk consultancy, Verisk Maplecroft, tells Verdict.

"As a result, the cost of transporting goods is very expensive: it's more expensive to transport agricultural products from where they're product to the ports than from the port to China."
In terms of rail, Japanese trading companies including Mitsubishi and Marubeni Corp are reportedly considering sales of passenger rail cars for Buenos Aires's rail network and could submit bids as a consortium.
Norwegian Airlines has decided to take advantage of the air opportunities in the country. The company wants to establish a unit in Argentina before the end of the year to connect Buenos Aires with cities in Europe, as well as establish routes inside the country and within Latin America more broadly.
Oil and gas is another key area for the government. It wants to make the country energy self-sufficient and a net exporter.
"The Vacu Muerta shale deposit is one of the key areas of interest for investors," says Blanco.
As well, renewable energy is important too. According to Blanco, the government's tenders have been oversubscribed for solar and wind energy in particular. Argentina's predicted investment in solar energy is expected to grow from $11.17m to $216m, according to research by GlobalData.
Source: GlobalData
What other businesses could we see grow here?
Retailers are going to start making inroads in Argentina, particularly tech companies.
"One of the reasons why these companies are returning is under the Kirchner administration, there was a big discouragement on the import of technology. Companies had to base assembly lines in free trade zones before being allowed to import the technology into Argentina," explains Blanco.
iPhone maker Apple is ready to jump back into Argentina. Its flagship device will be sold widely in the country for the first time in several years.
But, the devices won't come cheap. According to Infobae, an iPhone 7 with Argentine taxes should cost around $973.50, compared to a US price of $649. According to data compiled by GlobalData Cities, the average household income in Buenos Aires in 2017 is around $9,888.24, meaning for most people spending nearly $1,000 on a phone isn't going to be possible.
"There is a significant market in the urban centres for luxury brands, but the cost in the local market is still several times higher than the international market. The cost of an iPhone means it will remain cheaper for a consumer to buy a flight to Miami and buy it in the US than to acquire it in the local market," says Blanco.
What about Trump's America First protectionist policies?
Luckily for Argentina, the US is not one of the country's main trading partners so Trump's protectionist policies shouldn't affect it too much.
"So far the only concrete development we've seen was that towards the end of the Obama administration the ban on Argentine lemons had been lifted and then reinstated under the Trump administration," explains Blanco.

"But the import of lemons had been banned until December 2016 and then it was lifted, and then reinstated in January 2017. So there wasn't enough of a window of opportunity for that sector to begin exporting to the US."
For Argentina, China and India are the ones to watch
The country has a very strong relationship with China and India. HSBC forecasts that imports from these countries will grow on average nine percent a year from 2021-30.
"This is a trend we've seen across Latin America. We see a lot of Chinese oil and gas companies entering the sector, not just in Argentina but also in Brazil, Columbia and Mexico," says Blanco.
Other emerging economies will cultivate with strong trade relationships with Argentina too. Trade links with Vietnam, for instance, are expected to grow at an average of eight percent between 2016 and 2020.