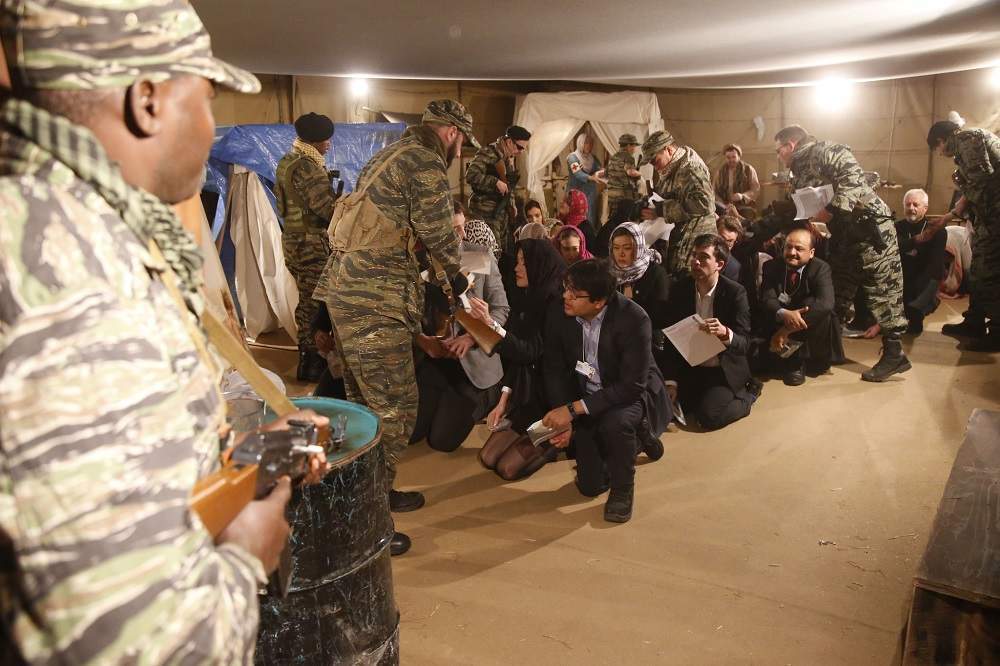 There are few events more popular among the wealthy and influential than the World Economic Forum. What began as a small gathering of economists has become a yearly party.
While the economists and financiers are still in attendance, these days the focus is usually more focused on the celebrity guests and the parties in the small Swedish town of Davos, each year. Matt Damon and Leonardo DiCaprio are just two of the huge names to attend the forum in the past.
Every year, one of the most popular events at Davos is the yearly Refugee Run. The event has been a mainstay at the World Economics Forum since 2009.
In 2017, Buzzfeed News' world editor, Miriam Elder described the event as "a real-life obstacle course", after attending A Day In The Life Of A Refugee. She lambasted the event as being a prime example of the "disconnect" between the elite who attend Davos and the rest of the world.
But is A Day In The Life Of A Refugee really as bad as all that?
What is A Day In The Life Of A Refugee at Davos?
Technically, the full name of the event is A Day In The Life Of A Refugee. In fact, the event is just that.
How well do you
really

know your competitors?

Access the most comprehensive Company Profiles on the market, powered by GlobalData. Save hours of research. Gain competitive edge.
Company Profile – free sample
Thank you!
Your download email will arrive shortly
Not ready to buy yet? Download a free sample
We are confident about the unique quality of our Company Profiles. However, we want you to make the most beneficial decision for your business, so we offer a free sample that you can download by submitting the below form
By GlobalData
The event uses actors to put participants into the shoes of a refugee to give them some sense of what it would be like to face the horrors that refugees encounter.
The event only lasts for 75-minutes, compressing a journey which may take weeks, months, or even years for the 65.3m people who are real refugees.
'A Day In The Life Of A Refugee' is not a fundraiser either. The event, organised by the Crossroads Foundation, does not ask its wealthy and influential participants for donations. This experience is purely to raise awareness about the lives of refugees, not to raise money to alleviate their suffering.
On their website, the Foundation boast of the experiences of CEOs at Davos who tried their experience:
"As one CEO at Davos said, 'It's the difference between hearing and being." Another added, "Reading a thousand books would not have taught me what I learned in the past hour'."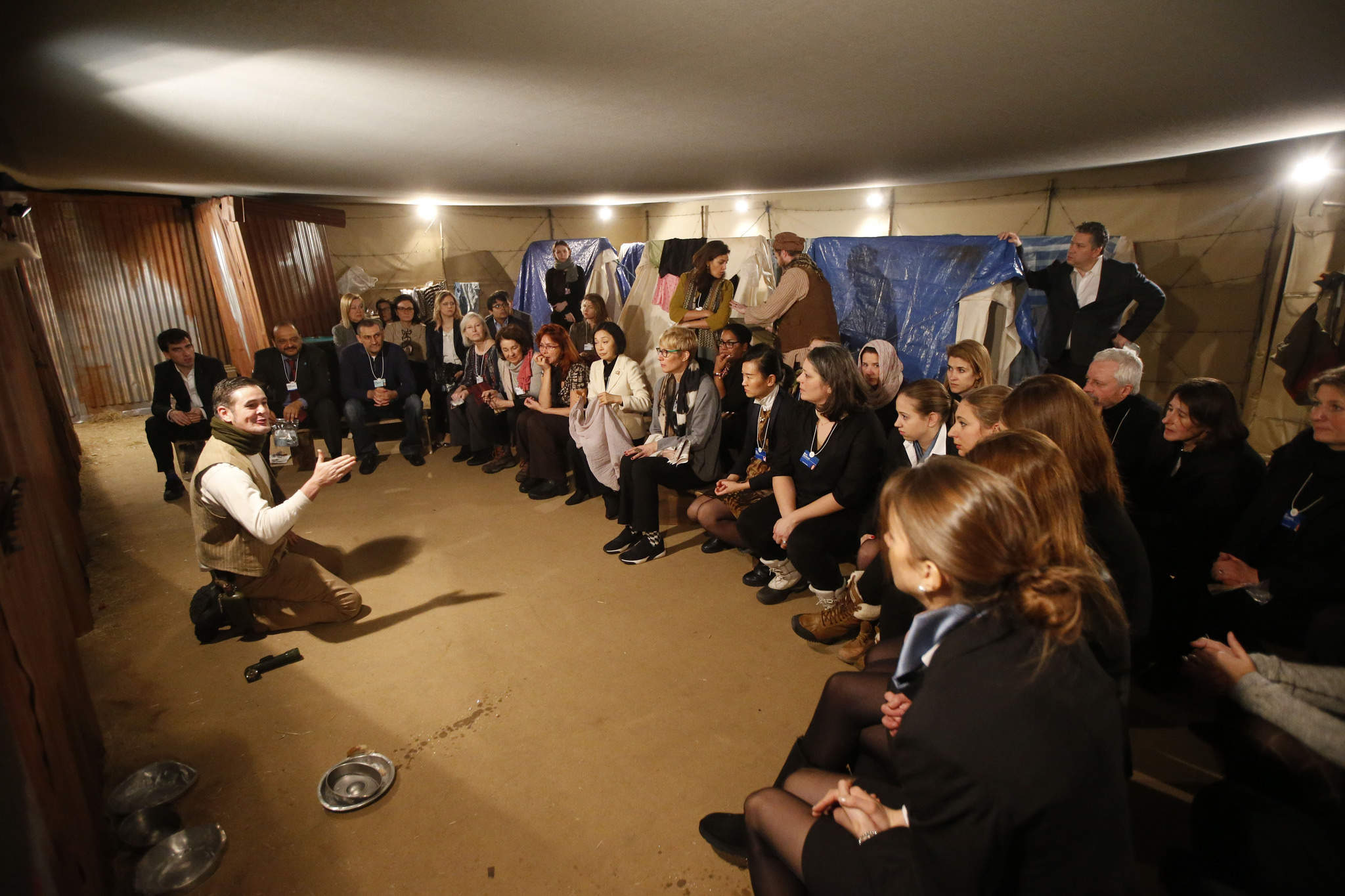 Engagement is a big part of the event too. At the end of the experience there is a debrief section. Here, a team of Crossroads staff are on hand to speak in greater depth to those who feel compelled to do something after their experience at the event.
These staff help the business leaders, CEOs, and celebrity participants find ways to help real life refugees.
However, the event is designed to be as authentic as possible. Real refugees and aid workers help craft the experience from the outset. Former refugees and aid workers also form the cast; they are volunteers who do not receive a salary.
What does the simulation actually involve?
The simulation is designed to compress weeks of refugees' experiences in just a few short minutes. The simulation touches upon many of the key concerns of displaced people. These include:
Displacement
The simulation starts with participants being forced to leave their village. There is a sad, but common, perception that refugees are opportunistic and simply want to force their way into stronger economies. Most that Crossroads encounter simply want to go home, but can't.
Disempowerment: one's future now in others' hands.
This is considered particularly important in Davos. This is because people there are often those used to being in charge. Changing their situation helps to impact them.
Stress: separation from loved ones, depression, PTSD/panic attacks
Participants must bargain for information on their families. It can be costly and difficult with weak results leaving them queuing 'daily' for information.
Vulnerability: risk of exploitation, corruption, human rights violations, with little legal recourse
The cast replicates some of the ways these exist in conflict zones. This is effective because obviously participants are used to much more robust legal infrastructure.
Dearth of medical care
Participants may need to bargain or make other concessions to get medical care.
The gender factor
Women tend to have fewer rights as refugees than men. Thus, female participants are not permitted to speak to men, and must keep their heads covered.
Inadequate education
To represent this the school is closed for part of the simulation demonstrating the reality of education limitation in today's camps.  
Weak infrastructure: lack of power, inadequate shelter, little or no Internet access
This camp is not the most comfortable or facilitative. Participants meet those challenges.
Lack of resource
Much is made of the absorption of refugees into wealthier nations, but the deeper truth is that far more are seeking refuge in countries which already struggle to meet the needs of their own populations.
Right of abode/work
The UNHCR asked Crossroads. Participants have just a taste of their future fate as they learn, one by one, if they have been granted asylum or will be deported back to their war zones.
Who experiences A Day In The Life Of A Refugee?
The event has a wide-reaching list of participants. In the past executives from some of the world's most high-profile businesses have taken part.
These include NIKE, Inc., Deloitte, Forbes, HSBC bank plc, Mastercard, Wikipedia, and Nestle. Those are just a tiny selection of the brands who've taken part.
In addition, well-known personalities including Virgin's founder Richard Branson, Ban-ki Moon the Secretary-General of the UN, and Wikipedia founder Jimmy Wales.
This year, sponsors for the event are Cathay Pacific, Facebook, Hewlett Packard Enterprise, UPS, Nestlé, Linklaters, Microsoft, and UNHCR.
However, corporate bodies are not the only ones to be able to try the experience. Anyone attending the conference can sign-up on Toplink or visit the sign-up desk in the Conference Centre.
There are three sessions each on 23rd, 24th, and 25th January at 9.00, 12.30, and 16.30. Additionally, there are two sessions on Friday 26 January at 9.30am and 12.30pm.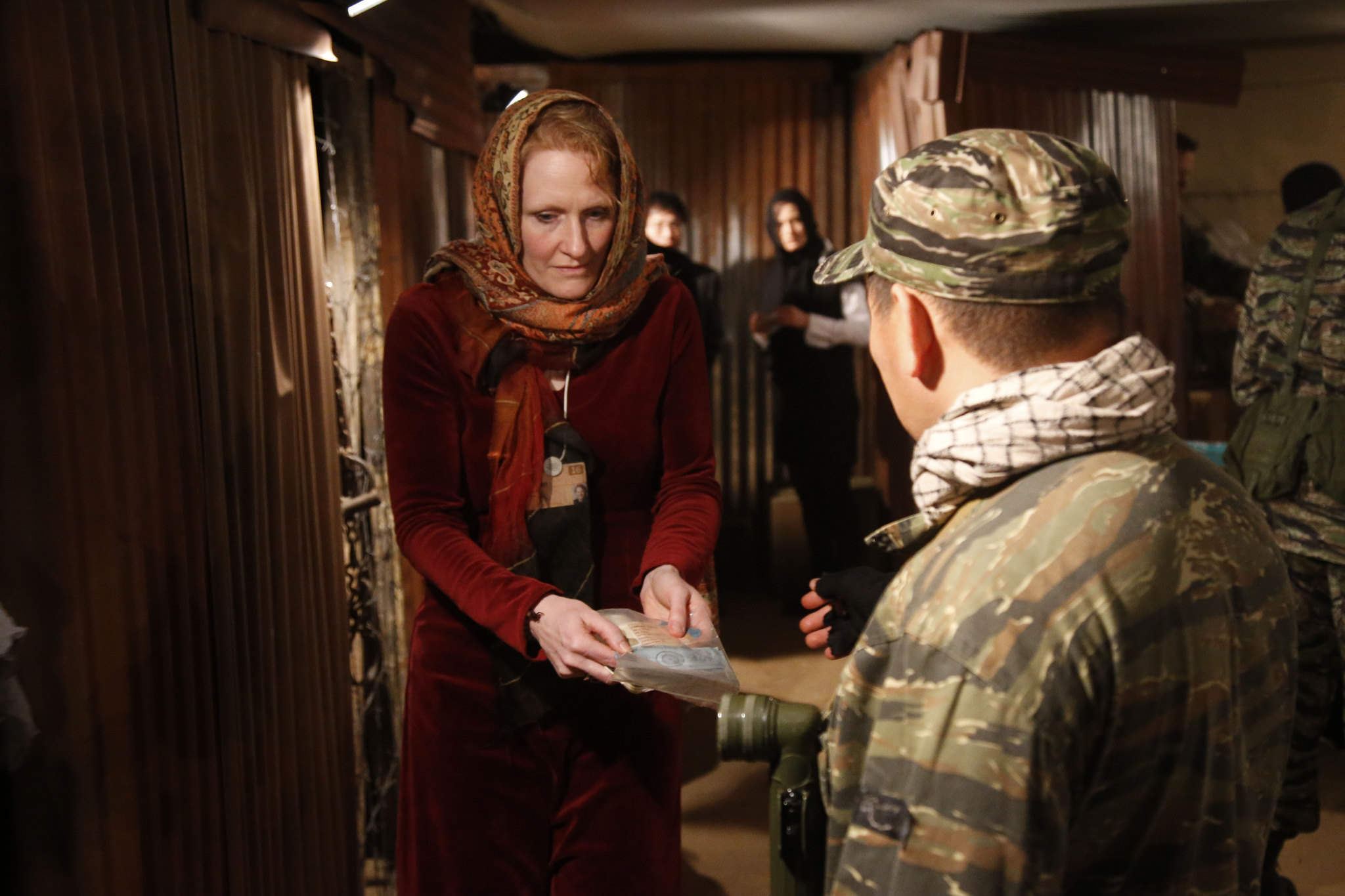 How does this form of advocacy work?
Verdict reached out to Sally Begbie, co-founder and director of Crossroads to get to the bottom of what exactly A Day In The Life Of A Refugee is all about.
Begbie, who, along with her husband Malcolm, has devoted the past twenty years of her life to advocating on behalf of refugees the world over, was able to shed a bit of light on the simulation and provide an interesting counter-argument to those who complain at her organisation for encouraging wealthy Davos attendees to 'play' at being refugees.
If we must use the word 'play', I think I would reach for it in the same way Shakespeare did in Hamlet. 'The play's the thing wherein I'll catch the conscience of the king.'  We're after kings' consciences, whether kings in diplomatic circles, business empires.
For Begbie, the advantage of presenting the simulation at Davos is that it can reach those with the power and status to enact real change.
"Yes, most will be (wealthy) but, for us, it is far more important that they use their global position and influence than their personal wealth… There is a matrix of factors needed to deal with this problem which is of unprecedented scale."
The idea is that business leaders and influential people who experience the impact of the refugee crisis personally are better able to empathise with the plight of displaced people. The question Begbie hopes visitors to 'A Day In The Life Of A Refugee' ask is this:
If the refugee plight were about you and yours, would it change, in any way, your response? Would you be more welcoming to their integration into your community? Might you be more proactive in helping them? Would you take greater action to see their needs supported at home or abroad?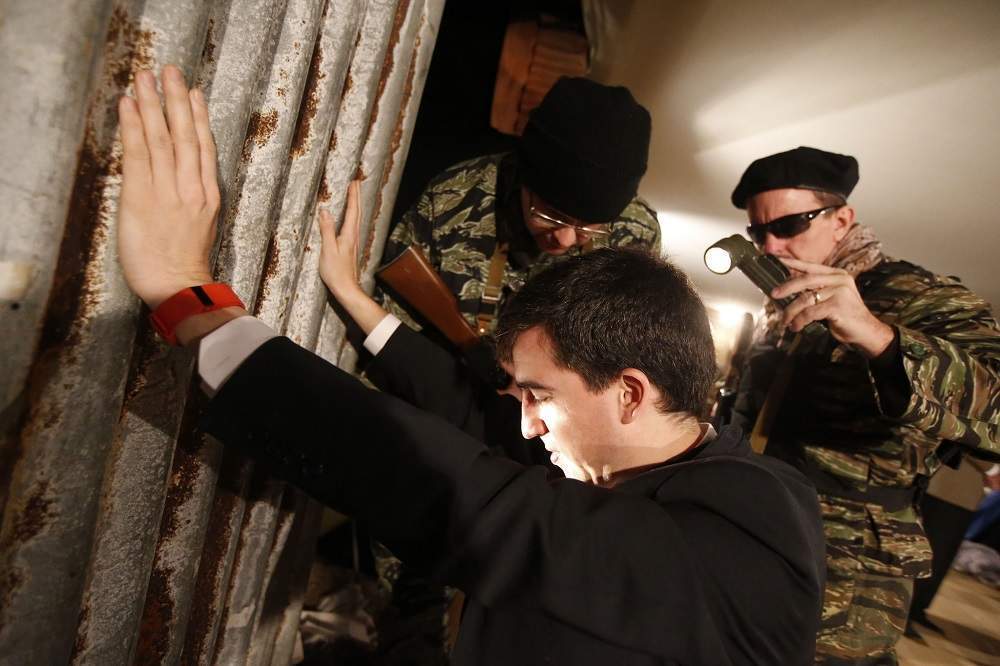 Is the experience exploitative of the suffering of displaced people?
It's incredibly striking how thoughtful Begbie is about her answers over the course of our conversation. She assures me 'It is fine for us to be grilled on (the issue of taste.) We grill ourselves pretty heavily, year round.'
Begbie is clear that the simulation must never be gratuitous or designed for entertainment. 'That would appal us', she firmly states.
"Is it okay to challenge wealthy and influential people, through a personal encounter with the refugee issue, as to whether they ought to do more to help? The answer, then, we believe, is yes. That said, it is conditional, and this is important, that is it done respectfully and consultatively with those who are displaced."
At one point, Begbie compares the issue to that faced by directors of war movies. War is a dark, horrifying subject, so is it innately in poor taste to turn it into a film for entertainment?
As she explains the criticisms that focused on 'A Day In The Life Of A Refugee', it's striking that none of the same problems were found in director Christopher Nolan's recent war-epic Dunkirk.
Arguably, though, 'A Day In The Life Of A Refugee' is a much more powerful way to stir the conscience than any film ever could be:
"Our form of communication has a slight variation on the above, however, in that our 'audience' does not watch from comfy seats. It is called upon to experience the issue personally. This makes it much harder, we find, to keep refugee challenges 'at arm's length'."
A case study:
In response to my request for comment, Begbie reached out David Livingstone Jacometti Okello. Lord's Resistance Army in Uganda, captured Livingstone when he was 15. For six months, he was forced to work as a child soldier for the rebels. Eventually, he escaped and, after beginning to piece his life back together, returned to the war zone. This time, he worked as an aid worker in camps for displaced people.
Livingstone explained why, in his view, showing thought leaders and policy makers the suffering of refugees first hand is so important:
"I think it is very important for us to bring the simulation before the rich and powerful in Davos, for them to spend even 45 minutes in our shoes.

"I say that because people like us often feel the world forgets us. They make policy and other decisions at their level, not ours. They don't know what life is like on the ground.

"Those decisions may look good on paper, but in reality our suffering may not be alleviated through them. They may not benefit us on the ground or the implementation of them may not even  reach us. We may not ever see it.

"The voice of the voiceless should be heard more loudly so that the decisions made are really right for us here."
But some elements of the audience at Davos do not have a direct hand in changing policy to help refugees. For Livingstone, those people are just as important to share the experience with:
"Business leaders can help us, through their company services or products,  without  having to go through bureaucracy or red tape.

"They can make things happen to change life for us where we are at, straight from Davos to us at the grassroots level."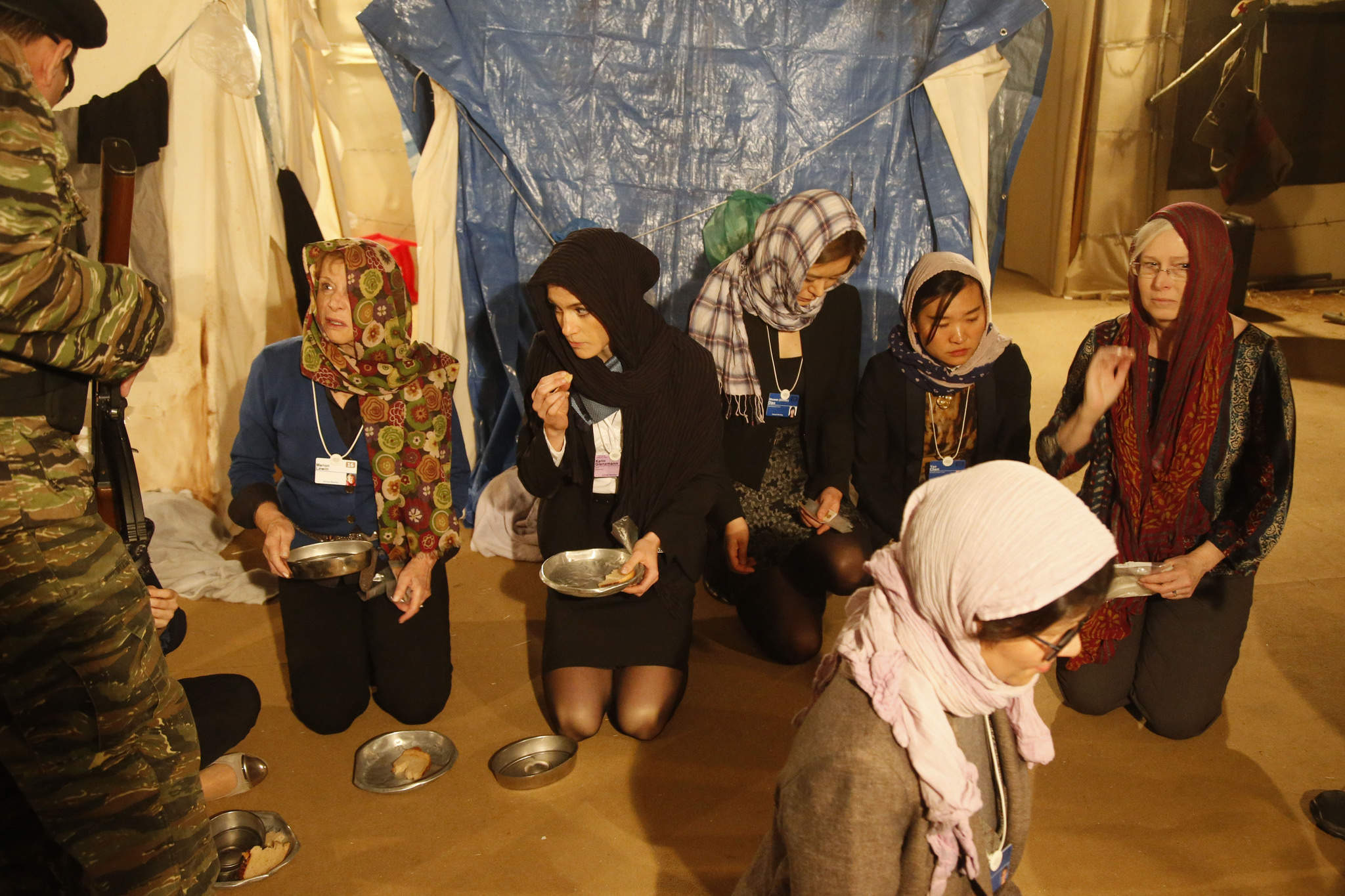 Does this form of advocacy actually work?
Of course, all this is great in theory, but does it work in practice?
Each 'A Day In The Life Of A Refugee' ends with a debrief session. Here Crossroads' volunteers sit down with participants to help them find ways they can use their influence to help refugees. As mentioned above, the participants don't have to give donations or sponsorship. So does the simulation actually inspire leaders to make change?
The answer is a resounding yes. Crossroads' engagement team sent a list of no less than 16 case studies where organisations' senior leaders took part in the simulation then took action based on their experiences. Examples included Microsoft opening a communication centre for unaccompanied minors in Athens. Starbucks began organising volunteering programmes for its staff, from baristas to executives. General Ramirez of the US army requested that his cadets experience the simulation to see future officers sensitized to these issues.
The official website of the event also boasts of the 'many corporate and political leaders who have participated have remained involved with global issues long after their simulation experience. These simulations have also birthed NGOs, projects and further engagement in the community, both adult and student.'