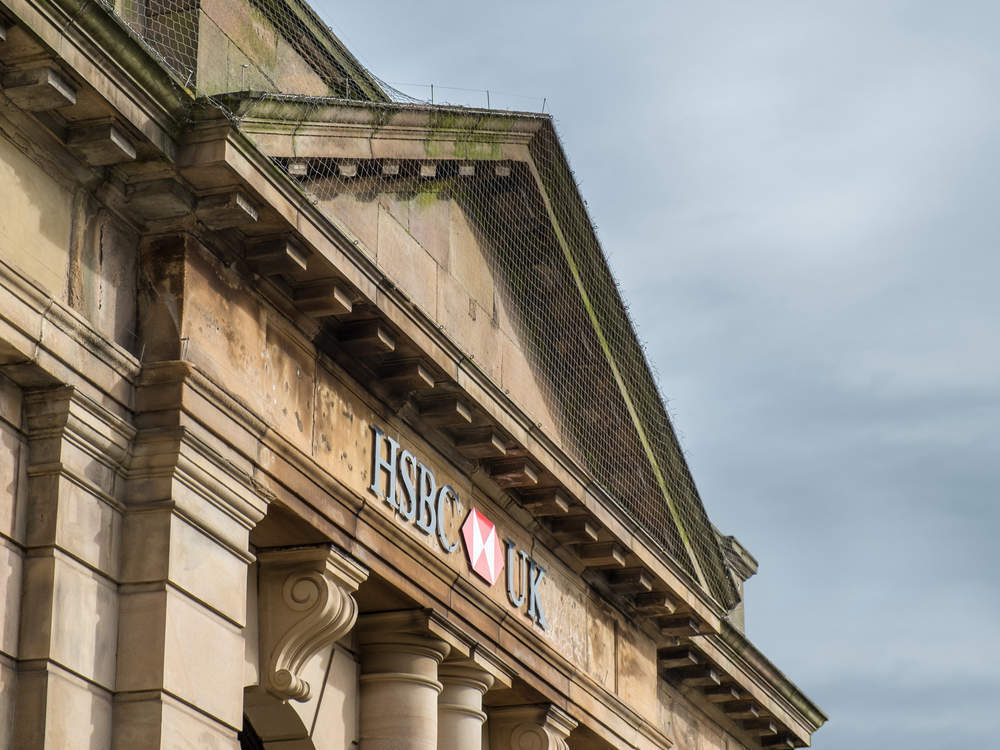 More than one in four UK bank branches (26 percent) have been shuttered in the past five years.
All over the UK people are coming to terms with the fact that their communities will no longer be served by a local bank branch, forcing them to rely on online services or a local post office.
Today RBS revealed it is to close 259 branches, cutting 680 jobs. The closures involve 62 Royal Bank of Scotland and 197 NatWest branches.
RBS — still 72 percent-owned by the taxpayer — said it would try to ensure compulsory redundancies were "kept to an absolute minimum".
Campaigners argue that losing a bank branch can be debilitating for communities and groups like the Federation of Small Businesses (FSB) want greater consideration to be taken whenever a branch is closed.
However, banks say the costs of running branches cannot be maintained if people are not using them.
Figures from RBS show that over-the-counter transactions have fallen 43 percent since 2010. At the same time, online and mobile banking have increased four-fold.
Research from magazine Retail Banker International highlights which banking giants have been closing the doors on the most branches over the past five years.
HSBC
HSBC has been the most aggressive of the big five UK banks in closing down unwanted branches.
On top of HSBC's 42 percent reduction between 2011 and the end of 2016 — bringing its network to just 728 — it plans to shrink this further to 625 by the end of 2017.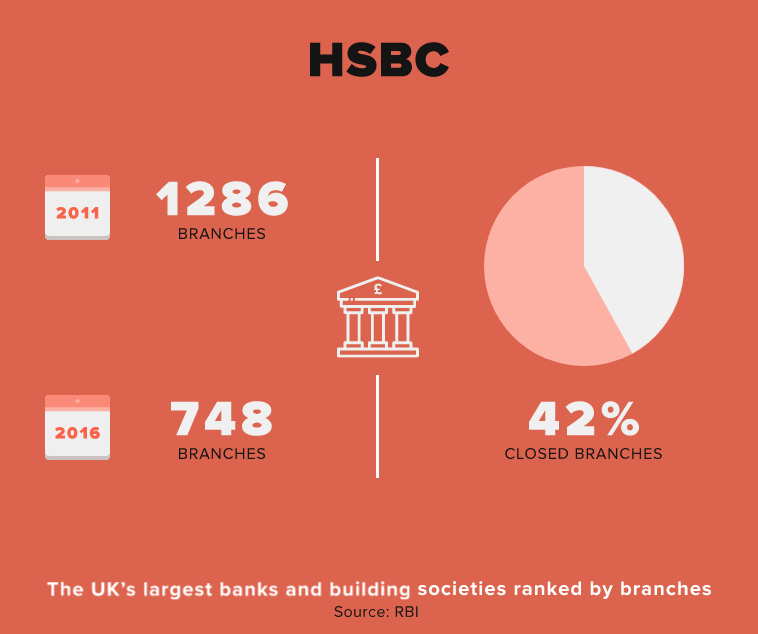 Barclays
Barclays — whose boss is currently being investigated by financial regulators after admitting trying to unmask a whistle blower who made allegations about a long-term associate he had brought to the bank — holds onto the dubious honour of having the most branches on the high street.
It has however tried to drive down costs by axing some 24 percent of them since 2011.
Last year Barclays said in a statement:
The number of physical Barclays branches will reduce overall but our branch network and the colleagues who work in them remain a vital part of our offering.
Lloyds Banking Group
Lloyds Banking Group — which currently has the largest market share of retail banking customers in the UK — has been slower to close down its branch network.
Its Lloyds Bank brand has closed just 12 percent of branches, while Halifax as barely closed any and its Scottish brand Bank of Scotland has shuttered fewer than one in five stores.
In a watershed moment for the country's banking sector — the UK government In April had recovered the £20.3bn of taxpayers' money it used to bail out Lloyds Banking Group during the 2008 financial crisis.
Chancellor Philip Hammond said:
Recovering all of the money taxpayers injected into Lloyds marks a significant milestone in our plan to build an economy that works for everyone. While it was right to step in with support during the financial crisis, the Government should not be in the business of owning banks in the long term.

The right place for them is in the private sector and I'm pleased to be able to say we are approaching the point at which we will sell our final shares in Lloyds Bank.
Royal Bank of Scotland
Royal Bank of Scotland (RBS) is still wrestling with its required sale of the Williams and Glyn brand as part of its 2008 bailout.
If it manages to pull it off — which now seems unlikely — the RBS brand in England and Wales will all but disappear.
RBS today announced it will be closing an additonal 259 branches – one in four of its outlets – and cutting 680 jobs as more customers bank online.
The European Commission warned earlier this year that a £750m plan that will allow RBS to abandon the troublesome sale of its Williams & Glyn business could eventually deal a £1.5bn hit to the taxpayer-backed lender.
Brussels launched an investigation into a package of measures the UK Government has proposed that would see RBS boost competition in small business banking and would replace a forced sale of RBS's 300-branch W&G division.
Outside of the Williams and Glyn debacle, the bank's Natwest brand has already been shrunk far more effectively however, as well as the RBS brand north of the boarder.
Last year RBS said in a statement:
We review our branch network regularly to make sure the services we provide are appropriate for each local community, based on our customers' usage and other ways to bank in the local area.
Santander
Santander UK, part of Spain's Banco Santander, has cut out 29 percent of its network since 2011, leaving it with just 841 stores on the high street.
The largest UK challenger brand Santander has been successfully growing its customer base in the UK with help from its competitive 123 account.
In Spain — one of the most over branched countries in the world — Santander faces a similar challenge to slim down its bloated network.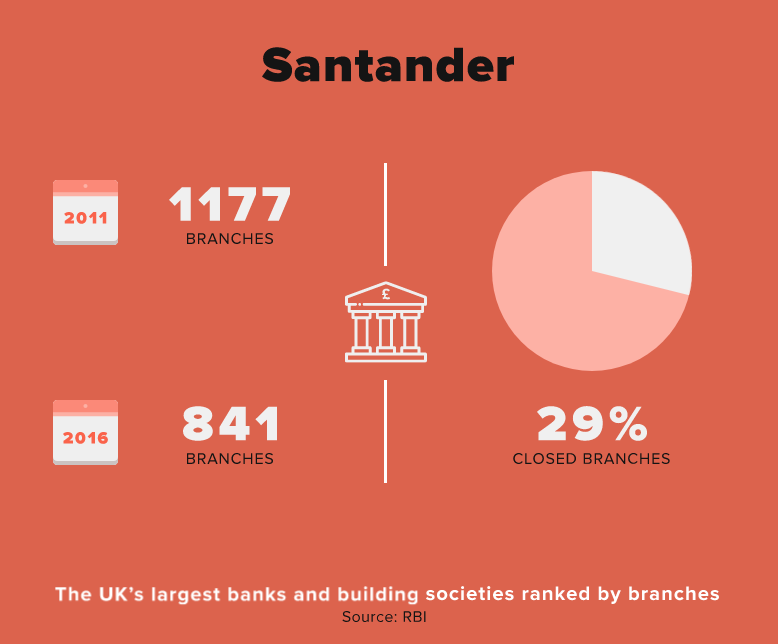 This research was originally carried out by Retail Banker International. You can read its full analysis here.