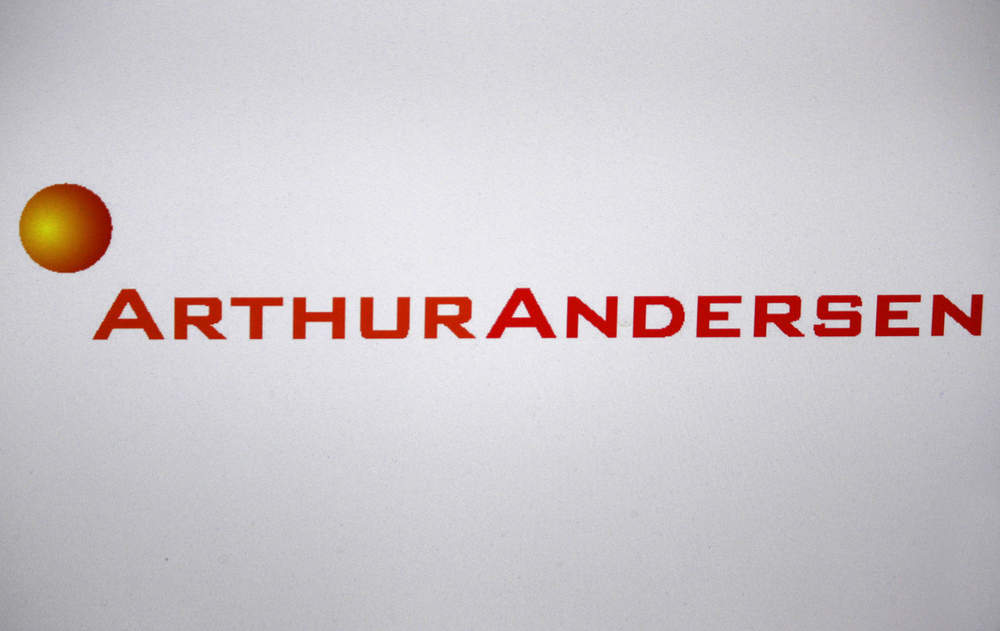 Former member of the so-called Big Five accounting firms Arthur Andersen has returned to the headlines, and two groups, one headquartered in the USA and one headquartered in France, claim to be the rightful heir of the iconic accountancy firm.
But which of the two owns the brand and which of the two can claim the legacy?
Many would have thought that the name Arthur Andersen was dead and buried in 2002 when the accountancy surrendered its licence.
Arthur Andersen started to reappear in the public eye in 2014 when WTAS, a tax firm headquartered in San Francisco rebranded to Andersen Tax and launched Andersen Worldwide. Mark Vorsatz, the firm managing director and CEO, joined Arthur Andersen in 1979 and became a partner in 1987, he sat on numerous global committees of the firm up until its collapse.
"When Arthur Andersen imploded I decided not to go to a Big Four," he says.
Instead with 23 partners and 180 people from Arthur Andersen, Vorsatz created Wealth & Tax Advisory Services Inc (WTAS) which originally worked as a subsidiary of HSBC out of six US locations.
How well do you
really

know your competitors?

Access the most comprehensive Company Profiles on the market, powered by GlobalData. Save hours of research. Gain competitive edge.
Company Profile – free sample
Thank you!
Your download email will arrive shortly
Not ready to buy yet? Download a free sample
We are confident about the unique quality of our Company Profiles. However, we want you to make the most beneficial decision for your business, so we offer a free sample that you can download by submitting the below form
By GlobalData
"In 2006 we started to add locations primarily with former Arthur Andersen partners," he recalls.
And the following year we worked out a management buy-out with HSBC before deciding that we needed international solutions because many of our clients where growing internationally."
Before WTAS left HSBC, Vorsatz says that he was contacted by Duane Kullberg, who had been Arthur Andersen's chief executive from 1980 to 1989.
Kullberg voiced the idea of relaunching Arthur Andersen and that some former clients had put money together to help buy the name, Vorsatz says.
Indeed, while Arthur Andersen by that time had been out of business for a few years, Arthur Andersen LLP was still alive and owned the brand.
International Accounting Bulletin understands that Arthur Andersen LLP is an Illinoi limited partnership which is the legal entity in the USA which traces its history back to the beginning of Arthur Andersen.
It was the legal entity under which Arthur Andersen in the USA did all of its professional practice:  audit, tax, business and consulting. But it did not include the consulting practice that split off and became Accenture.
A former senior at Arthur Andersen who did not wish to be quoted says that "the mother entity, the old original firm was Arthur Andersen LLP and it controlled the name".
That entity never went bankrupt and never dissolved, according to information gathered by International Accounting Bulletin.
When Arthur Andersen went down, that entity continued to exist for the purpose of winding down the business. It was steered by a committee of four partners who stayed to manage the closing up of business.
Those partners were: Larry Gorrell, Lou Salvatore, Steve Rogers and John Niemann (the latter now working at Andersen Tax)
Amongst others they had to collect receivables, work out the pension fund for the employees and to take care of the different bits and pieces of the litigation.
Slowly but surely the staff of Arthur Andersen LLP went down until it reached zero and the last two things they owned was the brand and Arthur Andersen historic training centre in St Charles, Illinois.
In 2006, Vorsatz declined Kullberg's offer because "the scares were still open".
But as WTAS continued its international expansion, in 2013 a branding issue started in Germany because a firm was called WTS which prompted an internal process to re-evaluate the name.
"I contacted Lou Salvatore saying that we may want to buy the name, he accepted because most of our partners and people had worked at Arthur Andersen," Vorsatz says.
We purchased the rights to the USA and subsequently the rights globally and we started filling trademarks throughout the world."
At the moment Andersen Tax has 57 locations globally, according to him, but by next month he expects to be able to announce a total of 63 locations worldwide.
The rebirth of Arthur Andersen could have continued from there, following the tranquil rhythm of announcements from Andersen Tax on added members from around the world. However, earlier this month out of France came the news that an international network had been launched under the name of Arthur Andersen, and claiming to be the official heir to the former firm with on its website the mention: "Founded in 1913 in Chicago, IL, USA".
"As from the 1st of March 2017, it is a reality: through a French initiative, Arthur Andersen is reconstituted, with 26 offices on 5 continents and in 16 Countries," the press release distributed via LinkedIn reads.
"After receiving more than 200 candidacies since the launch of their campaign for affiliation last June, interviews for selecting its first members were conducted in Paris and around the world."
International Accounting Bulletin contacted for an interview Stéphane Laffont-Réveilhac, Arthur Andersen global managing partner and according to Samantha Kemp (whose email signature reads communication manager Arthur Andersen LLP) the former head of marketing and development for PwC and Ernst & Young in France.
We followed up by asking: "Who are Arthur Andersen's clients? How many partners/staff do you have in each jurisdiction? What services do you offer?"
At the time of writing we have not received any answer.
International Accounting Bulletin also contacted Imad Hala, who according to Linkedin is Arthur Andersen's managing partner for North America and a former manager at the old Arthur Andersen consulting firm.
Hala did not reply but Samantha Kemp responded on his behalf in an email.
She suggested contacting directly Laffont-Reveilhac and said:
Arthur Andersen is structured as a worldwide network, each of our offices is a member firm structured as an independent legal entity — similar to PwC, Grant Thornton and many other worldwide professional service organisations/networks. Many of our partners are Arthur Andersen Alumni from offices all across the globe, we also have a very strong team of Partners and Employees from many other top tier organisations."
Her email continues: "I would like to share the attached documents from the USPTO [United States Patent and Trademark Offices], this confirms that our organisation (QUATRE JUILLET MAISON BLANCHE, SAS) has the only live Arthur Andersen trademark in the United States."
However while the serial number 79160370 for the Arthur Andersen trademark is live, looking at the documents attached to the file; one can see an office action note dated 28 September 2016.
The note reads that the registration is refused because of likelihood of confusion with USA registered trademarks: Andersen Global, Andersen Tax and Andersen Consulting.
"Applicant has argued that 'Anderson is a distinctive name and no confusion is possible with Arthur Andersen, Andersen Tax, Andersen Legal, Andersen Consulting and Andersen global are new marks and must be considered[sic] as trademark infringement cases.'  However, the cited marks have registered and the filing date of the ANDERSEN marks precedes the applicant's filing date," the letter reads.
The letter raises some questions around the identification of goods and services of the application and ask the applicant for an answer. Furthermore the note reads that to avoid "abandonments" of applicant's trademark application, the UPSTO must receive applicant's complete response to the letter within 6 months.
A file note added on 9 March 2017 suggests the USPTO has been in contact with the applicant.
International Accounting Bulletin put forward the above objection to Kemp asking for comment or clarification – at the time of writing we have not received an answer.
Vorsatz says: "Not only did we buy the rights for Arthur Andersen USA and Arthur Andersen Worldwide independently we filed trademarks and our trademarks preceded theirs, and as a consequence their application in the USA has been refused and we are trying to extinguish through litigation we filed an action in October of last year because they keep making noise about this and it is damaging our business and we actually have a business. They don't have a business."
False address 
International Accounting Bulletin called the 26 offices listed on Arthur Andersen's website.
Only the member in Nepal told us that it was a member of Arthur Andersen since January 2016 and had three partners and 80 staff. Most asked us to send our request via email which we did. At the time of writing only two had reverted back, the member firm in Indonesia whose managing partner Ivan Kanel said they had been a member since 1 March 2017 and had 4 partners and 75 staff.
Asked if the firm or its partners were affiliated to the original Arthur Andersen (prior to its dissolution in 2002) and if he was aware of the current trademark dispute, he responded: "Our firm was not affiliated to original Arthur Andersen. Our current partners come from another Big Four firm alumni (KPMG, PWC and EY). Yes I'm aware for the dispute between Arthur Andersen & Co and Andersen Tax (They don't use Arthur Andersen brand I believe and only use "Andersen Tax" name since 2014). Currently I have no other opinion, Head Office at Paris will answer all your question related to this issue."
However the contact listed as the member firm in Saudi Arabia responded to our email: "I am Mustafa Tahboub, director of assurance services with International Accountants – a member firm of HLB International. International Accountants are not associated with Arthur Andersen."
We followed up asking: "Have you ever been a member of Arthur Andersen? Could this be that you left their network and the directory hasn't been updated yet?"
At the time of writing we didn't receive a response.
Similarly the member firm listed for Houston Texas has the contact address: "1 rue des champs élysées, 77002 Houston, Tx, USA.". An address that does not exist in Houston, Texas.
On the other hand Andersen Tax sent International Accounting Bulletin emails after emails of contact list of people currently working or associated in some way with them. Most of the people in these lists share something else in common: they were at Arthur Andersen prior to the 2002 collapse.
"I can't comment on the legal questions," Lawrence Weinbach tells International Accounting Bulletin. "But from my perspective I joined Arthur Andersen in 1961 and moved up different position and became CEO of Andersen Worldwide from 1989 to 1997. I go back a long way and I know a lot of the partners involved with Andersen Tax, a lot of them worked with me. And I know they are trying to revive the same type of quality, value and training that Arthur Andersen had."
Weinbach says he is at a loss on how the French operation can claim to represent Arthur Andersen, "when the history and many of the people are with Andersen Tax, one has to question what the motivations are of a very small operation in France."
Legal blackmail?
Many people contacted by International Accounting Bulletin didn't wish to be named but most said that they suspected the operation coming out of France to be a legal blackmail.
"I think they are just looking for a pay day," one of them said.
This seems to be confirmed by Vorsatz who says: "They made threats to us some time ago. They tried to extort from us a substantial amount of money. They threaten that they would create disruption if we didn't pay them $87m."
At the time he says he didn't think much of it and just dismissed the threats. But with the media, especially in France, spreading the words of Arthur Andersen revival, Vorsatz has now filed a complaint to the United States District Court Northern District of California San Francisco Division against Laffont-Réveilhac, Veronique Martinez, Arthur Andersen & Co. and Mohala Entreprises, LLC D/B/A Sundial Consulting.
"We are going to inforce our rights with all vigour, this is a principled issue," he says.
International Accounting Bulletin understands that the defendants were served on 15 March and it will have to go through some legal processes to create jurisdiction over the French individuals before they can be sued in the US – suggesting some follow up episodes in the "brand wars" series.
This article originally appeared on International Accounting Bulletin you can subscribe here. 
Aziz Rahman and Sarajuddin Isar contributed to this report.