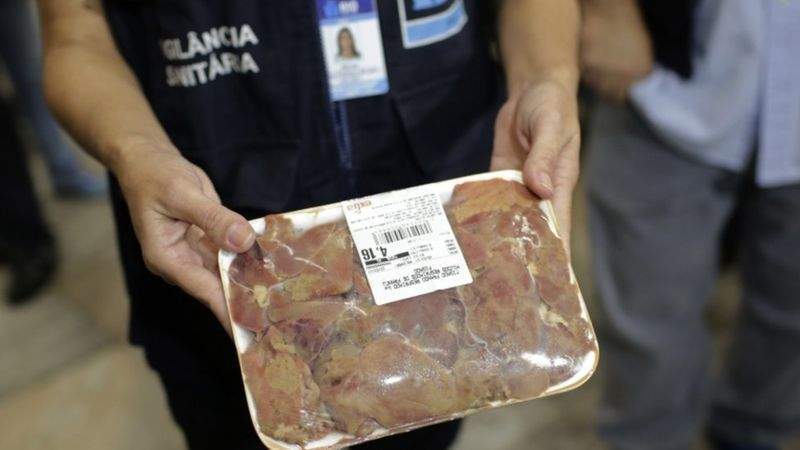 China, South Korea, Chile and the European Union (EU) have suspended imports of meat from Brazil, amid allegations that the produce sourced from the Latin American country is unsafe to eat.
The regions which have already taken precautionary action accounted for nearly one third of Brazilian meat exports in 2016, Brazilian newspaper O Globo reported.
The scandal was uncovered by Brazil's federal police on Friday, after a two-year investigation found evidence that 21 major meat-packers operating in the country including JBS and BRF, had been selling rotten, substandard produce for several years.
The companies implicated have denied any wrongdoing, Reuters reported.
China has now banned red meat imports from Brazil, the EU has stopped buying from companies implicated in the scandal and South Korea has temporarily suspended BRF chicken imports.
"The object is . . . to undertake a thorough inspection to verify the quality of the products," said the South Korean government in a statement.
The markets reacted almost immediately to the newly imposed bans on imports of Brazilian meat.
JBS, headquartered in Sao Paulo is the largest meat processing company in the world, and BRF is one of the biggest poultry exporters in the world, with 54 factories in seven countries.
Shares in both companies dropped as much as 10 percent early on Monday, making them the biggest decliners on Brazil's benchmark Bovespa stock index according to Reuters.
Brazil's agriculture minister Blairo Maggi said the government had been forced to stop exporting produce from 21 of the country's meat processing units.
Maggi called the federal police's findings  "alarmist," and criticised their investigation for making far-reaching allegations based on just a small number of cases.
"Only 21 units out of 4,837 in Brazil subject to government inspection are facing allegations of irregularities. And only six of them have exported in the past 60 days," said Temer at a meeting with foreign diplomats on Sunday.
He added that an all-out ban on imports of Brazilian meat would be a "disaster."
Indeed, meat exports generate more than $12bn (£9.7bn) a year for the Brazilian economy, a necessary source of income as the country continues to suffer from its deepest recession on record.
"The Brazilian government reiterates its confidence in the quality of a national product that has won over consumers and obtained the approval of the most rigorous markets," said Brazilian president Michel Temer, who held emergency meetings during the weekend.
Temer even invited the foreign diplomats to a steak house on Sunday evening, publicly demonstrating his confidence in Brazil's meat production.
Brazil is the world's biggest red meat and poultry exporter.