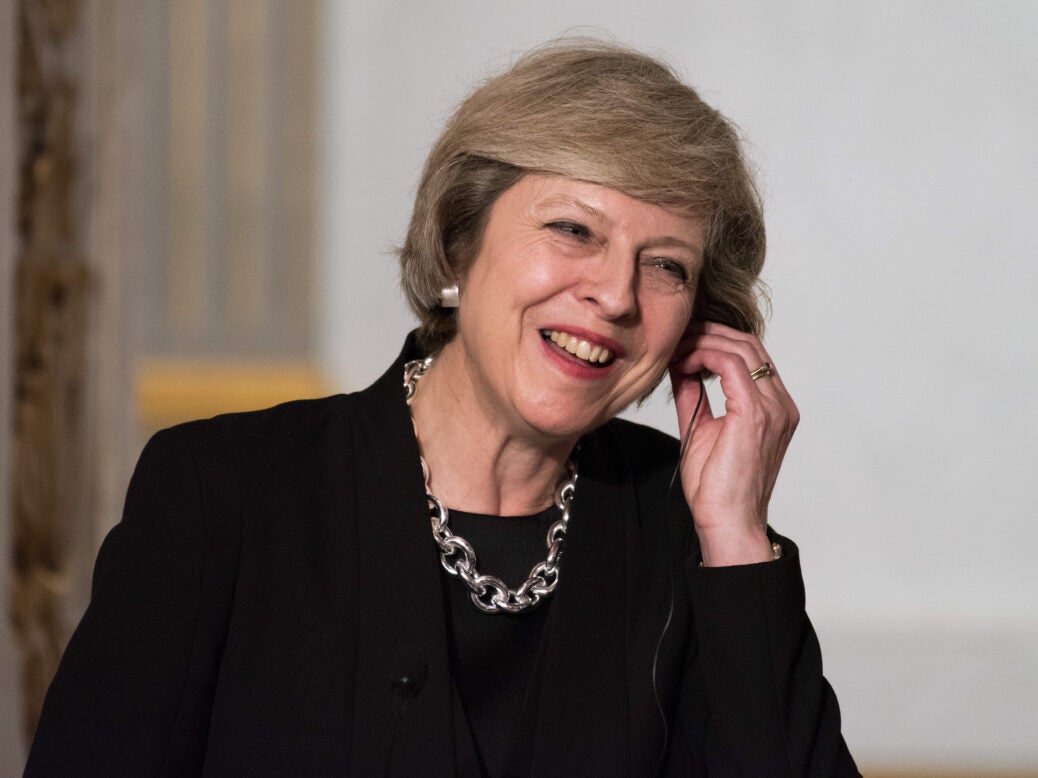 Last week, British prime minister Theresa May triggered Article 50, the official exit clause of the Lisbon treaty that sets a two-year deadline for a country to leave the European Union (EU).
So, what has May actually said since that fateful day?
1. She promises Gibraltar's sovereignty will not be taken away without consent
Spain contests the UK's claim to Gibraltar and draft EU Brexit negotiating guidelines have sparked a row over the British overseas territory.
However when May met with European council president Donald Tusk on Wednesday the pair agreed that they would "seek to lower tensions that may arise," including issues surrounding Gibraltar's sovereignty.
Their meeting at Downing Street followed comments from former Tory leader Michael Howard, who suggested the UK would go to war over Gibraltar in the same way it had over the Falklands under Margaret Thatcher.
"The PM made clear [at the meeting with Tusk] that on the subject of Gibraltar, the UK's position had not changed: the UK would seek the best possible deal for Gibraltar as the UK exits the EU, and there would be no negotiation on the sovereignty of Gibraltar without the consent of its people," a Downing Street spokesman said.
Surveys of Gibraltarians show they overwhelmingly want to remain part of the UK although 96 percent of them voted to stay
in the EU.
"They agreed to stay in regular contact throughout the Brexit process to keep a constructive approach and seek to lower tensions that may arise, also when talks on some issues like Gibraltar inevitably will become difficult," an EU source added.
2. She announces £490m contract for new UK passports
The UK government issued a £490m call to companies and individuals to submit design proposals for new UK passports, which are due to come into circulation in 2019.
The government expects to whittle down the entries to six potential bids, and the contract on the new design is due to last for eleven and a half years.
"We are launching the procurement process now to ensure there is sufficient time to produce and design UK passports from 2019 when the current contract ends," a Home Office spokesperson said.
Designers must "express interest" in the UK passport design competition by 8am on 14 April 2017, then submit a full proposal by 2pm on 24 April 2017.
3. She hints at possible extension of EU rules after 2019
May accepted that Britain will not be able to sign a trade deal until after it formally leaves the EU and becomes a "third country."
Britain could be forced to accept EU law, immigration controls and budget payments after it formally leaves the bloc in 2019 if it wants a transitional period.
Rather than "transitional arrangements", May and her Brexit secretary, David Davis, use the term "implementation phase."
Research by the House of Commons library suggests that ministers could import up to 19,000 EU rules and regulations into the British statute book.
The UK could have little choice but to take part in some EU agencies after 2019 as well.
"We simply don't have the expertise in some areas and wouldn't have the time to start up new agencies from scratch," an official close to the negotiations told the Financial Times.
 4. She suggests freedom of movement will continue post-Brexit
May indicated that free movement of EU citizens to the UK could continue for a period after Brexit during the "implementation phase" as complex new border systems and trade deals are put in place.
She suggested that immigration from the EU could continue until after the next British election in 2020 earlier this week on a visit to Saudi Arabia.
"If you think about it, once we've got the deal, once we've agreed what the new relationship will be for the future, it will be necessary for there to be a period of time when businesses and governments are adjusting systems and so forth, depending on the nature of the deal, a period of time during which that deal will be implemented," she said.
5. Her softer approach to Brexit gets support from 
Eurosceptics
Boris Johnson, foreign secretary, and Liam Fox, international trade secretary, signalled their backing for Britain to make concessions to Brussels as part of a transitional arrangement after 2019.
Johnson and Fox, two of the most staunchly pro-Brexit cabinet ministers have admitted limited concessions were necessary.
So far there has been no resistance from Eurosceptic Tory MPs in parliament, partly thanks to Gavin Williamson, the Conservative chief whip.
"Gavin has told people that we will get back control of our borders, money, laws," said one Tory Eurosceptic. "He's told us to keep quiet, stay united. There will be bumps on the road but we will get there."