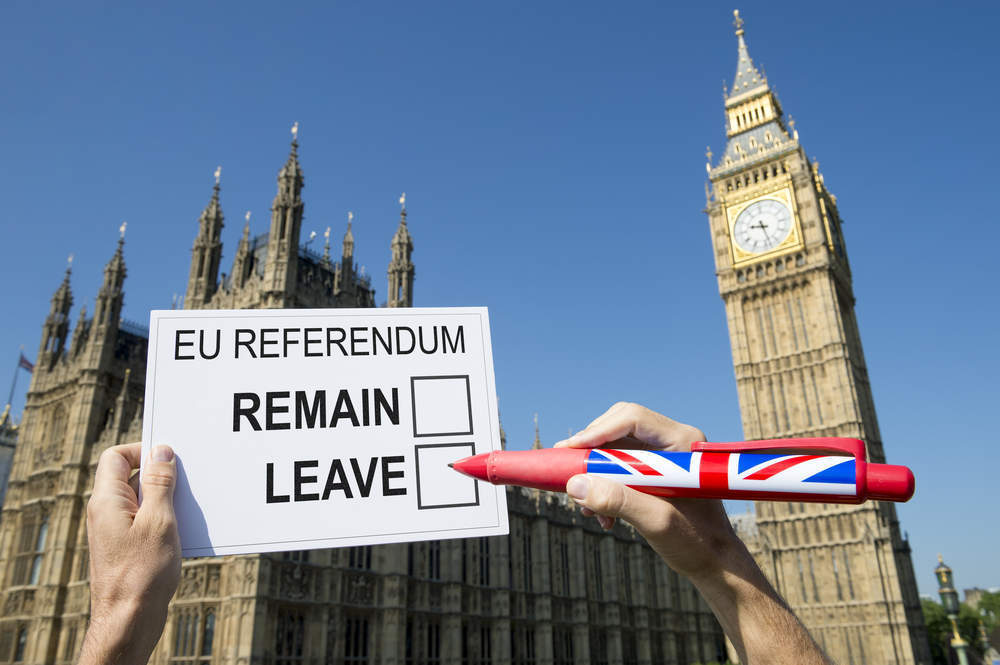 In June 2016, Britain voted to leave the European Union.
The turnout was strong at 72.2 percent — a total of 33,577,342 people voted.
The Remain side garnered 48.1 percent of the vote, while the Leave side won the referendum with 51.9 percent of the vote.
Verdict takes a look at the results of the referendum in more detail.
Where was there strong support for Leave?
The Leave campaign did particularly well right across England and Wales, winning in large northern cities including Sheffield, the Welsh valleys, across the Midlands including Birmingham, and the south and east of England.
The greatest support for Brexit was in the east of England — Boston, South Holland, Castle Point, Thurrock and Great Yarmouth.
In these areas, Leave garnered over 70 percent of the vote.
Where was there strong support for Remain?
Within England, London was the only region where Remain won a majority.
Over 75 percent of people living in the London boroughs of Lambeth, Hackney and Haringey voted to Remain. Leave won more than 50 percent of the vote in just five out of the 33 counting areas in London.
Edinburgh polled over 74 percent for Remain and Belfast West polled 74.1 percent.
Scotland had the highest vote share for Remain.
Nicola Sturgeon, Scotland's first minister continues to push for a second referendum on Scottish independence in the hope that Scotland could then rejoin the EU.
Key demographic trends
A closer look at the results reveals a country divided along more than just regional lines.
Education
The best predictor of a vote for remain was the proportion of residents with a degree.
Only three of 35 areas where more than half of residents had a degree voted to leave the EU — South Bucks, West Devon, and Malvern Hills in the West Midlands.
Age
The older generation were more likely to vote to Leave.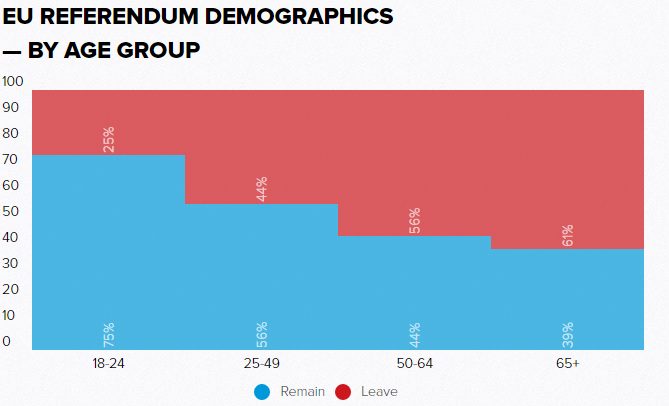 Just two of the thirty areas with the highest share of over 65s voted to Remain — South Lakeland in the North West and South Hams in the South West. Every other older area voted for Brexit.
Income
Prior to the referendum vote a number of polls showed that people intending to vote Leave were much more likely than Remain voters to say they felt Britain's economy was either stagnant or in decline, the Financial Times reported.
Among those in social class DE — semi-skilled and unskilled workers — there were majorities of Leave voters.
"The poorest households, with incomes of less than £20,000 per year, were much more likely to support leaving the EU than the wealthiest households, as were the unemployed, people in low-skilled and manual occupations, people who feel that their financial situation has worsened, and those with no qualifications," according to a report published in August 2016 by the Joseph Rowntree Foundation, a social policy research and development charity.