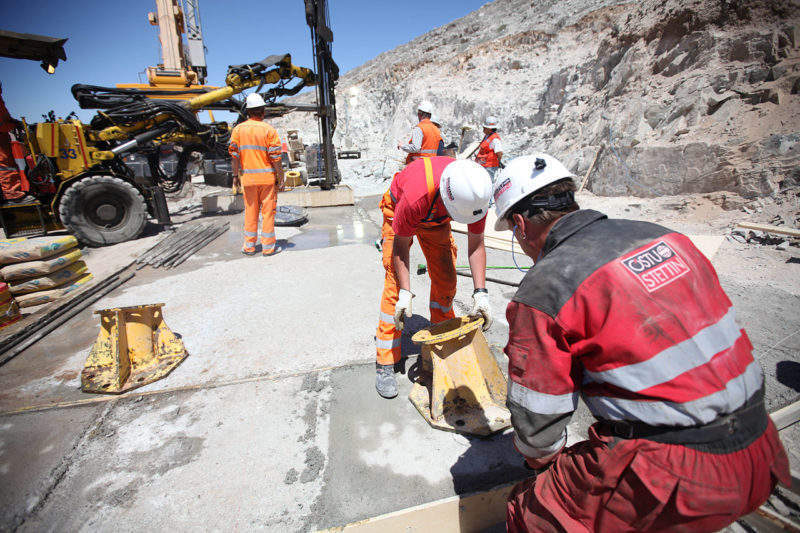 Across five countries in five continents – China, the US, Russia, South Africa and Brazil – and five of the highest-paid careers in mining (drilling operations director, site manager, engineer, geologist and health and safety coordinator) this discrepancy is obvious.
Drilling operations director
One of the highest-paid careers in mining is the most dramatically varied, with SalaryExpert reporting that American directors receive an average of $120,217 per year, compared to $12,215 for their Russian counterparts.
Russia's mining industry is responsible for 5% of the country's GDP and 16% of its total exports, and is the world's largest producer of diamonds and palladium; yet mining salaries have not grown alongside the industry. With salaries of up to $400,000 reported for some drilling directors, the low Russian wages are even more surprising.
In China, drilling directors earn an average of $86,199, making the position the highest-paid of the five in the country. While South African directors can expect to earn a similar figure ($66,713), this is not the country's highest-paid mining jobs. Only South Africa and Russia have careers in mining with higher average salaries than drilling operations directors.
Site manager
South Africa's highest-paid mining job is that of a site manager, with salaries ranging from $91,775 – $105,895, according to Careers24. The country's laws are based on a 'polluter pays' principle, which requires individual mining operations to cover the costs of environmental damage caused by excavation, and pay for environmental rehabilitation.
The importance of skilled mine managers is reflected in the position's salary, which is the second-highest average salary of the five jobs assessed, behind drilling operations directors in the US.
While American managers can expect to earn a relatively high figure of around $68,665, according to SalaryExpert, salaries in China and Russia are considerably lower, at $18, 218 and $9,146, respectively.
According to Trading Economics and the World Bank, the US's GDP is almost five times larger than Russia's, contributing to the low salary a manager can expect in Russia, which is the lowest of the five careers in these countries.
Engineer
While an engineer's salary is the highest of the careers studied in Russia – averaging $15,396 according to SalaryExpert – this is still the lowest salary of an engineer among the five countries observed.
Engineers in China earn on average $32,406 while their South African counterparts can make between $45,049 and $65,257, according to News24.
As with drilling directors, the US offers the highest average salary, at $86,547, according to Salary.com, and engineers can expect to earn up to $99,224.
While figures for Brazil's entire industry are hard to come by, salaries at formerly state-owned iron ore miner Vale are available online. Vale engineers can expect to earn between $25,048 and $26,784, an intermediate sum that reflects work at a miner with significant production figures, but one that has struggled in recent years.
Geologist
Geologists' salaries vary greatly, both across countries and within one country, due to the diversity of the role. Geologists can be involved in conducting sampling, ensuring mining is done in the correct place, and finding and assessing new resource deposits.
Consequently, the salary of a geologist in the US alone can range from $45,136 to $112,706, with an average of $72,558, according to Salary.com. Salaries in Brazil are even more varied, with Payscale reporting salaries between $10,413 and $151,985, depending on job responsibilities and candidate experience.
The wide range of geologist roles also means that average salaries are neither extremely high nor extremely low. The average geologist's salary in Russia is $11,932, the median salary of the five careers studied, while the average in China is $22,922, making it the fourth-highest average figure in the country.
Geologists in South Africa, however, can expect to earn the lowest of the five careers in the country, with salaries averaging $36,384.
As geologists are often involved in exploration and identifying new mineral reserves, a country such as South Africa, which already boasts vast mineral reserves, may not value the career as highly as in other countries. In 2016, South Africa was estimated to have 95% of the world's platinum group metal deposits, 85% of the world's chromium reserves, and around a quarter of the world's manganese, vanadium and zirconium reserves.
Health, safety and environmental professionals
These employees are tasked with ensuring operations do not endanger workers or local environments, and are well-paid across the countries.
Health, safety and environmental (HSE) workers are paid the most in the US, earning an average of $92,390, ahead of South Africa, where the 'polluter pays' principle means they are highly valued, earning an average of $44,426.
In Russia, professionals can expect to earn $11,720, in line with the other consistently low salaries in Russia.
HSE workers earn an average of $24,745 in China, enough to make the career the third-highest paid of those observed, but this is perhaps lower than expected China is the world's largest producer of coal, sitting on proven reserves of 114.5bn tonnes, and its consequently high levels of air pollution could result in calls for more – and more highly-valued – environmental officers.