Surprisingly, given it is still definitely November, it seems the majority of the world's Christmas lights have already been switched on.
However, there are still a few Christmas lighting ceremonies taking place, and they're some of the best yet!
The most exciting of these events is probably Toronto's annual Cavalcade Of Lights festival.
The festival has been a staple of Toronto life since its inception in 1967. In essence, it's a huge party to celebrate the switching on of the official City of Toronto Christmas tree.
Toronto's Cavalcade Of Lights festival
Since it's original creation, the festival has expanded to become a month-long bonanza with plenty for people to do. There are a range of activities including food stalls and ice-skating around the tree.
However, the most important part of all the events is still the switch on itself.
This switch-on will take place at a star-studded event on 25 November at Nathan Phillips' Square. The free event is open to all and features musical performances from some of Canada's best and brightest young talent.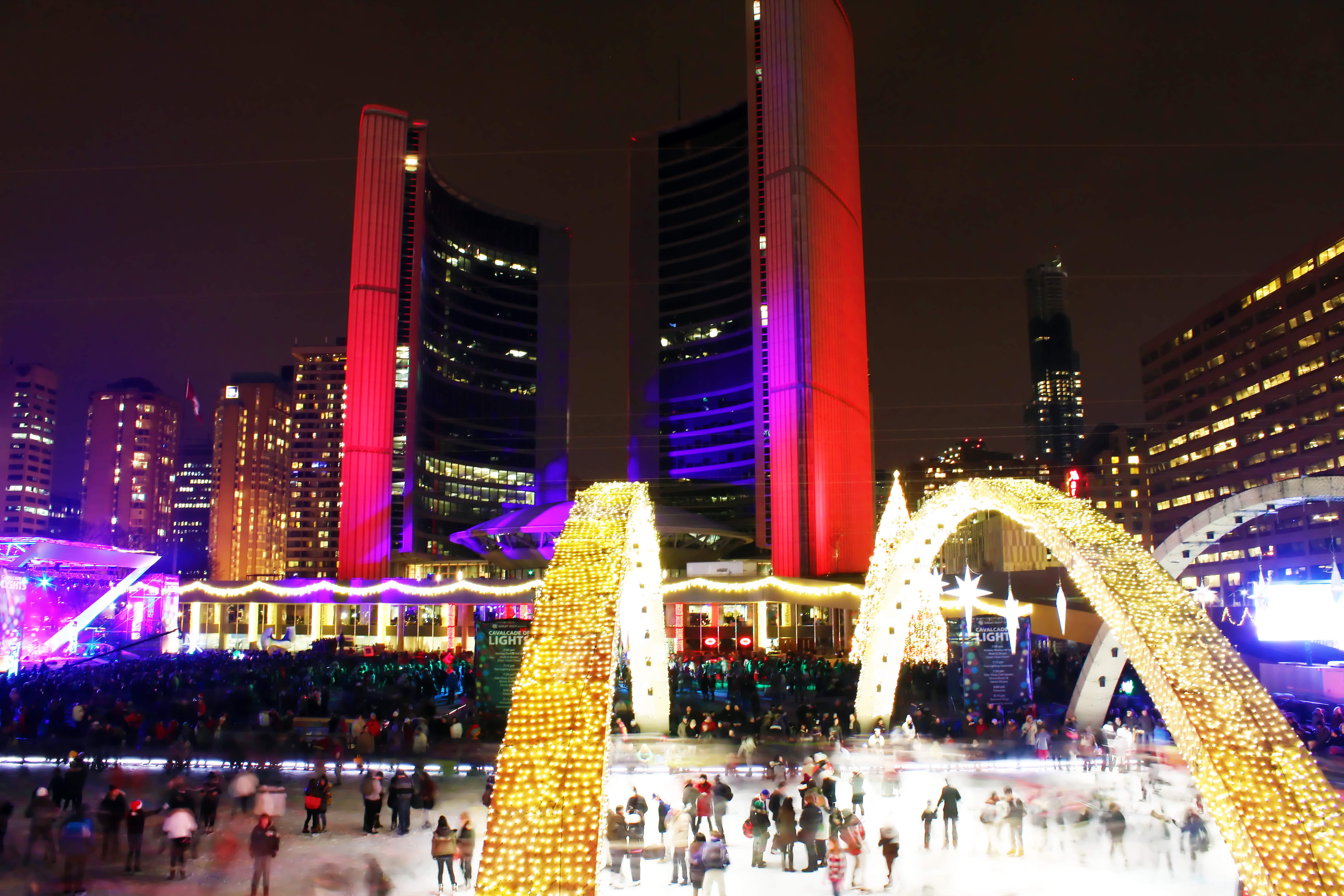 The official schedule lists the following events:
6:00 pm Skating Party with DJ Fawn Big Canoe

7:00 pm Main Stage Performance by Charmie Deller

7:30 pm Dignitary Remarks & Tree Lighting

7:45 pm Main Stage Performance by Matthew Barber & Jill Barber

8:35 pm Fireworks Display by GFA Pyro

8:40 pm Main Stage Performance by Alex Cuba

9:40 pm Skating Party with DJ MelBoogie

10:30 pm Show Ends
The firework show at 8.35pm should be a real treat. Its creators are a partnership of Concept Fiatlux and Ampleman Pyrotechnics, two of Canada's leaders in pyrotechnics. Between them, the two companies have over 100 years experience in creating fireworks shows.
New York's Rockefeller Center Christmas Tree-Lighting Gala
New York City also has its own world-renowned tree lighting ceremony.
This year's gala takes place on Wednesday 29th November at Rockefeller Plaza in the heart of Manhattan. The event is free, but huge crowds are expected to show up for the annual event, so it's best to arrive early.
Starting at 7pm, visitors will be able to enjoy live music from guests including Brett Eldridge, Jennifer Nettles, Leslie Odom Jr., Pentatonix, Gwen Stefani and The Tenors. Seeing as NBC is located on Rockefeller Plaza, visitors might also get a glimpse of some of their stars too!
The tree itself (a Norway spruce) will be lit at 8:55pm during a special ceremony.
For those who can't attend, this is the only tree lighting in America shown on national TV. You can catch it on WNBC from 7pm EST.
London's Trafalgar Square Christmas tree lighting
For Londoners, Christmas began in early November with the lighting of the Oxford Street Christmas lights. However, there is at least one major event that's holding fire until, you know, it's actually December.
This is the Christmas tree lighting in Trafalgar Square.
Arguably London's most important Christmas tree, it has been donated to the city by Norway every year since 1947. The 25-metre high tree is a gift from the people of Norway to London, in thanks for Britain's support in World War II. It is decorated in traditional Norwegian style.
This year, the Trafalgar Square Christmas tree will be lit at 6pm on Thursday 7th December, 2017.
San Francisco's Union Square Christmas tree lighting ceremony
Of course, not every country can have a tree donated to them personally by Norway. Thankfully, that's where corporations and capitalism can step in to make sure everyone has the Christmas they dream of.
Nowhere is this more true than San Francisco which every year receives the gift of an enormous tree from Macy's, the department store.
This year, Macy's have been eco-friendly enough to donate a reusable tree which San Francisco will be able to bring back year after year. This tree will be lit up with more than 30,000 lights and around 1,100 decorations. It's also 83-feet tall, so it should be a shining beacon to all who visit the city.
The tree-lighting ceremony this year will take place at 6pm on Friday 24th October 2017. The event will feature numerous performances from local talent and attractions!