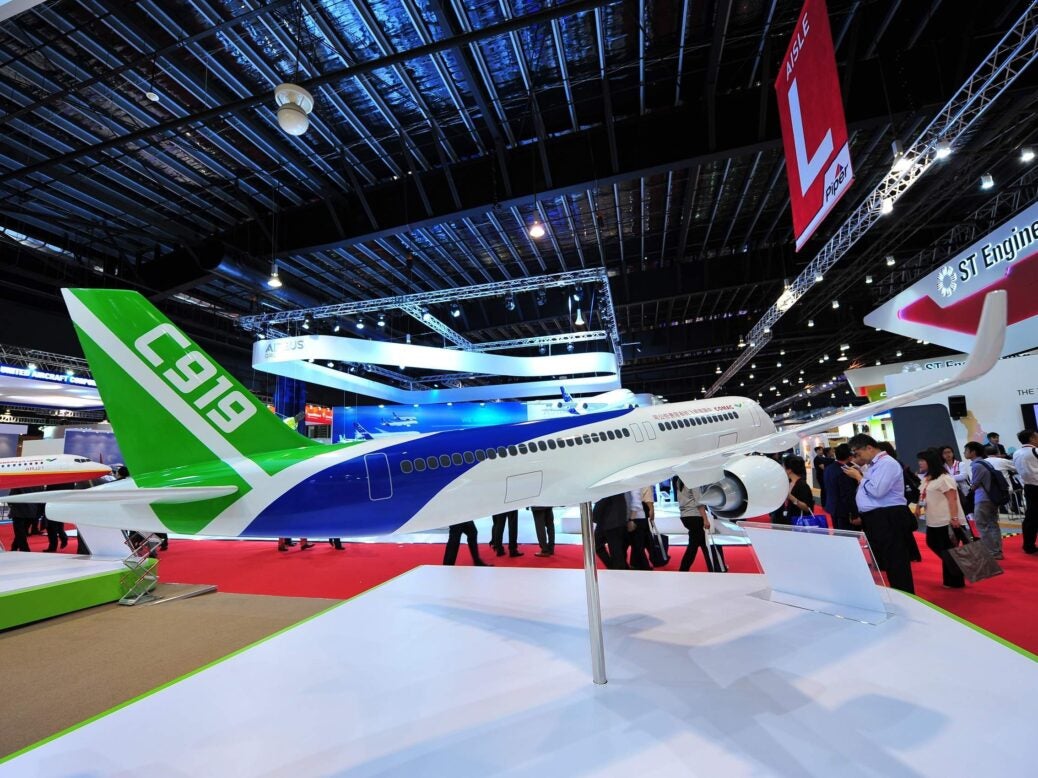 China has become the world's fastest growing aviation market, on the same day its first Chinese-made passenger jet took its maiden flight.
According to data from the International Air Transport Association (IATA), passenger traffic in China's domestic market grew by 15.1 percent year-on-year, taking the top spot from India to become the fastest growing market.
The IATA is putting this down to robust growth in the country's services sector and supply developments that are improving flight times for passengers as well as keeping costs down.
Click to enlarge
This upward trend is set to continue too; the number of domestic routes flown within China is expected to increase by six percent this year. As well, average flight frequencies are expected to increase by three percent over the next 12 months.
It was a difficult day for India's domestic industry as it has grown at its slowest pace since September 2015, down to 14.6 percent. It is thought prime minister Modi's demonetisation policy has had an impact: IATA said it could be "the first possible sign of reduced cash supply and wider economic uncertainty weighing on demand."
According to GlobalData, forecast growth of combined domestic and international flights across China, India, and Russia suggest China's total aviation market will be growing at almost 10 percent at the end of the decade.
Russia = Red / India = Green / China = Blue
According to GlobalData, China sold just over 470,000 seats in 2016, which is set to reach nearly 700,000 by 2020. India, on the other hand, peaked in 2014 with growth rates of 18.11 percent and selling just over 115,000. The country's growth is set to fall to 6.67 percent by 2019, yet seat numbers are expected to grow steadily to nearly 200,000 by 2020.
Russia has had a hard battle to come back from minus growth in 2014 to reach 4.05 percent growth by 2019. IATA found that Russia's domestic traffic has been growing in particular, thanks to improiving economic outlook in the country as oil prices have firmed.
China's aviation industry will be beaming at this outlook, which also happened on the same day its first large domestically produced passenger jetliner made its maiden flight. The C919 passenger jet took off from Pudong International Airport, Shanghai, early on Friday 5 May, and demonstrates a major step in the country's goal to break into the Western-dominated aircraft market.
The official Xinhua News Agency said the country had become "one of the world's top makers of jumbo aircraft", taking fourth place behind the US, Europe and Russia.
The aircraft's maker, the state-owned Commercial Aircraft Corp. of China, also known as Comac, said more than 200 Chinese companies and 36 universities had been involved in the research and development of the aircraft. It is being positioned as a rival to jets such as the Airbus A320 and Boeing 737, with Comac saying it has 570 orders, mainly from state-owned Chinese Airlines and a few foreign customers such as Thailand's City Airways.
However, despite Comac touting the jet as Chinese-made, it still relies on foreign-made technology for critical systems such as its engines. These were made by CFM international, a joint venture between General Electric's aviation subsidiary and the French-based Safran Aircraft Engines. The first delivery of Chinese-developed engines isn't expected until 2020, according to AVIC Commercial Aircraft Engine Co, the company making them.