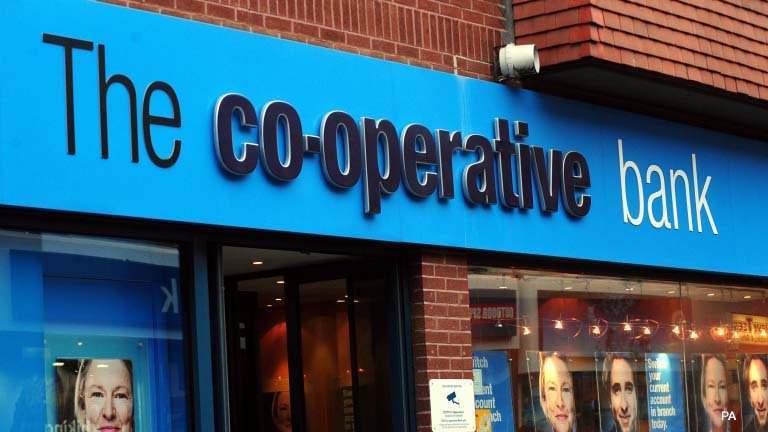 The Co-operative Bank, the British retail and commercial bank headquartered in Manchester is up for sale, just four years after it was bailed out by US hedge funds.
Founded over 200 years ago in 1872, the loss-making bank could soon disappear from the high-street altogether.
In 2013, the bank made significant losses resulting from problematic real estate loans and would have folded with a £1.5bn hole in its accounts if it wasn't for the bail-out.
The bank's former chairman Paul Flowers also stepped down over concerns about expenses in the same year, before pleading guilty to cocaine, crystal meth and ketamine possession in 2014.
Last month the bank warned that it would not be able to meet its capital reserve targets over the next few years, a crucial element of its turnaround plan.
The Co-op has struggled to grow its retail deposits in recent years, giving a poor performance in comparison to other UK banks.
Low interest rates were blamed for making it even more difficult for the bank to meet UK regulatory requirements.
The Co-op has also struggled to grow over the last few years, barely performing better than the renowned basket case Royal Bank of Scotland.
"Since we began work on the bank's turnaround, the board has always been clear that we would need to build capital for the future," said Dennis Holt, the bank's chairman.
"We are now commencing a sale process, alongside other options. The bank's ethical heritage and customer proposition will be a central consideration in this."
The bank's reputation as a so-called "ethical" financial institution led some existing customers to express their concerns on Twitter about where to put their money instead.
If @CoopBankUK get sold to one of the big boys, will there be any ethical banks left on the high street for those of us who want them?

— Ed Bridges (@DrEdBridges) 13 February 2017
bye-bye @CoopBankUK …sorry to leave you after 21 years but owners selling up bank, ethics and history is wrong. Hello @AskNationwide ?

— Robin Naumann (@boeRobin) 13 February 2017
Shocked that @CoopBankUK is up for sale, do I need to find another ethical bank?

— Tim Marshall (@realtoadee) 13 February 2017
A spokesperson for the Prudential Regulation Authority (PRA), one of the UK's two financial services regulatory bodies and controlled by the Bank of England (BoE), said:
"The PRA welcomes the actions announced today by the Co-operative bank. We will continue to assess the bank's progress in building greater financial resilience over the coming months."