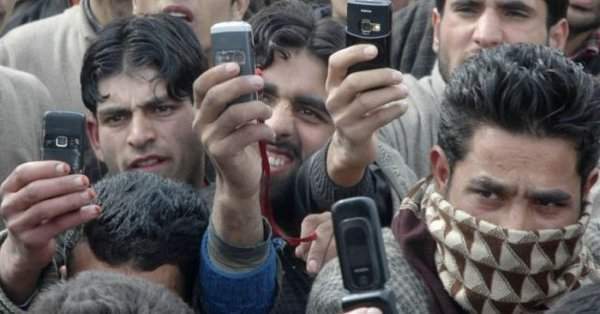 Authorities in Kashmir, the northernmost state in India, issued a one-month ban on 22 social media platforms to tackle "anti-government elements."
India's Hindu nationalist BJP party has ruled Kashmir alongside the regional Muslim People's Democratic Party since 2015.
The coalition's crackdown prevents access to the most popular online communication tools including Facebook, Twitter, YouTube, Skype, Snapchat and Reddit.
Over 12m people live in Kashmir.
Why enforce a ban on social media?
"It's being felt that continued misuse of social networking sites and instant messaging services is likely to be detrimental to the interests of peace and tranquility in the state," the public order said.
Human rights abuses and violence are commonplace in Kashmir. The contested region is under Indian control but also claimed by Pakistan.
Pakistan supports Kashmir's separatist rebels and an armed insurgency against Indian rule has endured since 1989.
Unrest reached breaking point last July after Burhan Muzaffar Wani, a 22-year-old separatist militant was killed by Indian security forces.
Wani was extremely active on social media and his video messages would often go viral, according to the BBC.
When Kashmiri separatists protested against Wari's death, Indian police responded with pellet guns, killing hundreds.
This is not an isolated incident. In September 2016, 18 civilians were killed by Indian police in violent protests. In the summer of 2010 alone, two months of violent clashes with Indian security forces left at least 55 people dead.
In total, separatist violence has killed more than 47,000 people.
A government official defended the recent social media ban as a way to quash the ongoing violence.
"It [the ban] is a temporary decision to stop rumours and restore law and order to prevent further loss of life. Also, it is being done to prevent a war of provocative videos from both sides," Waheed Ur Rehman Parra, leader of the ruling party's youth wing, told the BBC.
"A blow to freedom of speech"
Pranesh Prakash, policy director for the Center for Internet and Society, an Indian advocacy group, called the ban a "blow to freedom of speech."
Steven Butler, the Asia program coordinator at the New York-based Committee to Protect Journalists (CPJ) agrees.
"Such broad censorship clearly violates the democratic ideals and human rights India purports to uphold," he said.
Although 2G mobile data service is still available in Kashmir, faster 3G and 4G service has been suspended for more than a week.
"Repeated bans on means of communication in this day and age in the hope of restoring so-called peace and normalcy in the Kashmir Valley is ridiculous," said Mirwaiz Umar Farooq, a leading member of Kashmir's separatist movement.
The main government opposition party, the National Conference party criticised the ban for punishing "the people of Kashmir for expressing their political aspiration and raising voice against gross human rights excesses."
Verdict contacted Facebook, Twitter, Reddit and Snapchat for comment on Kashmir's policy, but has yet to receive a response.