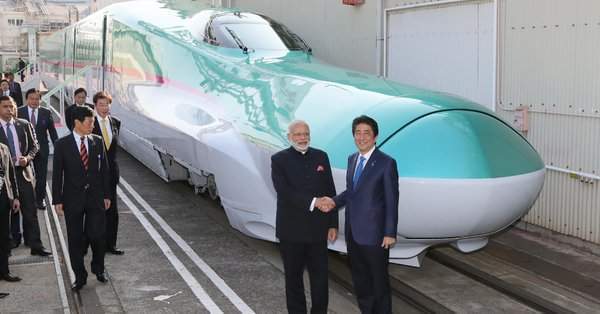 Indian prime minister Narendra Modi outlined plans for his country's first high-speed bullet train on Thursday during a visit from his Japanese counterpart, Shinzo Abe.
Modi and Abe formally inaugurated the project in India's western state of Gujarat.
"This is the new India and the flight of its dreams is endless," Modi said. "The bullet train project will bring speed and employment. It is human-friendly and eco-friendly."
Mostly funded by a $17bn (£12.78bn) loan from Japan, the 750-seat train is scheduled to run from August 2022, coinciding with the 75th anniversary of Indian independence.
The total cost of the project is $19bn.
In just three hours, passengers will be able to get from Ahmedabad in western India to Mumbai, the country's largest city.
The 500km journey currently takes eight hours.
"My good friend prime minister Narendra Modi is a far-sighted leader. He took a decision two years ago to bring high-speed train in India and to create a new India," said Abe.
"I hope to enjoy the beautiful scenery of India through the windows of the bullet train when I come back here in a few years," he added.
A deepening of the relationship between India and Japan is at least in part motivated by a desire to limit China's growing influence in Asia.
India's modernisation push
The bullet train is a key element of Modi's broader modernisation agenda, which includes revamping labor laws, infrastructure spending and creating more jobs.
It is estimated that the new train line, which will have top speeds of up to 217mph, more than double the maximum speed offered by the fastest trains running in the country at present, will result in 36,000 jobs.
India's railway system, built during British colonial rule is Asia's oldest and the fourth-longest in the world. It carries more than 22m passengers a day, but reform is a matter of urgency.
More than 33,700 people died in train-related accidents in 2015 alone. The majority of the deaths were caused because of overcrowding.
India is reportedly considering another six potential high-speed rail corridors, including one connecting Mumbai and Delhi.
Shares in Bharat Heavy Electricals (BHEL), the Indian power gear maker surged by as much as 10.2 percent in Thursday morning trading after the launch of the bullet train project.
BHEL's stock market jump was its biggest increase in a year.