The technology industry continues to be a hotbed of patent innovation. Activity is driven by the rapid emergence and widespread adoption of game-changing technologies such as artificial intelligence (AI), advancements in AI algorithms and computing power, and growing importance of technologies such as neural networks, high-performance computing, and pre and post-processing tools. Finite element simulation can integrate computational fluid dynamics techniques to analyze and optimize fluid behavior in engineering applications. In the last three years alone, there have been over 4.1 million patents filed and granted in the technology industry, according to GlobalData's report on Artificial intelligence in technology: finite element simulation. Buy the report here.
However, not all innovations are equal and nor do they follow a constant upward trend. Instead, their evolution takes the form of an S-shaped curve that reflects their typical lifecycle from early emergence to accelerating adoption, before finally stabilizing and reaching maturity.
Identifying where a particular innovation is on this journey, especially those that are in the emerging and accelerating stages, is essential for understanding their current level of adoption and the likely future trajectory and impact they will have.
190+ innovations will shape the technology industry
According to GlobalData's Technology Foresights, which plots the S-curve for the technology industry using innovation intensity models built on over 1.5 million patents, there are 190+ innovation areas that will shape the future of the industry.
Within the emerging innovation stage, GenAI for design, finite element simulation and deep reinforcement learning are disruptive technologies that are in the early stages of application and should be tracked closely. 3D model simulation, drone controls AI, and circuit designing AI are some of the accelerating innovation areas, where adoption has been steadily increasing.
Innovation S-curve for artificial intelligence in the technology industry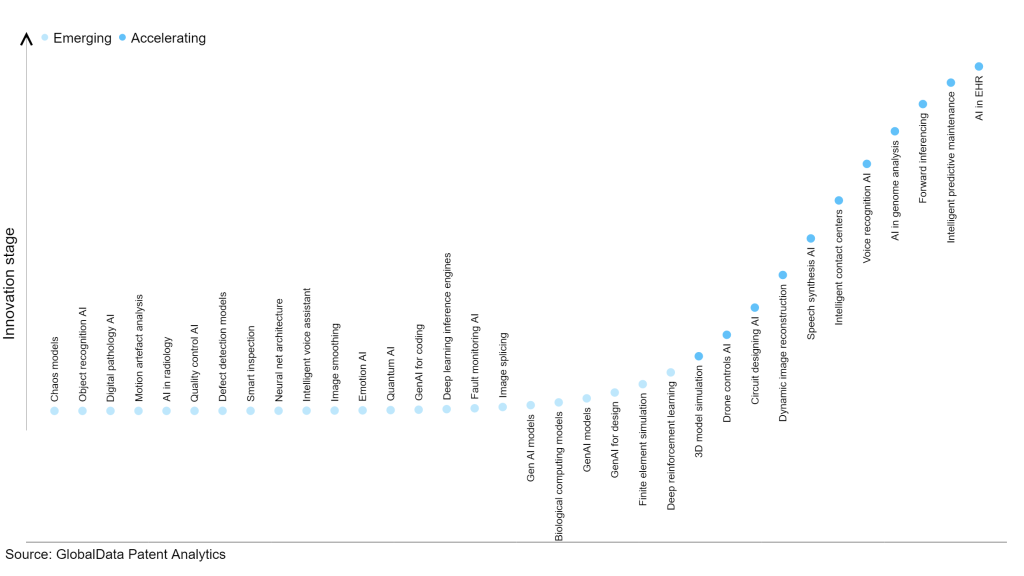 Finite element simulation is a key innovation area in artificial intelligence
Finite element simulation refers to a numerical approach employed for addressing intricate engineering challenges. It involves dividing the problem into smaller elements, solving them individually, and subsequently combining the results to obtain a comprehensive solution. This widely utilised method finds application in diverse engineering domains such as structural mechanics, fluid dynamics, and heat transfer.
GlobalData's analysis also uncovers the companies at the forefront of each innovation area and assesses the potential reach and impact of their patenting activity across different applications and geographies. According to GlobalData, there are 390 companies, spanning technology vendors, established technology companies, and up-and-coming start-ups engaged in the development and application of finite element simulation.
Key players in finite element simulation – a disruptive innovation in the technology industry
'Application diversity' measures the number of applications identified for each patent. It broadly splits companies into either 'niche' or 'diversified' innovators.
'Geographic reach' refers to the number of countries each patent is registered in. It reflects the breadth of geographic application intended, ranging from 'global' to 'local'.
Patent volumes related to finite element simulation
Source: GlobalData Patent Analytics
State Grid Corporation of China is the leading patent filer in finite element simulation. The company's patents are aimed at invention describing a transient power angle stability analysis numerical integration early termination method.
The method comprises the steps of judging whether a current simulation moment reaches a system fault clearing moment or not, in response to the fact that the current simulation moment reaches the system fault clearing moment, and obtaining a dominant image according to the maximum rotor angle gap of the current simulation moment.
It also involves obtaining the bus voltage amplitude of each generator and the corresponding generator set at the current simulation moment; judging whether the dominant image stability situation/instability situation is mature or not; performing power angle stability/instability quantitative analysis in response to maturation of the dominant image stability situation/instability situation; judging whether the quantitative analysis conclusion is credible or not; and in response to credibility of the quantitative analysis conclusion, outputting the quantitative analysis conclusion, and ending transient power angle stability analysis.
The invention also discloses a response system. According to the invention, the numerical integration is terminated in advance on the premise of ensuring the quantitative analysis precision of the transient power angle stability, and the required calculated amount can be reduced to at least 50% of the original calculated amount.
Other prominent patent filers in the space include China Southern Power Grid and Nippon Steel.
By geographic reach, Levi Strauss leads the pack, followed by NIKE and eBay. In terms of application diversity, Levi Strauss holds the top position, followed by Nike and eBay.
Finite element simulation helps to accurately model and analyze complex engineering problems, providing valuable insights into the behavior and performance of structures, fluids, and other systems. It enables engineers to optimize designs, evaluate different scenarios, and make informed decisions, ultimately leading to safer, more efficient, and cost-effective engineering solutions.
To further understand how artificial intelligence is disrupting the technology industry, access GlobalData's latest thematic research report on Artificial Intelligence (AI).
Premium Insights
From
The gold standard of business intelligence.
Blending expert knowledge with cutting-edge technology, GlobalData's unrivalled proprietary data will enable you to decode what's happening in your market. You can make better informed decisions and gain a future-proof advantage over your competitors.