The technology industry continues to be a hotbed of patent innovation. Activity is driven by the increasing demand for high-speed data transmission, advancements in optical communication technologies, and the need for energy-efficient solutions, and the growing importance of technologies such as silicon photonics, indium phosphide, and gallium arsenide. These technologies enable the integration of various photonic components on a chip, paving the way for next-generation optical communication networks. In the last three years alone, there have been over 4.1 million patents filed and granted in the technology industry, according to GlobalData's report on Innovation in technology: photonic integrated circuits. Buy the report here.
However, not all innovations are equal and nor do they follow a constant upward trend. Instead, their evolution takes the form of an S-shaped curve that reflects their typical lifecycle from early emergence to accelerating adoption, before finally stabilizing and reaching maturity.
Identifying where a particular innovation is on this journey, especially those that are in the emerging and accelerating stages, is essential for understanding their current level of adoption and the likely future trajectory and impact they will have.
190+ innovations will shape the technology industry
According to GlobalData's Technology Foresights, which plots the S-curve for the technology industry using innovation intensity models built on over 1.5 million patents, there are 190+ innovation areas that will shape the future of the industry.
Within the emerging innovation stage, aural exciters, in-memory computing, and network-on-a-chip are disruptive technologies that are in the early stages of application and should be tracked closely. RAID transmission error detection, projector-camera system, and hyperspectral imaging, and surround sound systems are some of the accelerating innovation areas, where adoption has been steadily increasing. Among maturing innovation areas are digital image interpolation and distributed RAID drives, which are now well established in the industry.
Innovation S-curve for the technology industry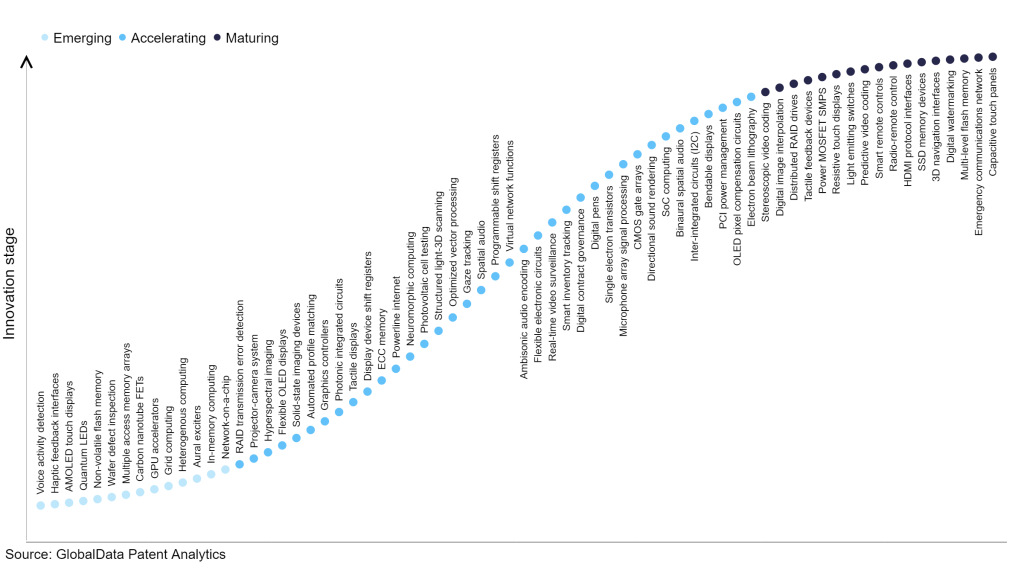 Photonic integrated circuits is a key innovation area in technology
Photonic integrated circuits (PICs) are compact optical devices that integrate lasers, modulators, detectors, and waveguides into a single chip. They find applications in optical communications, biomedical imaging, and sensing. PICs offer improved performance, reduced size, cost, and power consumption compared to traditional optoelectronic systems.
GlobalData's analysis also uncovers the companies at the forefront of each innovation area and assesses the potential reach and impact of their patenting activity across different applications and geographies. According to GlobalData, there are 70+ companies, spanning technology vendors, established technology companies, and up-and-coming start-ups engaged in the development and application of photonic integrated circuits.
Key players in photonic integrated circuits – a disruptive innovation in the technology industry
'Application diversity' measures the number of applications identified for each patent. It broadly splits companies into either 'niche' or 'diversified' innovators.
'Geographic reach' refers to the number of countries each patent is registered in. It reflects the breadth of geographic application intended, ranging from 'global' to 'local'.
Patent volumes related to photonic integrated circuits
Source: GlobalData Patent Analytics
IBM, Luxtera, and Cavium International are among the leading patent filers in the photonic integrated circuits domain.
Infinera is another leading patent filer in photonic integrated circuits. One of the company's patents describes how a photonic integrated circuit (PIC) incorporates laser sources with segmented electrical contacts or connected vernier resistor segments to control the current supplied to the lasers. By trimming specific segments, the current density and operational wavelength of the laser source can be adjusted while keeping the overall current constant.
By geographic reach, Micron Technology leads the pack, followed by U.S. Navy and Micron Technology. In terms of application diversity, GM Global Technology holds the top position, followed by Fujitsu and Indigo Diabetes.
PICs help to improve performance, reduce size, lower costs, and minimize power consumption compared to traditional optoelectronic systems. PICs enable advancements in optical communications, biomedical imaging, sensing applications, and other areas where efficient and compact integration of optical components is crucial. Their significance lies in driving innovation, enabling higher data transfer rates, enhancing system efficiency, and opening up new possibilities for optical-based technologies.
To further understand the key themes and technologies disrupting the technology industry, access GlobalData's latest thematic research report on Technology.
Premium Insights
From
The gold standard of business intelligence.
Blending expert knowledge with cutting-edge technology, GlobalData's unrivalled proprietary data will enable you to decode what's happening in your market. You can make better informed decisions and gain a future-proof advantage over your competitors.