The technology sector remains a hub of innovation, with robotics technology being a key catalyst. Progress in sensor technology, machine learning, and artificial intelligence has empowered the development of robots endowed with improved capabilities and adaptability. The growing importance of technologies such as robotics, remote monitoring and control, augmented reality, and digital twins is further driving innovation in the industry. These technologies work together to enable unmanned maintenance operations, enhancing efficiency, safety, and cost-effectiveness. By utilizing robotics, remote monitoring, AI, IoT, and other technologies, unmanned maintenance operations can perform maintenance tasks in challenging or hazardous environments without requiring human presence. In the last three years alone, there have been over 3.6 million patents filed and granted in the technology industry, according to GlobalData's report on Innovation in Robotics: Unmanned maintenance operation. Buy the report here.
However, not all innovations are equal and nor do they follow a constant upward trend. Instead, their evolution takes the form of an S-shaped curve that reflects their typical lifecycle from early emergence to accelerating adoption, before finally stabilising and reaching maturity.
Identifying where a particular innovation is on this journey, especially those that are in the emerging and accelerating stages, is essential for understanding their current level of adoption and the likely future trajectory and impact they will have.
300+ innovations will shape the technology industry
According to GlobalData's Technology Foresights, which plots the S-curve for the technology industry using innovation intensity models built on over 2.5 million patents, there are 300+ innovation areas that will shape the future of the industry.
Within the emerging innovation stage, AI-assisted inspection, anti-collision LiDAR, and 3D object sensing are disruptive technologies that are in the early stages of application and should be tracked closely. Autonomous harvesters, cleaning robots, and line follower robots are some of the accelerating innovation areas, where adoption has been steadily increasing. Among maturing innovation areas are, welding robot and robotic vision, which are now well established in the industry.
Innovation S-curve for robotics in the technology industry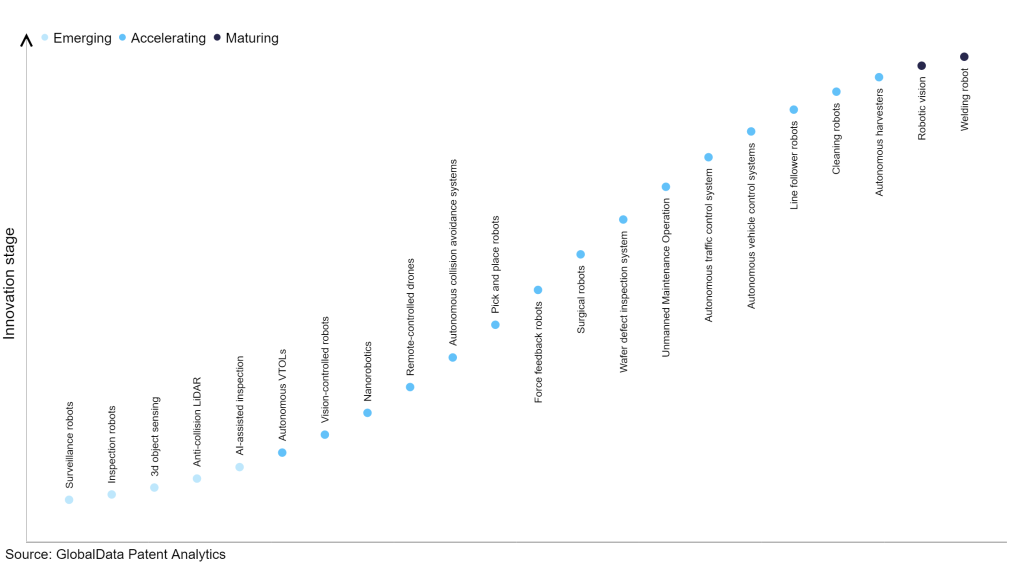 Unmanned maintenance operation is a key innovation area in robotics
Unmanned maintenance operations refer to a maintenance approach where robots, drones, or autonomous machines perform tasks instead of human workers. This method provides enhanced safety, efficiency, and cost benefits across various industries.
GlobalData's analysis also uncovers the companies at the forefront of each innovation area and assesses the potential reach and impact of their patenting activity across different applications and geographies. According to GlobalData, there are 80+ companies, spanning technology vendors, established technology companies, and up-and-coming start-ups engaged in the development and application of unmanned maintenance operation.
Key players in unmanned maintenance operation – a disruptive innovation in the technology industry
'Application diversity' measures the number of different applications identified for each relevant patent and broadly splits companies into either 'niche' or 'diversified' innovators.
'Geographic reach' refers to the number of different countries each relevant patent is registered in and reflects the breadth of geographic application intended, ranging from 'global' to 'local'.
Patent volumes related to unmanned maintenance operation
Source: GlobalData Patent Analytics
Among the companies innovating in unmanned maintenance operations, Fanuc is one of the leading patent filers. The company's patents are aimed at a machining system including a robot arm for changing a workpiece or inspecting a machined workpiece, and a probe that is attached to a distal end portion of the robot arm via a force sensor. The robot arm is controlled such that the probe is arranged at a predetermined measurement position in contact with a side surface of a tool holder. The detection values of the force sensor are obtained over a predetermined period of time in a state where a main spindle is performing rotation operation, where an attached state of the tool holder is determined based on the detection values obtained over the predetermined period of time. The other prominent patent filers in the space include Boeing and Kawasaki Heavy Industries. 
In terms of geographical reach, Compagnie de Saint-Gobain leads the pack, followed by Race Winning Brands and National Machinery. In terms of application diversity, REHAU holds the top position, followed by Swatch Group and Easee. 
Unmanned maintenance operations can enhance safety, improve efficiency, reduce costs, enable maintenance in remote environments, facilitate data-driven decision-making, and foster technological advancements in the maintenance domain. By leveraging automation and robotics, companies can achieve higher productivity, reduced risks, and optimized maintenance strategies, ultimately improving the overall performance of their operations. To further understand how robotics is disrupting the technology industry, access GlobalData's latest thematic research report on Robotics – Thematic Research Report.
Premium Insights
From
The gold standard of business intelligence.
Blending expert knowledge with cutting-edge technology, GlobalData's unrivalled proprietary data will enable you to decode what's happening in your market. You can make better informed decisions and gain a future-proof advantage over your competitors.