One of Elon Musk's chosen passengers for the debut flight in his SpaceX Starship rocket has been looking at other planned in space launches rather than waiting for the delayed flight.
Yusaku Maezawa, founder of online clothing store ZOZO, was chosen in 2018 as one of the lucky passengers to embark on Starship's orbital lunar mission "dearMoon".
The billionaire was amongst a select group of high-profile singers, artists and pop-culture royalty. However, progress on the moon-circling flight has been slow. 
At the beginning of November, Musk announced a delay to the mission, which was due to take place at some point in 2023, citing that SpaceX needed "a little while longer".
In April, a Starship test takeoff ended in a ball of flames. The "world's most powerful launch vehicle" spun out of control just a minute into flight. 
There has currently been no confirmation of a new launch date.
Maezawa used the delays to focus on other space goals, which in 2021, included visiting the International Space Station on a Russian rocket. 
This year, Maezawa has been focusing on cleaning up space debris. In February, the billionaire invested $23m in Astroscale Holdings, a Japan-based startup which is looking to tackle issues caused by the debris orbiting the planet.
"I want to protect the future of space travel, so I've decided to contribute to Astroscale's mission to reduce orbital debris," Mawzawa said in a statement.
The news comes as global VC investment fell after a record 2021 for space startups, which saw the value of investment peak, according to GlobalData's Deal Database.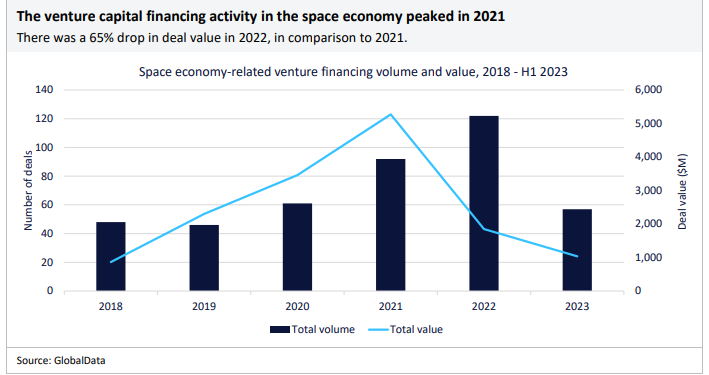 Investment in the space economy saw a 65% drop in overall deal value in 2022 from 2021.
The investment outlook in 2022 and 2023 is the toughest period for space startups since the economic crisis in 2008, the research company said, due to rising US interest rates leading to a fall in asset prices.
Companies in the space sector attracted total investments of $2.5bn in the fourth quarter of 2022, the research company found.
Our signals coverage is powered by GlobalData's Thematic Engine, which tags millions of data items across six alternative datasets — patents, jobs, deals, company filings, social media mentions and news — to themes, sectors and companies. These signals enhance our predictive capabilities, helping us to identify the most disruptive threats across each of the sectors we cover and the companies best placed to succeed.