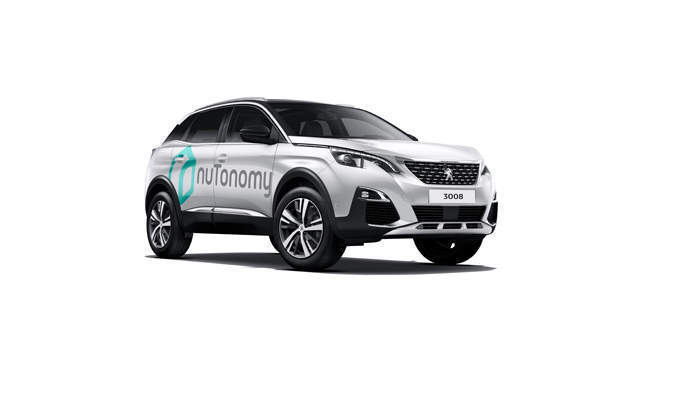 French carmaker Peugeot has announced it is partnering with startup NuTonomy to test self-driving cars in Singapore.
Peugeot, which is owned by PSA, is the latest car maker to announce it will be venturing into the world of autonomous driving.
It will use NuTonomy's technology, including software, sensors and computing platforms in its 3008 SUV models to develop the tech needed for large fleets of autonomous cars.
According to nuTonomy, it expects to complete the integration of its autonomous vehicle system this summer, so that the two companies can begin on-road testing in Singapore in September.
It has been testing its autonomous vehicle test in the South-east Asian country since last year, as part of its partnership with Singapore's Land Transport Authority (LTA).
PSA's head of the business lab, Anne Laliron, said:
This collaboration is a significant step towards fully autonomous vehicles, which will enable us to offer different mobility solutions to our customers. We are excited to work together with NuTonomy's team of software and robotics experts to make the concept of self-driving PSA cars more and more concrete.
If the Singaporean trials are a success, the two companies will look at bringing their on-road autonomous testing to other cities around the world.
Peugeot isn't the only company to announce their venture into self-driving tech. This week, Samsung's self-driving car trial was approved by the South Korean Ministry of land, infrastructure and transport.
Which other companies are working on self-driving technology?
1. Apple
Recently, Apple secured permission to tests its autonomous car technology in California.
A few weeks later, Bloomberg released pictures of the white Lexux SUV that was driving around the state's roads with an array of sensors.
However, according to an industry expert, the sensors appeared to be products bought off the shelf from suppliers rather than custom-made. An Apple spokesperson declined to comment.
2. Intel
Intel recently announced it was buying Mobileeye, a company specialising in autonomous driving tech for $15bn, the biggest deal so far in the driverless car industry and Intel's second biggest deal ever in its 49-year history.
The company's chief executive, Brian Kzanich, said the acquisition:
Essentially merges the intelligent eyes of the autonomous car with the intelligent brain that actually drives the car.
3. Mercedes-Benz
In April, Mercedes announced it was partnering with Bosch for its latest self-driving car project.
Together the two companies want to make fully automated cars "a reality on city streets" in the next three years.
Details were kept to a minimum, but the firms said the project will "take the comprehensive vehicle expertise of Daimler [Mercedes's parent company] and combine it with the systems and hardware expertise of Bosch."
4. Samsung
Samsung recently announced its plans for self-driving car technology.
According to the Korea Herald, the tech conglomerate will begin testing its autonomous tech in a customised Hyundai car.
However, the company has said it will only be developing the self-driving platform, not its own vehicles.
A spokesperson for Samsung said:
The test run approval does not mean that Samsung is making a self-driving car. The pilot run is being carried out for software and solution development for an autonomous car, nothing more.
5. Tesla
Elon Musk's Tesla has been at the forefront of self-driving technology and was making its cars semi-autonomous way back in October 2015.
Recently, the charismatic chief executive was speaking at Ted2017 in Vancouver and told the audience that he was confident that his self-driving cars would be fully operational on the roads before the end of this year.
"November or December of this year, we should be able to go all the way from a parking lot in California to a parking lot in New York with no controls touched the entire journey," he said.
6. Waymo and Uber
Despite working on separate projects, these two are grouped together as they are currently in the midst of a legal battle.
Waymo, owned by Google's parent company Alphabet, is suing Uber for stealing its self-driving technology after an ex-Waymo employee moved to work for an autonomous driving startup that was bought by Uber.
Waymo is seeking an injunction to prevent Uber from proceeding with its self-driving programme and the employee in question, Andrew Levandowski, has rescued himself from the current autonomous driving programmes at Uber.