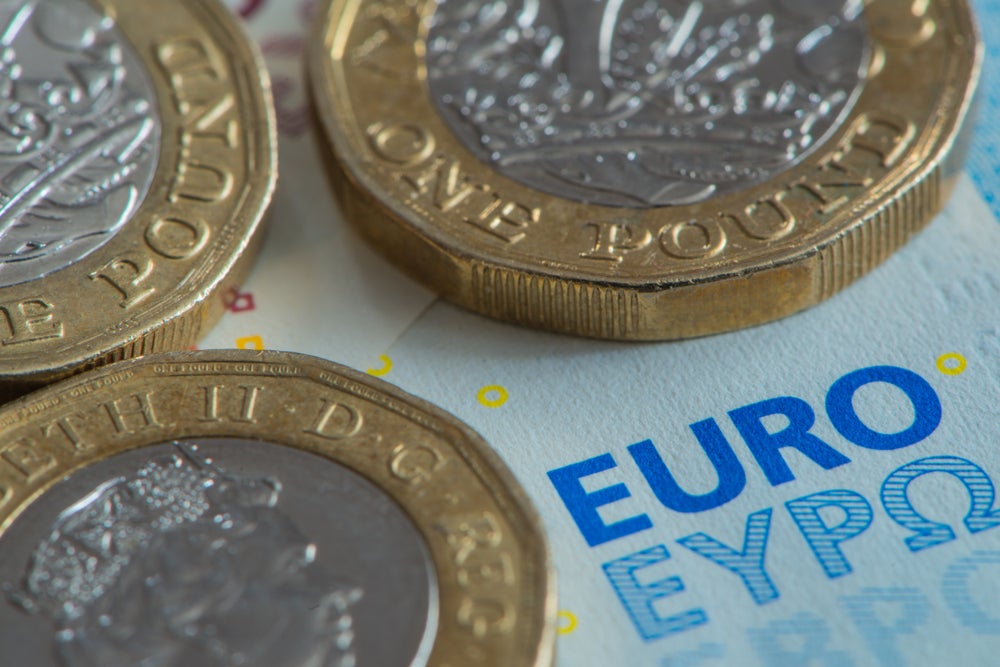 On Monday the pound dropped by almost 1% against the dollar to $1.286 and 0.2% against the euro to €1.142, reflecting the uncertainty of the pound's future after Brexit.
deVere Group CEO Nigel Green said: "Sterling is all about Brexit at the moment and we can expect it to be in for a rollercoaster ride due to the increasing uncertainty as deadlines approach."
He said the pound is currently priced on a middle ground, reflecting the uncertainty right now on which way Brexit will go.
The final outcome and the outcome of each stage, including this week's negotiations will make a significant difference to its value.
"If [Brexit] is abandoned, or the UK gets a Norway option, it could easily reach the $1.53 it was on the day of the referendum – despite fundamentals such as interest rates and growth favouring the US dollar now more so than in June 2016. This is because currencies often overshoot as well as undershoot when sentiment changes.

"But a hard Brexit – a Canada deal – would result in a weaker sterling, perhaps down to $1.20 or so, levels tested over the last two years when the government has emphasised its red lines.

"A no-deal Brexit, with acrimony between the UK and the EU, would lead to a still worse outlook for growth and so would hurt sterling more."
In terms of investment, Green advised: "If investors are already invested broadly across asset classes, sectors and regions, for instance by having a global multi-asset portfolio, they should sit tight. There is too much uncertainty around Brexit to be able to take strong bets on a region, asset class or even a currency.
"UK expats should consider reviewing their personal financial strategies. This will help best position them not only to mitigate the risks surrounding Brexit-fuelled uncertainty but also enable them to take advantage of potential opportunities that may arise."
Theresa May's Brexit endgame
UK Prime Minister Theresa May's cabinet meets today to discuss the final terms of Brexit, with slim hopes that the UK can still meet the EU in November to confirm an agreement.
May told the Lord Mayor's Banquet, held at the Guildhall in London on Monday: "The negotiations for our departure are now in the endgame."
She also said, reports The Guardian, that she could not promise to keep alive plans to reach an agreement on Brexit at this month's EU summit if it meant she would need to make concessions this week.
But her deputy David Lidington told the BBC that a deal was "almost within touching distance".
He said that it was "still possible but not at all definite" that a deal could still be reached in the next 24-48 hours.
However, unless key decisions are made by the end of Wednesday, plans to sign off the final Brexit plan with the EU on November 25 could fail.
An agreement with the EU would then be delayed until December 13 or 14, when the next summit is scheduled.
Labour to force the government to publish backstop plans
Shadow Brexit secretary Keir Starmer will use a procedure called the humble address to try to force the government to publish legal advice on the Irish backstop plan before a Brexit deal is put to parliament.
Labour will be voting on the motion at its opposition day debate.
Starmer told The Guardian: "It's simply untenable for the government to put forward any Brexit deal to parliament without providing the legal advice on what's been agreed.
"At this critical stage, MPs can't be kept in the dark nor can we risk parliament being bounced into a decision without having all of the facts available.

"Ministers should accept this motion and allow MPs to have an informed debate about the UK's future relationship with the EU after Brexit."