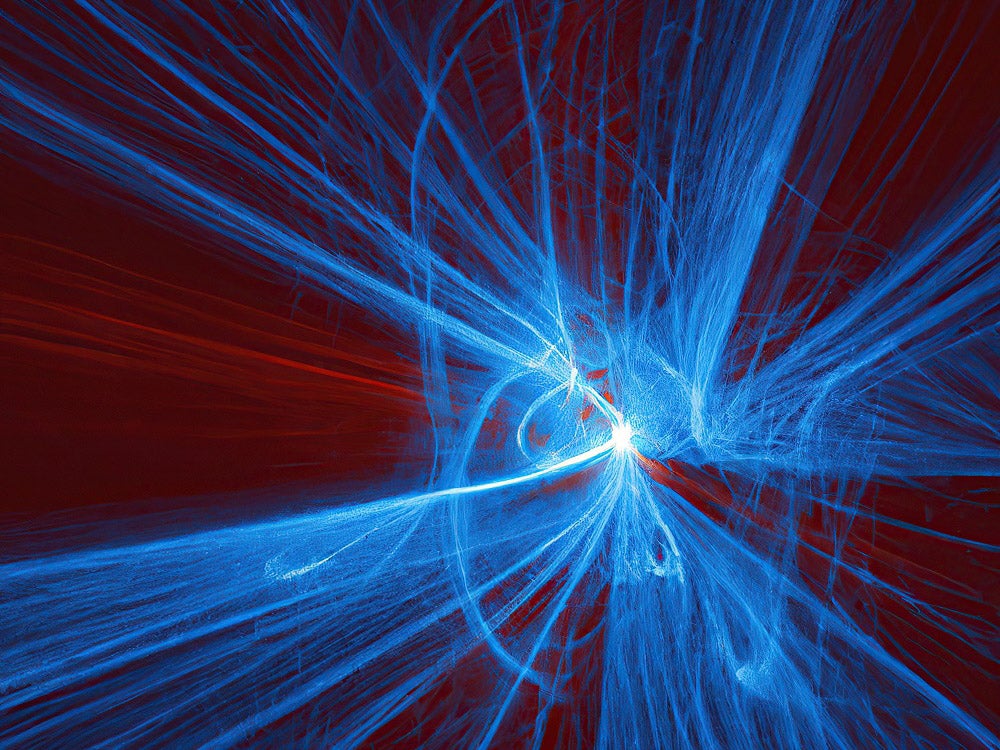 Quantum technologies could revolutionise many industries, with applications such as enabling secure transfer of data and highly accurate navigation systems – but commercial opportunities are proving slow to emerge.
Challenges also remain in securing funding when profitability may be some years away. However, there are signs of change in Scotland, where many promising quantum innovations are in development – and some could enter the market sooner rather than later. 

Fintech businesses are currently exploring quantum technologies, notably for encryption, with HSBC announcing plans to invest in quantum key distribution protocols to enable more secure communications.
Quantum computing is often spoken of as the next major technological milestone, with GlobalData estimating the worldwide market could be worth $10bn by 2030. Yet quantum computing development remains in the relatively early stages, with uncertainty as to which technologies will be most suitable for scaling up.
The key to enabling the quantum revolution will be the development of reliable components and subsystems, which will form the building blocks for a wide range of new systems targeting diverse applications.
For example, Edinburgh-based Skylark Lasers is attracting considerable attention for the quantum lasers for gravity sensor integration it is developing for advanced navigation systems.
"With quantum lasers, we want to take it to the next level," explains Ben Szutor, CEO of Skylark Lasers. "Instead of just providing customers with lasers, we want to give them an integrated package laser solution, which can be utilised in different navigation capabilities."
Harnessing quantum for navigation systems
Quantum technologies could significantly upgrade navigation systems, making them faster, more precise and resilient. Quantum lasers and sensors for navigation are also not reliant on signals from satellites, potentially providing far greater reliability and security than standard navigation systems. The difference is highlighted when comparing frequency standards.
"Currently, atomic clocks are based on microwave standards, and they have an accuracy of about 1014," explains Szutor. "On a normal GPS, that gives you a few metres of accuracy. Unlike GPS navigation systems, [quantum systems] do not require communication with satellites.
"If you go into an optical frequency, which is much higher than a radio or microwave frequency, then you can achieve accuracy that is three orders of magnitude higher. People even suggest you might get down to millimetres of precision."
Existing GPS navigation devices require connection to at least three satellites to determine the location. However, when signals are lost or interfered with, it presents serious risks for vehicles relying on the devices for navigation – especially when travelling through potentially hazardous airspace or waters.
According to research published by the UK Government, a 24-hour outage of the Global Navigation Satellite System (GNSS) could result in a £1.4bn ($1.7bn) loss to the UK economy, severely impacting emergency services, road networks and maritime transport. Quantum navigation solutions offer a more robust and secure alternative to GNSS, reducing the UK's vulnerability to disruption.
Szutor says his company plans to support the delivery of a self-contained system that uses quantum interactions with particles to determine the exact location, without the need for satellite signals. These devices could be used by ships or aircraft, as well as by machines operating underground or underwater.
"The main benefit is it doesn't rely on any kind of external communication. It tells you where you are and where you are heading, supported by a series of high-fidelity lasers," says Szutor.
With demand being a key driver of commercialisation, Szutor says that there is a need for quantum navigation devices that could be used for the maintenance of underground pipes or telecommunication cables. "There is a requirement for this right now," he adds. "There is a market available with clear benefits of using these new technologies to increase the efficiency and resilience of our infrastructure."
What makes Skylark Lasers' systems an optimal choice for quantum applications is their high spectral purity and considerably narrow linewidth. The company says the quantum lasers it is developing are more compact than traditional solid-state technologies, with power outputs far beyond the capabilities currently available commercially. The company is now seeking partners to further the development of advanced navigation devices.
Support for quantum development in Scotland
A major obstacle in developing quantum technologies is securing funding for products that may not be immediately profitable. Crucially, there is the financial backing available in the UK to help further development and scale-up towards commercialisation.
Innovate UK is the innovation agency of the UK Government and has supported 15 companies in Scotland involved with quantum technologies. Earlier this year, Innovate UK awarded £2.34m to support Skylark Lasers to further develop critical equipment for quantum-powered navigation systems and more accurate time-keeping capabilities. Skylark Lasers has also benefitted significantly from investment by Scottish Enterprise, the economic development agency of the Scottish Government. This support has allowed Skylark Lasers to expand its portfolio of ultra-stable continuous wave (CW), single-frequency compact diode-pumped solid-state (C-DPSS) lasers and improve the commercialisation viability of its quantum-enabling lasers.
"Scottish Enterprise has been a long-term supporter of the business, taking an active part in our series fundraise led by Par Equity LLC," explains Szutor. "Furthermore, we received significant in-kind support in the form of advice, training and networking opportunities."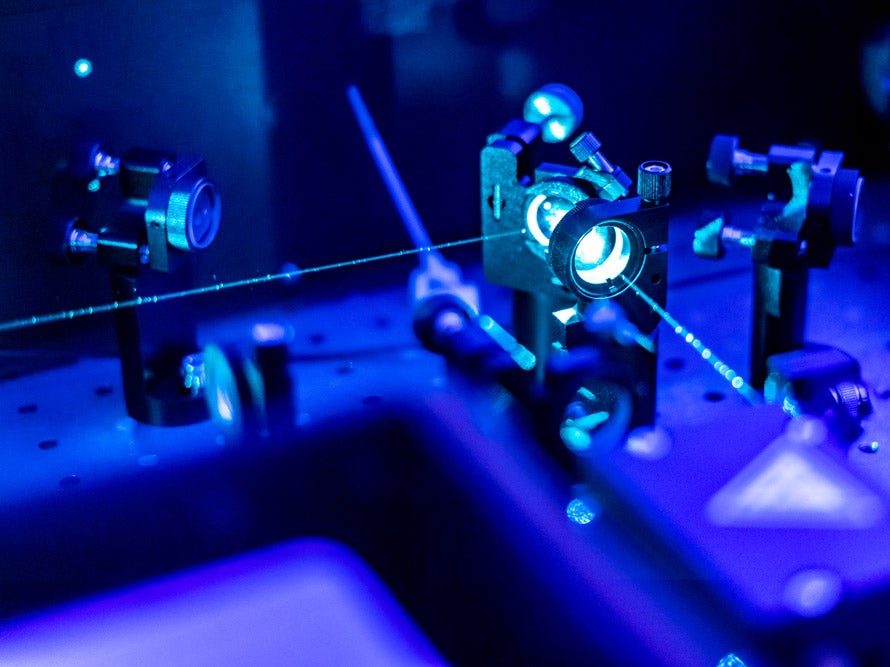 Backing for quantum development in the UK extends far beyond funding. Innovate UK, Scottish Enterprise, Technology Scotland and Fraunhofer UK are actively involved in the UK's Quantum Community. These organisations help to facilitate connections between different businesses and leading experts from around the world who may be able to help projects take the next step towards fulfilling their vast potential. Technology Scotland also runs a Quantum Technology Special Interest Group and has published a Vision Paper for the future of quantum in Scotland.
"We have events where we meet up. There are always places to exchange ideas and talk to different people in areas of expertise," adds Szutor.
Then there are Scotland's fintech and space clusters, which are also working on quantum development. Clusters present opportunities to exchange contacts and ideas, as well as for talent to move between different sectors and use their transferable skills.
"Electronics engineers from the space industry are usually very excellent engineers in photonics and lasers," adds Szutor. "For people with talent and experience, it is good for their careers as well. If you focus on lasers, you are not locked to a laser company. You can also go into the space sector or other exciting and emerging industries."
Scottish universities: key enablers in advanced tech
Universities in Scotland are integral to advancing technologies and developing strong levels of expertise in photonics, lasers and quantum, where there is much crossover. Notably, Scottish universities working within these fields are focused on different specialist areas. Szutor says he has been working with Glasgow University, Heriot-Watt University and the University of St Andrews on various projects, from the small-scale to those worth millions of pounds.
"Universities have provided us with a lot of talent and engineers," he says. "I am an advocate of giving people the space to grow. We always prefer to have an ambitious person coming out of university and training them up. As the company grows, we want our team to grow with us. It is always really nice to have these talented and enthusiastic people coming out of unis."
Along with the talent, Szutor says another advantage of being based in Scotland is the openness of access to university facilities that may contain tools or equipment small companies otherwise wouldn't be able to use.
"A year or two ago, there were a lot of tools we didn't have in-house," he says. "So, it is great to just drive up to Herriot-Watt. It is only five to ten minutes away from here. It is really useful and very important for companies to try and learn as much as they can from universities – especially as they are at the cutting edge of research."
Scottish universities are also prolific in producing spin-out companies from academic and industrial research projects. For example, PowerPhotonic is a spin-out from Herriot-Watt University and a prime example of how technological advances can accelerate in Scotland due to the tech ecosystem and supportive Triple Helix of academia, business and government. Based in Dalgety Bay near Edinburgh, the company has scaled up to commercialisation and is expanding in the US.
Meanwhile, Vector Photonics is manufacturing semiconductor lasers on a commercial scale, having started at the University of Glasgow. The presence of specialist companies also helps to develop the advanced tech supply chain in Scotland, which builds on a legacy in electronics and semiconductor manufacturing that stretches back decades.
"When you talk about a quantum supply chain, there is a massive overlap between photonics and quantum," says Szutor. "In Scotland, there is a huge heritage, knowledge, and expertise within what is required in a technological supply chain. All the different layers are available, and we have never been in a better place to enable the quantum revolution."
To learn more about the opportunities in Scotland's tech sector, download the document below.