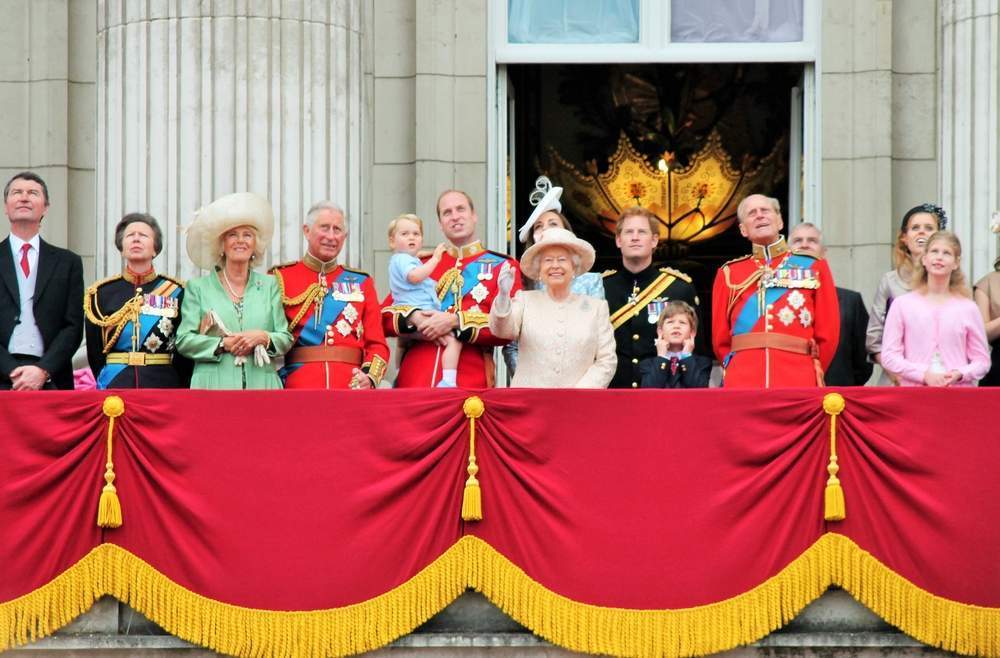 With Prince Harry's wedding to Meghan Markle just weeks away, interest in the royal family has never been greater.
Considering Harry's bride-to-be is an American, there's also renewed interest from people in the US.
Of course, due to their reclusive nature and utter refusal to make a spectacle of themselves, many aspects of the royal family's lives are somewhat mysterious. With the lack of official information about what goes on behind the scenes, many people turn to Google for answers.
Betting website Oddsmonkey recently took a look at some of the most-searched terms around the royal family. And they are delightful!
The results were based on data taken from Google autocomplete and Googles keyword planner in the last 12 months.
Here are just a few of the most popular search queries and a few answers to each of them. If you're intrigued by the inner-workings of the royal family, here's your one-stop shop for all the answers.
How well do you
really

know your competitors?

Access the most comprehensive Company Profiles on the market, powered by GlobalData. Save hours of research. Gain competitive edge.
Company Profile – free sample
Thank you!
Your download email will arrive shortly
Not ready to buy yet? Download a free sample
We are confident about the unique quality of our Company Profiles. However, we want you to make the most beneficial decision for your business, so we offer a free sample that you can download by submitting the below form
By GlobalData
Can the royal family…
Can the royal family vote?
Yes and no. Technically there is nothing to say the Queen herself cannot vote, however, it just isn't done. She must be politically neutral so she wouldn't ever vote. But she technically could.
As for the rest for the royal family, there's nothing barring them from voting. Senior members of the royal family such as princes Phillip, Charles, William and Harry do not vote, according to convention. Obviously if they ever ended up taking the throne there might be a potential conflict of interest, so it's best they just don't.
However, the queen does meet with the Prime Minister on a weekly basis and could offer her thoughts and opinions in these sessions.
Can the royal family marry a Muslim?
Yep, there is nothing to prevent this whatsoever and there never has been. The closest thing was that it was illegal for members of the royal family to marry Catholics. This was undone by the Succession To The Crown act, passed in February 2013. Nowadays, royals can marry Catholics or people from any other religion. They can also marry same-sex spouses.
However, as the head of the Church Of England, the monarch cannot be any other religion.
The only other restriction is that the reigning monarch must approve of the marriages of the next six people in line to the throne. As it stands at the time of writing, the Queen has the power to approve or disapprove of the marriages of Prince Charles, Prince William, Prince George, Princess Charlotte, Prince Harry and Prince Andrew. However, once the latest royal baby is born, Prince Andrew can do whatever he pleases with regards to his marital status.
If the monarch disapproves of any of the marriages of the royals mentioned above they can't technically stop them. But a royal who doesn't get the monarch's approval to marry loses their place in the line of succession.
Can the royal family take selfies?
Yes, and there are a few royal selfies out there. But there's a few twists and turns with this one. It's considered very rude to turn your back on a member of the royal family, so they'd have to be in the front of the photo.
But in numerous interviews members of the royal family from Kate Middleton to Prince Harry to the Queen herself have explained that they just don't really like taking selfies. So maybe just take a normal photo and don't try to do a selfie.
Can the royal family have social media?
Yep, they can. Most just choose not to.
Meghan Markle decided to delete her social media accounts ahead of her marriage to Prince Harry.
Meanwhile, Princess Eugenie has her own Instagram account where she shares all sorts of stuff.
In addition, there are various royal palaces and official accounts, run by social media managers employed by the royal household.
Can the royal family eat seafood?
Yes they can. In fact, grilled fish is a real favourite of the Queen's according to a former royal chef Darren McGrady.
Can the royal family eat garlic?
Again, yes, this is not a problem for them. However, McGrady also notes that the Queen personally prefers to avoid garlic. In an interview with the Daily Mail he explained:
"She was very Victorian and believed when she was brought up that you don't eat garlic – because if you were holding an audience the next day, you didn't want to be breathing garlic. It was seen as anti-social."
Can the royal family eat swans?
Yes, technically, but also no, technically not.
Okay, so this question probably stems from medieval times. Swan meat was considered a delicacy for the rich only. A law was passed saying that only people above a certain income could own swans. Thus, all swans had to be marked with a particular aristocrats seal. Any unmarked swan was property of the crown by default. Thus it was treason to kill and eat one.
However, as of 1998, the law was changed so it was no longer considered treason to eat a swan. However, mute swans are protected as wild birds under the 1981 Wildlife and Countryside Act. Under this law it is illegal to keep or kill swans.
Thus, the royal family could eat a swan if the feeling took them but they almost certainly wouldn't.
Can the royal family play monopoly?
What? Yes, of course.
This question stems from a comment Prince Andrew made in 2008. When he was presented with the board game to mark his visit to Leeds Building Society's newly-refurbished Albion Street headquarters, the prince joked: "We're not allowed to play Monopoly at home. It gets too vicious."
Can the royal family wear black?
This one came up around the BAFTAs when Prince William and Princess Catherine attended. Many of the actresses in attendance wore black to recognise the #TimesUp movement. However, Kate did not wear black. This is because royal women are encouraged to only wear black at funerals.
As a result, the royal family always travel with black outfits. This is just in case another member of the royal family dies while they are abroad.
Does the queen…
Why does the Queen wear gloves?
An episode of The Crown's second season suggested the Queen wears gloves due to snobbishness. However, this is just not the case.
They're basically a fashion item. However, they also help avoid germs as the Queen shakes dozens of peoples' hands at any single royal engagement.
Why does the Queen always wear a hat?
Again, fashion.
Speaking to the BBC, Diana Mather, a senior tutor for The English Manner etiquette consultancy said:
"Up until the 1950s ladies were very seldom seen without a hat as it was not considered 'the thing' for ladies to show their hair in public.

"But all that has changed and hats are now reserved for more formal occasions."
Why does the Queen wave?
Presumably the thrust of this question is 'why does the Queen wave in that specific way that she waves?'
Essentially, it's because royal engagements often take a long time and she'd get repetitive strain injury if she had to wave normally for all that time.
Also because it's more dignified to give a slight twirl of the wrist than to flap your hands wildly.
Does the Queen fart?
Yes.
What does the Queen eat every day?
Verdict already did a full article on this exact subject which you can read here. In brief, it's mostly seasonal foods, fresh fruit and vegetables, and some grilled meat. She tends to prefer plain stuff.
Does the Queen like Camilla?
This is one of the few questions on this list that might be impossible to answer. Who knows what goes on behind closed doors or in any other person's head. There's a lot of speculation around the Queen's relationship with the Duchess of Cornwall, Camilla.
The Queen actually knew Camilla's husband, Andrew Parker-Bowles as her mother was his godmother. Allegedly, they got on well in those days. However, apparently the relationship with Camilla soured after she learned of Charles' affair with Camilla. In a new unauthorised biography, Rebel Prince: The Power, Passion and Defiance of Prince Charles, British journalist Tom Bower alleges that after a few martinis, the Queen refused to accept Charles' request to bring Camilla into the family:
 "(She said she) would not condone his adultery, nor forgive Camilla for not leaving Charles alone to allow his marriage to recover."
Does the Queen watch The Crown?
Again, no one is particularly sure. However, we do have a bit of evidence about how the royal family feel about their depiction in The Crown. 
One royal source, reportedly told the Sunday Express she watches it with her youngest son and his wife:
"Edward and Sophie love The Crown.

"It has been a longstanding arrangement that they drive to Windsor at the weekend to join the Queen for an informal supper while watching TV or a film. They have a Netflix account and urged her to watch it with them.

"Happily, she really liked it, although obviously there were some depictions of events that she found too heavily dramatised."
However, in an interview with the Observer Matt Smith said a friend of his asked Prince Phillip if he'd seen The Crown. Matt Smith said the exchange went something like this:
"Philip, I'm just wondering, because I have some friends who made The Crown, have you watched any?" The Duke stopped and glowered: "Don't. Be. Ridiculous."
Spicy red hot royal family:
One of the top royal searches is for 'Prince Harry naked'. This term has a search volume of 14,800 per month. That's the same as people are searching to see Tom Hardy naked. Wild.
What you may not realise is that naked photos of Prince Harry are out there. TMZ shared photos of Prince Harry playing a game of 'strip billiards' in September 2012. Harry is stark naked in both photos, though the crown jewels are not on display.
However, for the 1,600 people per month searching for 'Prince William naked' there's no such luck. The Independent reported in 2012 that such photos were out there, but none ever surfaced.
What does the Queen of England…
What does the Queen of England do?
According to the official website of the royal family:
"As Head of State, The Monarch undertakes constitutional and representational duties which have developed over one thousand years of history. In addition to these State duties, The Monarch has a less formal role as 'Head of Nation'. The Sovereign acts as a focus for national identity, unity and pride; gives a sense of stability and continuity; officially recognises success and excellence; and supports the ideal of voluntary service."
In essence, she has the following roles:
She acts as a figurehead for the United Kingdom.
The Queen is often involved with giving honours to people, and opening buildings dedicated to her.
She meets the prime minister weekly. She also has to give royal assent to any new laws passed in her kingdom.
The Queen and the royal family also have diplomatic duties in representing the United Kingdom overseas.
What does the Queen of England eat?
See above.
What does the Queen of England look like?
This: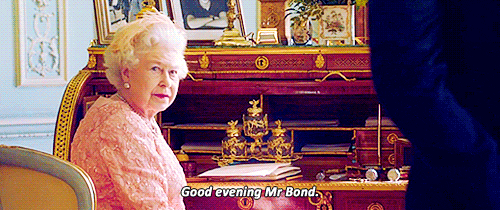 What does the Queen of England think of Trump?
As she has to remain politically neutral at all times, we'll probably never know for sure.
Still, it is unlikely the Queen has many favourable opinions about Trump in her private life. Trump famously made some spectacularly vulgar comments about Princess Diana in the wake of her divorce with Prince Charles, suggesting in an on-air interview with Howard Stern that he 'could've nailed her'.
In addition, Trump also tweeted criticism of Princess Catherine after French paparazzi photographed her topless:
Kate Middleton is great–but she shouldn't be sunbathing in the nude–only herself to blame.

— Donald J. Trump (@realDonaldTrump) September 17, 2012
Who wouldn't take Kate's picture and make lots of money if she does the nude sunbathing thing. Come on Kate!

— Donald J. Trump (@realDonaldTrump) September 17, 2012
His attacks on the mayor of London also probably haven't endeared him to the Queen.
Still, we will never know for sure.
What does the Queen of England drive?
This is a very interesting question and has multiple answers. The Queen has a huge fleet of vehicles at her disposal, but mostly she is driven rather than driving herself. Still, the Queen can drive after learning during the second world war.
The Queen's State fleet consists of three Rolls-Royces, three Daimlers and two Bentleys. These are the cars you'll see her Majesty being driven around in at royal engagements. The Bentleys are the most noteworthy, as they're custom designed to be around a metre longer than normal Bentleys.
In terms of what she drives herself, the Queen loves Landrover Defenders. Normally, these are used for hunting trips around her estates at Sandringham and Balmoral.
Carkeys also lists a few of the Queen's other vehicles, but these are the main ones.
What does the Queen of England wear?
Usually dresses, often paired with gloves and hats. Here is a selection of her looks: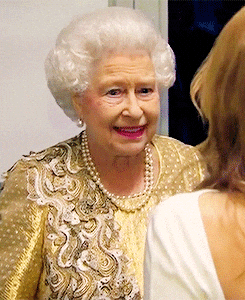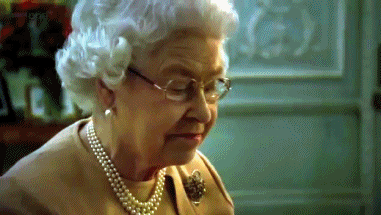 What does the Queen of England actually own?
This is also a question that Verdict has already answered. If you take a look at our article about who is paying for Prince Harry's wedding, we've done a complete rundown of everything the Queen and the royal family own.
What does the Queen of England fly in?
The Queen and the rest of the royals actually tend to charter private aircraft whenever they need to get anywhere. They have also been seen in first class on various commercial airlines as recently as 2016. However, they do have a few other options that aren't available to most people.
For starters, there's the Royal Air Force VIP Voyager. This is a specially designed Airbus Voyager A332 fitted with various extra VIP and security features. It is designed to transport members of the royal family and members of the British government. The Queen also has a personal helicopter. This is a brand new S-76C++ made by Sikorsky. It has more seating space than most helicopters for added comfort.
What does the Queen of England sound like?
This:
What does the Queen of England like?
All sorts of things. The Queen is famously a huge fan of horse racing and horse breeding and spends much of her private time doing so. Over the past 30 years, the Queen's horses have won 451 races, according to the Daily Express.
In her youth she was also a big fan of hunting, and often hunted the deer around her Balmoral estate.
And what about food? One of the royal chefs mentioned above, Darren McGrady revealed on his website:
"This chocolate biscuit cake is Her Royal Majesty the Queen's favorite afternoon tea cake by far. This cake is probably the only one that is sent into the royal dining room again and again until it has all gone.

"It is her favorite cake that she eats until it is all gone. If there is anything left when she has it at Buckingham Palace, it then goes to Windsor Castle so she can finish it there. I use to travel on the train from London to Windsor Castle with the biscuit cake in a tin on my knee. It was half eaten.

"This chocolate biscuit cake was Prince William's groom's cake at his wedding. The reason he chose it is that he used to go to tea with the Queen and he got a taste for it. That is when he started liking it."
So there you go. All your most burning questions about the royal family answered.