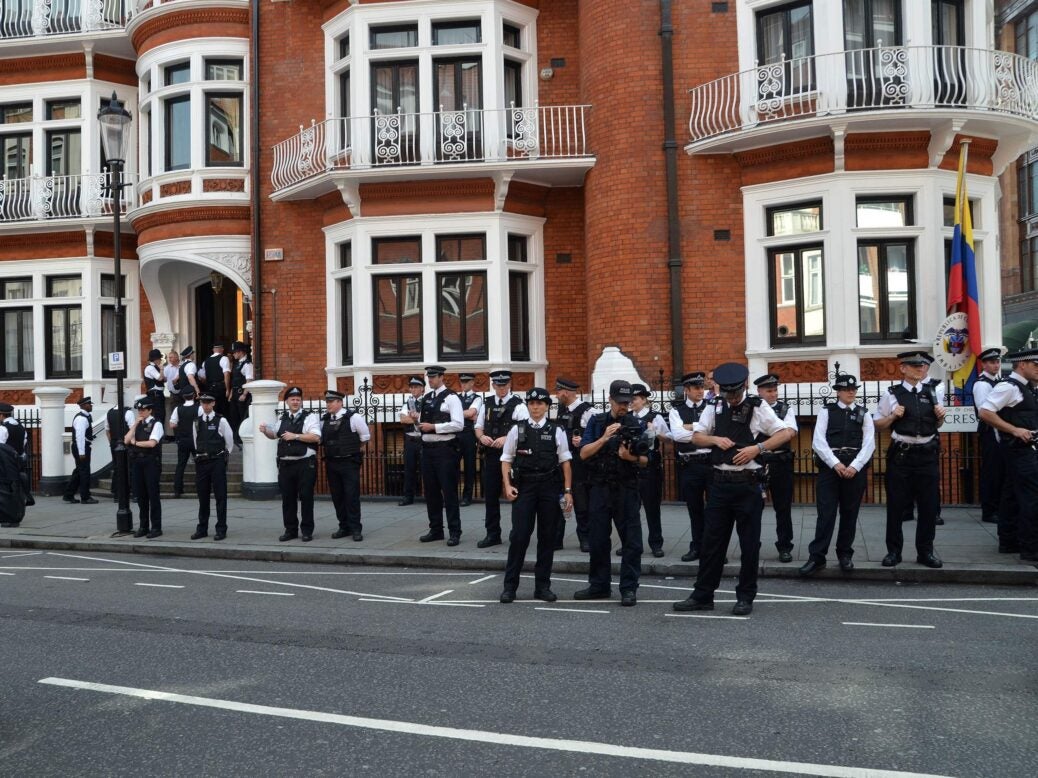 Sweden has dropped its investigation against WikiLeaks founder Julian Assange, however he may not be getting a taste of freedom anytime soon.
The UK Met police have said that if Assange leaves the Ecuadorian embassy, where he has been hiding out for the past five years, he will be arrested.
UK police obliged to execute warrant for arrest of Julian Assange should he leave embassy – @metpoliceuk sayhttps://t.co/0HDbmjqZy8

— BBC Breaking News (@BBCBreaking) May 19, 2017
The website founder was under investigation by Swedish prosecutions after allegations of rape and sexual assault were brought against him back in 2012. However, the country's director of prosecutions, Marianne Ny, said the probe had been discontinued.
BREAKING: Sweden has dropped its case against Julian Assange and will revoke its arrest warrant

Background: https://t.co/UHj8QtwrTh

— WikiLeaks (@wikileaks) May 19, 2017
Since the charges were brought against Assange, the Austrian citizen has been hiding out in the Ecuadorian Embassy in London. He was concerned that if he was extradited to Sweden, the Swedish government would send him to the US to face espionage charges for his management of WikiLeaks.
The site has been instrumental in publishing secret information and news leaks relating to governmental activities. It rose to face in 2010 when it released the Iraq War Logs, detailing the US government's activities during the war then, including video footage from an airstrike in Baghdad in which Iraqi journalists were killed by a US helicopter.
However, Assange might not be so quick to step outside and breathe the fresh air. Earlier this year, US attorney general Jeff Sessions said the US government was looking into the Obama administration's findings on Assange and WikiLeaks, as well as the so-called Vault 7 leaks which saw WikiLeaks reveal secret CIA documents earlier this year.
"We're going to step up our effort and already are stepping up our efforts on all leaks. This is a matter that's gone beyond anything I'm aware of," said Sessions.
According to the Washington Post, potential charges against Assange and WikiLeaks could include conspiracy, theft of government property or violating the Espionage Act.
After the news broke about Sweden this morning, the UK's Metropolitan police released a statement saying that they are obliged to execute a warrant for Assange issued by Westminster Magistrates' Court following his failure to surrender to the court in 2012. The statement said:
"While Mr Assange was wanted on a European Arrest Warrant (EAW) for an extremely serious offence, the MPS response reflected the serious nature of that crime. Now that the situation has changed and the Swedish authorities have discontinued their investigation into that matter, Mr Assange remains wanted for a much less serious offence. The MPS will provide a level of resourcing which is proportionate to that offence."