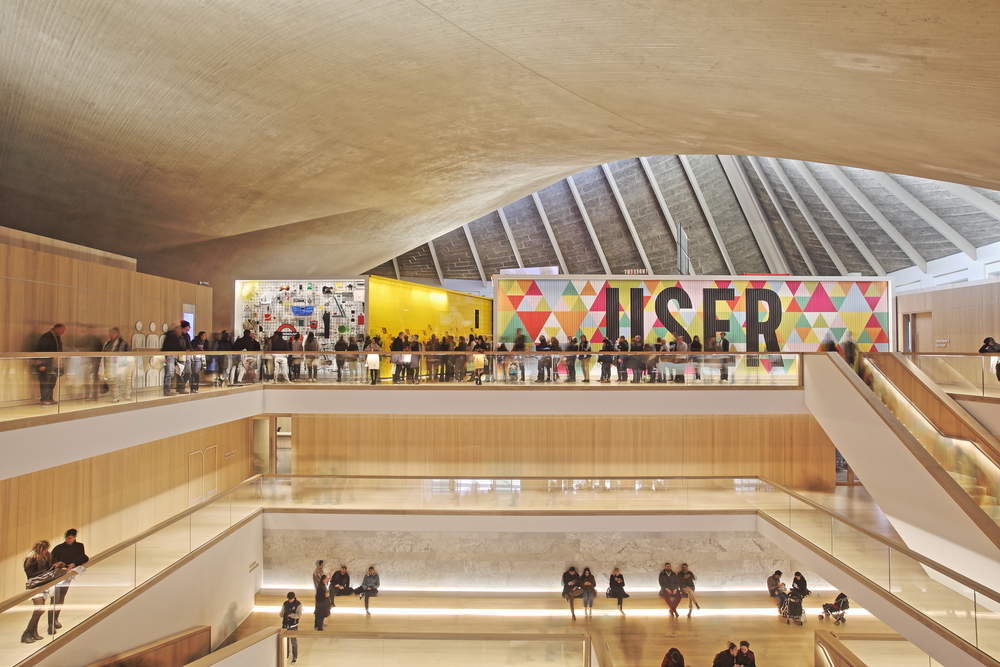 What do Kanye West's tour merch, Pokemon Go, a drone searching for refugees in danger in the Mediterranean, and a self-driving 3D-printed electric bus have in common?
Well, they're all nominated for the Beazley Designs Of The Year awards.
The awards, hosted by the Design Museum in London, are now in their 10th year.
There are 62 finalists across six categories: Architecture, Digital, Fashion, Graphics, Product, and Transport.
There are all kinds of different designs nominated: the awards are supposed to be a snapshot of the most exciting elements from the world of design around the world.
The Beazley awards are going to be judged by some of the biggest names in the world of design too:
How well do you
really

know your competitors?

Access the most comprehensive Company Profiles on the market, powered by GlobalData. Save hours of research. Gain competitive edge.
Company Profile – free sample
Thank you!
Your download email will arrive shortly
Not ready to buy yet? Download a free sample
We are confident about the unique quality of our Company Profiles. However, we want you to make the most beneficial decision for your business, so we offer a free sample that you can download by submitting the below form
By GlobalData
Amanda Levete is an award-winning architect. One of her most recent designs is V&A Museum's Exhibition Road Quarter.
David Rowan is Wired UK's editor in chief.
Gerry McGowan is chief design officer for Land Rover and a board member for Jaguar Land Rover.
Marcus Engman is the Design Manager for IKEA's Range and Supply division.
Margaret Calvert is a leading graphic designer who worked on the 1965 redesign of British road signs. She's also worked on the official lettering and spacing system for the NHS and various other government projects.
Ozwald Boateng is an international fashion designer specialising in 'Bespoke Couture'. He's credited with creating a new silhouette and palette for men's fashion.
However, the most exciting part about the awards is the public will get a chance to vote too. An online vote will take place from the opening of the physical exhibition at the Design Museum.
Voting will commence on the 18th October and conclude in January. These votes will be used to inform the judges deliberations.
So what's up for the awards? Well, for a complete run down, look no further!
Architecture
Mrs Fan's Plug-In-House by People's Architecture Office — An ultra-cheap renovation system for houses. People can replace parts of their older house with the plug-in house for upgraded functionality.
Warka Water by Arturo Vittori — A structure which collects rain, fog, and dew from the atmosphere. It requires no electrical power and can provide clean, safe drinkable water.
Hegnhuset, memorial and learning centre on Utøya, Norway, 2016 by Blakstad Haffner Architects — A memorial for those killed in the terrorist attacks of 2011 which claimed the lives of 69 people, mostly teenagers.
Wind and Rain Bridge by Donn Holohan with students from the University of Hong Kong and Peitian Community Craftsmen — An interlocking wooden bridge constructed with absolutely no mechanical fastenings.
Smithsonian National Museum of African American History and Culture in Washington DC by Adjaye Associates, The Freelon Group, Davis Brody Bond, SmithGroupJJR for the Smithsonian Institution — A museum building commemorating the history of the African American community.
Sala Beckett Theatre and International Drama Centre by Flores & Prats — A building renovation which transformed Barcelona's Old Peace and Justice Cooperative Building into a new theatre space.
The Calais Builds Project by Grainne Hassett with migrants living in the Calais Jungle and students of Architecture from the University of Limerick — A community infrastructure design made of lightweight, easily accessible materials in Calais' 'Jungle' camp. Before it's destruction it featured a Women's and Children's Centre and a Youth Centre.
Croft Lodge Studio by Kate Darby Architects and David Connor Design — An 18th Century cottage renovated to become a house and studio.
Lycée Schorge Secondary School by Kére Architecture — A secondary school built in Burkina Faso crafted from local materials.
Weltsadt- Refugees' Memories and Futures as Models — An exhibition of model houses and other buildings made by people from Africa and the Middle East who came to Germany as refugees.
The Environmental Enhancement of the Five Dragons Temple by Urbanus — A historic renovation project combining public and private funds to restore a once-derelict Taoist temple.
Port House by Zaha Hadid Architects — A huge glass extension to a listed (but disused) fire station in Antwerp's docks.
Il Fondaco Tedeschi, Venice by OMA — The renovation of one of a Venetian trading post, customs house, and post office from 1228. It has been redesigned and transformed into an urban department store.
Digital
Premier League on-air branding by DixonBaxi — The title cards and infographics that show premier league fixtures, information, and other graphics.
Pierre Chareau: Modern Architecture and Design by Diller Scofido + Renfro — A virtual reality experience which is viewed alongside actual objects based on the life of the classic designer.
Saydnaya: Inside a Syrian Torture Prison — An interactive 3D recreation by Amnesty International of a Syrian torture prison. It was constructed through the descriptions of survivors as part of a campaign to allowing independent monitoring of detention centres.
Pokemon Go by Niantic — A augmented reality mobile game played in the physical world using characters from the best-selling Pokémon franchise.
OTHR by Joe Doucet, Dean DiSimone and Evan Clabots — A 3D printing company who team-up with world famous designers to create functional objects for the home.
Meet Graham: The only person designed to survive on our roads by Patricia Piccinini for Transport Accident Authority — A lifelike sculpture designed to depict what humans would look like if we'd evolved to survive a car crash.
Professional Women Emoji by Agustin Fonts, Rachel Been, Mark Davis, Nicole Bleuel and Chang Yang — A set of emoji representing women in the workforce.
Refugee Text by Kåre M. S. Solvåg, Caroline Arvidsson, Ciaran Duffy — A text message service which provides refugees with live updates on any practical information and policies that they may need to know.
Google Noto by Google and Monotype — A free, simple typeface that can adapt to 800 languages.
Fashion:
Pussyhat Project by Krista Suh, Jayna Zweiman, Kat Coyle and Aurora Lady — A craftivist movement organising women to knit and wear the pink pussyhat popularised during the Women's March on 21st January 2017.
New Object Research 'The Rite of Spring/Summer/Autumn/Winter' by Aitor Throup –– A runway show combining fashion and puppetry.
Ecoalf — A clothing line made from thread created by recycling plastic waste from the bottom of the Mediterranean Sea.
Life of Pablo merchandise and pop-up stores by Kanye West and Mat Vlasic for Bravado — A series of 21 pop-up stores around the world selling merchandise related to Kanye West's new album.
Levi's® Commuter™ Trucker Jacket with Jacquard™ by Google — A jacket which allows wearers to connect with their technology using gestures on the jacket sleeve. Swiping or tapping the sleeve of the jacket can control music or estimate ETA.
Nike Pro Hiajb by Rachel Henry, Baron Brandt and Megan Saalfeld for Nike — A sports-ready hijab designed to welcome Muslim women into the sporting community.
Graphics
Protest Banner Lending Library — A place where people can learn to make protest banners for social justice in Chicago.
Finding Her by IC4 Design for UN Women Egypt — A 'Where's Wally' style campaigned designed to draw attention to the lack of women in male-dominated industries such as politics, science, and technology in Egypt.
Ibiza Mykonos Jeremy Corbyn (Political Posters) by Michael Oswell — A series of political posters created for the snap general election designed to highlight a breakdown of the barriers between public and private communications.
New logo and Identity for Reykjavik Art Museum by Karlssonwilker — A new logo and brand redesign for Reykjavik Art Museum.
N.A.A.F.I design identity — A brand redesign for a Mexican record label and music collective in the underground dance music scene.
Me & EU by Nathan Smith and Sam T Smith — A collection of postcards designed after the EU referendum. The postcards show the desire to remain connected.
Real Review by REAL with OK-RM — A magazine which reviews everyday objects and places that reinforce social, economic, and power relations.
Wales Nation Brand by Smörgåsbord Studio — New national branding for the country of Wales. A new typeface, Cymru Wales Sans, was the corner stone of the rebrand, based on traditional Welsh lettering.
Sufferhead Original Stout by Emeka Ogboh — A design for a craft beer taking over the German market, designed to reflect the experiences of an African immigrant in Germany.
Fractured Lands, The New York Times Magazine, August 14, 2016 — A one-off issue of The New York Times Magazine without adverts. It was devoted to the last ten years of America's role in the Middle East.
Unit Edition – A publishing platform for graphic design.
Pro-EU anti-Brexit Poster Campaign (vote remain 23 June), 2016 — An anti-Brexit poster campaigned by Wolfgang Tillmans, an artist.
The Refugee Nation flag by Yara Said — A flag designed to mark the participation of the first ever refugee team in the 2016 Olympics.
Product
Avy Search and Rescue Drone by Paul Vastert, David Wielemaker, Christian McCabe and Patrique Zaman — A drone flying over the Mediterranean Sea to find refugees in danger.
Dansbana! Vårby gård by Dansbana!, Anna Fridolin, Anna Pang and Teres Selberg — A public place for dance with a high-quality sound system housed in bright and beautiful metal-clad speakers.
Gita by Piaggo Fast Foward — A robotic personal helper who can follow you around and carry your belongings for you.
BuffaloGrid – Connecting the Next Billion — A grid providing mobile power, internet, and services to North India, connecting the next billion users..
Alphabet of Light by BIG – Bjarke Ingels Group for Artemide — A modular lighting system. One can arrange it to form the letters of a bespoke typeface.
Flax Chair by Christien Meindertsma for LABEL/BREED — A chair constructed from boards made of flax and sustainable glue.
AIR-INK by Graviky Labs — An ink made from air pollution.
Remolten by gt2P (great things 2 People) with Friedman Benda — A series of objects made of Chilean volcanic lava.
Wedge Dowel by IKEA — A small, ribbed protrusion in furniture that provides a joint without needing tools or glue.
Solid Textile Board Benches by Max Lamb for Really ApS and Kvadrat — A set of benches, fashioned from cloth.
Rapid Liquid Printing by Self-Assembly Lab, MIT in collaboration with Steelcase — A new 3D printing process which is incredibly fast. Manufacturers can use it to print large scale products using industrial-grade materials.
Nimuno Loops by Anine Kirsten and Max Basler — A flexible tape featuring LEGO's iconic 'bumps', allowing builders to place creations on any surface.
The Pilot translating earpiece by Waverly Labs — A world-first earpiece which translates languages as you hear them.
SNOO Smart Sleeper by Yves Béhar, fuseproject — A mechanised baby bed which gently rocks babies to sleep at the push of a button.
Transport
Autonomous Rail Rapid Transit (ART) by CRRC Zhuzhou Institute — A self-driving electric tram guided by lines printed on the street, not tracks.
Mahjouba Initiative by Eric van Hove — An electric moped made with Moroccan craft techniques and materials for the local market.
Light Traffic by Carlo Ratti at Senseable City, Massachussetts Institute of Technology (MIT) — A conceptual traffic system which would allow driverless vehicles to drive through intersections without colliding with one another.
Olli by Local Motors — A self-driving, electric, 3D printed bus.
Seabubbles by Ailain Thebault — A design for water taxis that are silent, eco-friendly, and self-charge.
Honda Moto Riding Assist — A self-balancing motorcycle reducing the possibility of the motorcycle falling over while at rest.
Scewo by Thomas Gemperle, Adrien Weber, Naomi Stieger, Stella Mühlhaus, Bernhard Winter, Pascal Buholzer at the Swiss Federal Institute of Technology –– A wheelchair that can climb stairs using a set of retractable rubber tracks. It can also lift up users to converse with others at eye level.
Safe to say, if you plan to vote, you've got some tough decisions ahead of you!