Here are three things that will change the world today.
1. 
May's industrial strategy
After British prime minister's 12-point Brexit plan last week, she will announce a 10-point industrial strategy today focusing on infrastructure, procurement, skills, access to finance and management, and affordable energy.
Timeline for dollar

May will make ambitious promises, from improving "world-leading" sectors and "closing the gap"  between the most productive industries and the least.
"We will make Britain one of the most competitive places in the world to found or grow a business," wrote May in the i newspaper this morning.
Investment in research, education and infrastructure will be a priority.
Loading ...
An estimated £170m will be dedicated to technical colleges, providing the "same opportunity and respect we give university graduates to those people who pursue technical routes," according to May. Training will be focused on the STEM subjects — science, technology, engineering and mathematics.
With regard to trade, May will hope to strike deals with various countries to boost UK exports.
2. Trident trouble
Michael Fallon, the defence secretary, will face questions in the House of Commons today over claims that a Trident nuclear missile test malfunctioned in June.
According to The Sunday Times, the unarmed Trident II D5 missile, fired from a British submarine off the coast of Florida, veered off course, but neither MPs nor the public were informed. Shortly after the failed test, parliament approved a £40bn Trident renewal programme, a decision supported and encouraged by May, who was home secretary at the time.
"The question is where was the decision to keep this quiet taken, in the Ministry of Defence or in No 10?"  said Kevan Jones, a former Labour defence minister.
Facing repeated questioning on The Andrew Marr Show yesterday, May did not provide a direct answer as to whether or not she knew about the failed test.
"In June the Royal Navy conducted a routine unarmed Trident missile test launch from HMS Vengeance, as part of an operation which is designed to certify the submarine and its crew," said a government spokesman.
3 Things That Will Change the World Today
"We do not provide further details on submarine operations for obvious national security reasons."
3. US market uncertainty is having an economic effect
After Trump's reaffirmation of protectionism in his inauguration speech, the dollar dropped 0.4 per cent on the dollar index against a basket of currencies to 100.37.
How will Trump's so-called America First policy impact US spending and the wider economy?
"The initial reaction to the first few days of Donald Trump's Presidency suggests that investors may be losing patience with the new occupant of the White House . . . as [they] worry about protectionism and what a deeply unpopular president will mean for national unity and international diplomacy over the next four years," Kathleen Brooks, research director at City Index, told The Financial Times.
According to GlobalData's monthly sentiment tracker, the spending habits of Trump voters and Clinton voters are directly opposed.
Fifty-six percent of Trump voters think now would be a good time to make a large purchase; that figure is just over a third for Clinton voters. When asked about future retail spending, Trump supporters are also more upbeat.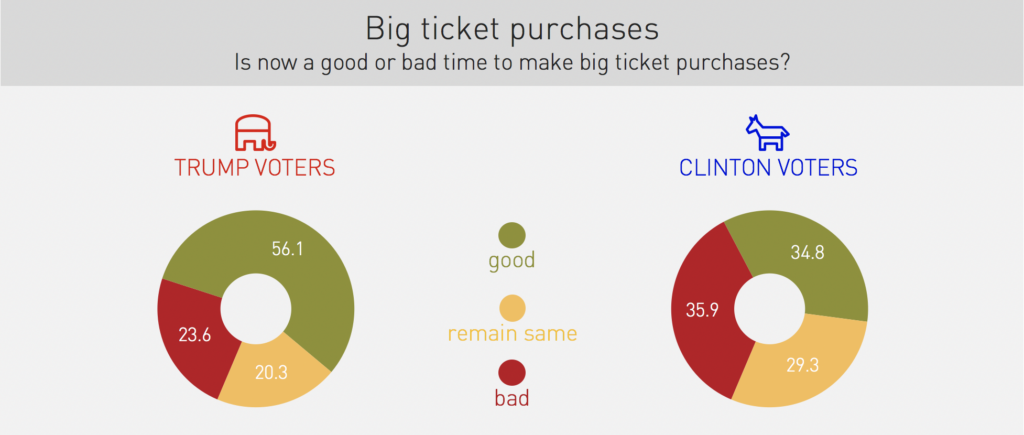 The survey was carried out during the first two weeks of January with a sample of 3,200 consumers.