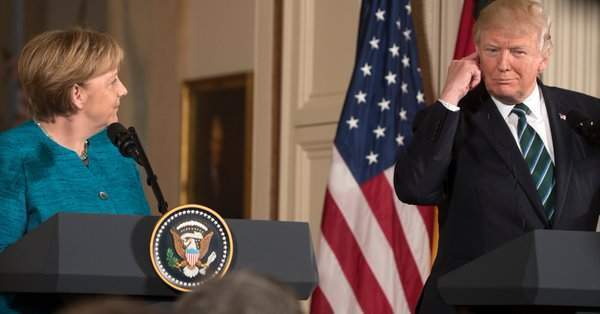 US president Donald Trump presented his budget outline to Congress for the upcoming fiscal year last week.
As expected, there were tens of billions of dollars in reductions to the Environmental Protection Agency (EPA) and the State Department, which advises the government on foreign policy issues.
But one department didn't see any proposed cuts — defence.
Verdict takes a look at what Trump's proposed hike in defence spending means in terms of his commitment to the North Atlantic Treaty Organization (Nato) — the 1949 alliance made up of 28 countries originally conceived to counter Soviet expansion across Europe.
Before we get to Nato, what exactly is Trump proposing?
These cuts are sensible and rational," Trump wrote in his budget message. "Every agency and department will be driven to achieve greater efficiency and to eliminate wasteful spending in carrying out their honorable service to the American people."
If Trump's budget is approved by Congress, more than 50 EPA programs will be completely eliminated, including those assisting Alaskan native villages and communities along the Mexican border.
Not to mention the $1.5bn he wants to put towards the construction of a border wall with Mexico.
The Superfund initiative facilitating the cleanup of contaminated land would see its funding reduced by about a third.
When it comes to the military, Trump declared his hopes to increase spending by $54bn — a 10 percent jump from the current amount.
It is also $19bn more than the $35bn increase forecast by the outgoing Obama administration for 2018.
However, defence experts point out that Trump's figure is just an opening bid, and that the actual increase in defence spending is likely to be closer to $18bn.
These numbers were intentionally misleading," Mark Cancian from the Center for Strategic and International Studies (CSIS), a Washington-based think tank told Vox. "The increase is dramatic, but nowhere near as dramatic as people had been expecting — or hoping for."
What is clear, aside from the cost, is that Trump is keen on strengthening the US military.
He wants to increase the number of people in the army from about 480,000 to 540,000; grow the Marines from 182,000 to 200,000; increase the size of the naval fleet from 272 to 350; and invest in 100 more fighter planes.
Disrupting a finely tuned balance
Will Russian president Vladimir Putin see the US's potential isolationism as a green light for him to exert control over local regions, potentially with military force?
Will the US become increasingly self-interested and use the money to serve its own national goals, or will it dedicate more of its resources towards protecting other Nato members?
In 2014, Nato member states agreed to allocate two percent of their GDP to the alliance's defence budget, but as it stands today, only five countries do — the US, the UK, Estonia, Poland and Greece.
The US spends 3.6 percent on defence and the UK spends 2.2 percent, based on Nato figures for 2016. Meanwhile Germany spends 1.1 percent, France 1.7 percent, Italy 1.1 percent, and Spain 0.9 percent.
The Trump administration has warned that the US could back down slightly from its commitment to the alliance if other members refuse to meet the two percent target.
America will meet its responsibilities, but if your nations do not want to see America moderate its commitment to this alliance, each of your capitals needs to show support for our common defence," US defence secretary James Mattis said during a closed session at Nato headquarters in Brussels last month.
Trump himself even called Nato "obsolete" in January, a matter of days before he took office.
Some Nato members are already making the right noises in response to the US's threat of disengagement.
Obligations have to be fulfilled and others in the world will demand that of us, and I think they're right that Germany must fulfill its obligations too," German chancellor Angela Merkel said at an election campaign event in her constituency of Stralsund in northeastern Germany at the end of last month.
But in practical terms, there are difficulties ahead. The German economy is not in a state to meet a two percent target according to Jean-Claude Juncker, president of the European Commission.
I am well aware that if Germany had to increase its defence spending from 1.2 to two percent of its gross national product, it would be back in the red again.

What I don't like to see is the concept of security being confined to purely military spending only by our American friends (if they are to, and want to, remain 'friends', which I think they should)," he said in a speech on the eve of the Munich Security Conference last month.
Even if Germany could meet the target with relative ease, there are deep-rooted historical reasons why there is an ambivalence in Germany to do so.
There is a reservation about Germany going all the way to two percent," Malcolm Chalmers, deputy director general at the Royal United Services Institute (RUSI), the oldest defence and security think tank in the world, told Verdict.
Other European countries, particularly Poland, a country invaded by Germany in 1939, still believe it is important for Germany's military strength to be constrained.
It is the Germans who since the 1950s have framed their national policy in a joined up European way — a strong Germany is a strong Europe, not a strong Germany instead of a strong Europe.

"That policy has worked well for them. I doubt Germany will reach the two percent target unless there is a radical American withdrawal. The paradox is that one of the reasons Europeans spend less is because the Americans are there," Chalmers added.
As it stands, all the Baltic states are on track to reach the two percent target by 2020, but southern Europeans are still quite far behind. 
It remains to be seen what the Trump administration will do if countries like France, Germany and Italy don't pay up.
But without a strong commitment to Nato from the US, Russia could spot an opportunity to attack weaker regions in eastern Europe and extend its sphere of influence.
Putin's aggressive tendencies are indisputable. After Russia's annexation of Crimea in 2014, he continues to push for greater control in Ukraine.
The Baltic republics and Poland are becoming increasingly worried about threats from Russia so they really want a strong commitment from the US to Nato," Linda Risso, an expert on the history European defence and security in the 20th century, told Verdict.

"I wouldn't be surprised if Putin soon tries to push the borders in eastern Europe to test the fragility of the alliance," she added.
Nato declined to comment on Trump's US defence spending proposal when approached by Verdict.
It would be inappropriate for Nato to comment directly on the proposed US budget plan for 2018 at this early stage in the process," a Nato spokesman said.
However, Nato's secretary general Jens Stoltenberg, said in a statement last week that despite progress, other Nato members still have a way to go in order to meet the alliance's two percent defence spending target.
There has been progress but the job is far from done, we still have no fair burden-sharing within our alliance," he said. "It is realistic that all allies reach the goal of two percent."
Will Europeans pay up or will the US continue to foot the bill?
Defence spending by European Nato member states did increase for the first time in seven years in 2016. However, nearly 70 percent of the alliance's defence expenditure still came from the US, according to the alliance's annual report.
Trump continues to urge Germany and other members of the alliance to accelerate efforts to meet defence spending targets.
He singled out Germany in a series of tweets — demanding that the country pay its way.
Despite what you have heard from the FAKE NEWS, I had a GREAT meeting with German Chancellor Angela Merkel. Nevertheless, Germany owes…..

— Donald J. Trump (@realDonaldTrump) 18 March 2017
…vast sums of money to NATO & the United States must be paid more for the powerful, and very expensive, defense it provides to Germany!

— Donald J. Trump (@realDonaldTrump) 18 March 2017
German defense minister Ursula von der Leyen rejected Trump's claim that Germany owes Nato and the US "vast sums" of money.
There is no debt account at Nato," she said in a statement.
John Louth, a senior research fellow and director for defence, industries and society at Rusi told Verdict that there may indeed be a shift in how the US behaves towards fellow Nato members.
If the Europeans are scared about the Russians, the violation of Baltic borders and what we are seeing in Ukraine, then it is tricky to avoid meeting the two percent target, but instead saying to the US: 'do you mind paying?' I don't think that argument will hold in Washington anymore." 
Trump has agreed to attend a summit of leaders of Nato nations on 25 May in Brussels.
The president looks forward to meeting with his Nato counterparts to reaffirm our strong commitment to Nato, and to discuss issues critical to the alliance, especially allied responsibility-sharing and Nato's role in the fight against terrorism," a White House statement said.
This piece is part of a series on what US president Donald Trump's industry policies will mean for the wider world. Read what Trump means for global retailers here.