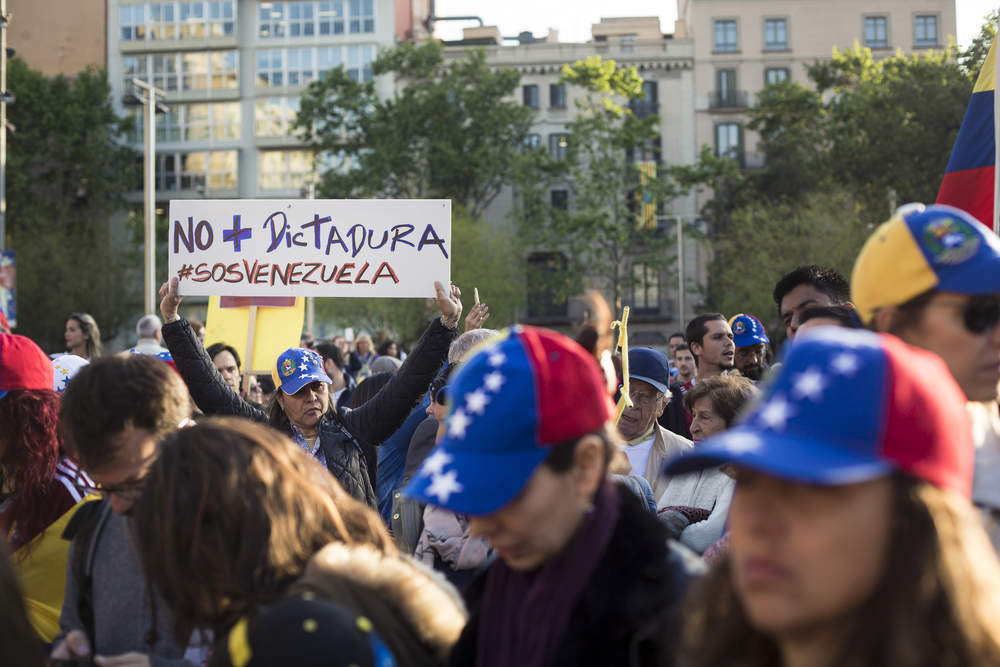 Tear gas in the air and the sound of police shotguns fill the streets — every day since April thousands of Venezuelans have been protesting in the capital city of Caracas.
A country with more oil than Saudi Arabia has been brought to its knees.
"The daily street protests make it impossible to move around the city. Last week, I couldn't leave my house for two days straight," a Venezuelan living in eastern Caracas tells Verdict. 
She hasn't been able to send her son to school for the past three months.
Production in Venezuela has come to a grinding halt, forcing the country to depend almost entirely on foreign imports.
"We are importing almost everything here because there are no domestic companies producing anything," she says.

How well do you

really

know your competitors?

Access the most comprehensive Company Profiles on the market, powered by GlobalData. Save hours of research. Gain competitive edge.

Company Profile – free sample

Thank you!

Your download email will arrive shortly

Not ready to buy yet? Download a free sample

We are confident about the unique quality of our Company Profiles. However, we want you to make the most beneficial decision for your business, so we offer a free sample that you can download by submitting the below form

By GlobalData
Amid chronic food shortages and high inflation, over 100 people have been killed in the demonstrations.
Many more have been injured and others arrested; all victims of police brutality.
"The stronger the protest, the stronger the repression," Diego Moya-Ocampos, a political risk analyst at IHS Markit tells Verdict.
On Sunday, Venezuela's president Nicolas Maduro pressed ahead with a controversial election to rewrite the country's constitution, giving his military regime even more power.
Maduro, who has given a third of positions in his cabinet to active or retired military officers, made sure that nearly 380,000 troops guarded voting stations.
"Maduro wants to introduce a one-party system, just like Cuba," Moya-Ocampos adds.
Venezuela's current legislative body — the National Assembly — will be replaced by a new assembly with no set term made up of 545 pro-government members, including Maduro's wife Cilia Flores.
Maduro and his closest allies have said that they will use the assembly to imprison opposition leaders and remove Luisa Ortega, the country's chief prosecutor from her post.
Ortega is a former loyalist, who started expressing anti-government views in March.
At least ten people, including two teenagers were killed on the deadliest day of violence which accompanied the controversial vote. Seven police officers were injured by a roadside bomb.
"I said rain, thunder or lightning, the 30th of July was going to come," the 54-year-old leader who has been in power since 2013 said after he cast his ballot.
The vote "legitimizes the executive's encroachment on the separation of powers," Joel Ross, Latin America analyst at global risk consultancy Verisk Maplecroft, told CNBC.
Nikki Haley, the US ambassador to the United Nations, called the vote a "sham election" that would result in a dictatorship.
Maduro's sham election is another step toward dictatorship. We won't accept an illegit govt. The Venezuelan ppl & democracy will prevail.

— Nikki Haley (@nikkihaley) 30 July 2017
The national electoral council reported a turnout of 8.1m, equivalent to 41.53 percent of the population, but the figure was closer to 2m according to opposition leaders.
The Venezuelan economy in meltdown
The country's economy is shrinking at an annual rate of 18 percent with income per person now back to where it was in the 1950s.
Inflation is set to surpass 1000 percent this year, the highest in the world, according to International Monetary Fund (IMF) projections.
Oil
Venezuela is an oil-based economy, with oil accounting for about 25 percent of its gross domestic product (GDP), according to figures from the international Organization of the Petroleum Exporting Countries (Opec).
Global oil prices, which dropped from highs of $111 per barrel in 2014 to $27 per barrel in 2016, are hovering around $50, wreaking havoc on a country that has come to depend on elevated oil prices.
Food shortages
Access to food is limited, especially for the country's poorest.
The price of basic groceries for a family is about 15 times the minimum wage.
Eleven percent of under-fives are malnourished, according to a report earlier this year from Caritas, a Catholic charity.
Venezuela's 4.5m public-sector employees, keen to ensure their continued right to government subsidised food handouts, voted for Maduro candidates out of desperation rather than choice.
"It's crazy. Every time you go to buy food at the supermarket the prices have gone up. From one month to the next the price of sugar doubles," a woman living in Caracas tells Verdict on condition of anonymity.
"It takes me two days to find the food I need because the shortages are so severe you have to go to so many different shops."
Last year, Coca-Cola was forced to cease production in Venezuela because the scarcity of sugar in the country made it impossible for the fizzy drinks giant to operate.
Unemployment set to skyrocket
The IMF projects one-in-four Venezuelans will be unemployed this year, and the jobless rate is forecast to grow to more than 36 per cent by 2022.
Venezuelan companies cannot gain more than 30 percent in profits.
Managers therefore have little incentive to hire more people than absolutely necessary because paying employees' salaries is an extra expense.
What can be done?
Sanctions are under consideration
The US has toughened its stance on those involved in drug trafficking, corruption, and human rights violations in recent months.
However, a decision to impose economic sanctions on Venezuelan oil exports could end in disaster.
Thirteen more senior Venezuelan officials became targets of personal sanctions just last week.
In July, Trump issued a statement insisting that the US would implement "strong and swift economic actions" if the constituent assembly election went ahead.
"The Trump administration set a red line by announcing sanctions if the vote went ahead, so if his administration wants to be taken seriously some form of sanctions would have to be announced," Raul Gallegos, an analyst at consultancy Control Risks told Bloomberg.
The US is also reportedly considering banning US companies from working in Venezuela's oil industry.
Oil provides 95 percent of Venezuela's export revenues, and approximately 700,000 barrels a day go to the US.
Venezuela's 30m people, who already face severe shortages of food and basic goods, will suffer if the country's ability to generate revenue from oil is restricted.
Gabriel Hetland, assistant professor of sociology at the University of Albany, tells Verdict that the US should not introduce economic sanctions on Venezuela.
"Economic sanctions would be incredibly irresponsible," he said. "Both the opposition and the government need to compromise and engage in negotiations. They must step back from the game of brinkmanship."
However, the consensus on the ground is that economic sanctions are imminent.
A 33-year-old protester said:
"The sanctions that will come from the US — I'm not looking forward to them because that afflicts us as people. But I want it because I know it can create enough pressure on the government."
The US, Britain, Argentina, Canada, Colombia, Mexico, Panama, Paraguay, and Spain have refused to recognise Sunday's vote.
But Maduro is relentless in his pursuit for more power, ignoring calls from the international community to step down.
Venezuelan security officials seized two opposition leaders, Leopoldo Lopez and Antonio Ledezma, from their homes earlier today.
Lopez's wife, Lilian Titori, tweeted footage of her husband being taken away by members of Venezuela's intelligence service, Sebin.
12:27 de la madrugada: Momento en el que la dictadura secuestra a Leopoldo en mi casa. No lo van a doblegar! pic.twitter.com/0EdlQvEGXS

— Lilian Tintori (@liliantintori) 1 August 2017
Members of Maduro's new assembly will be sworn in on Wednesday, while the mounting civil unrest looks set to continue.