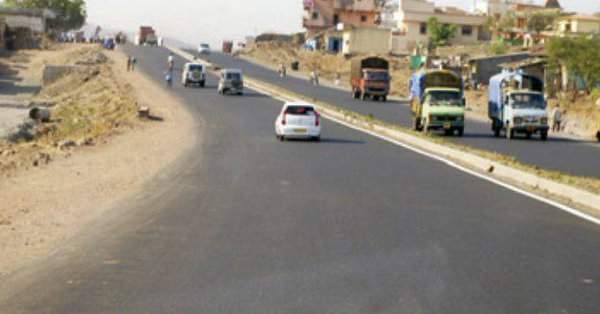 India has banned the sale of alcohol along national and state highways from the beginning of this month, following a Supreme Court (SC) order last year.
The court said that the prohibition on alcohol sales within half a kilometre of national and state highways applies to all venues, including hotels, bars, pubs, and restaurants.
Alcohol advertising on highways is now also illegal.
With more than 100,000km of highways across India, the order has not been welcomed by all.
Many businesses attract customers precisely because they sell liquor.
However, road safety campaigners applaud the new legislation.
India has one of the highest numbers of road accidents in the world, with an average of 400 fatalities annually.
In 2015, alcohol or drugs were responsible for 16,298 road accidents — 4.2 percent of total accidents, and 6,755 fatalities — 6.4 percent of total accidents, according to data from the country's Union Ministry of Road Transport and Highways.
Official figures of road accidents, with their attendant fatalities and, injuries provided the backdrop for the intervention of this court. This court adverted to the consistent policy of the union government to curb drunken driving and, as an incident of the policy, to remove liquor vends on national highways," the Supreme Court said in its December 2016 ruling.
Why the ban?
The order was passed following a public interest litigation (PIL) filed by Harman Sidhu, a 46-year-old from northern India who was left paralysed from the neck down after a road accident in October 1996.
He set up Arrive Safe, a road safety campaign group in 2005.
"We need to control drink driving and impulsive buying on highways," he told Verdict.
He said that Indian prime minister Narendra Modi's demonetisation policy has had a far more negative impact on the economy and jobs than any liquor ban.
What's more, the ban will save lives.
Right to life is paramount," he told Verdict. "Those who say that the alcohol ban on highways will affect jobs are wrong. Think about how many jobs were lost from the demonetisation drive. You can't even begin to compare the two."
Sidhu added that he is disappointed by the widespread backlash against the SC's order.
I wasn't expecting announcements attacking the liquor ban from companies who are suppose to champion responsible drinking. No one should circumvent or make a mockery of the court order."
Who opposes the court order and why?
Sidhu's hometown Chandigarh as well as Andhra Pradesh, Punjab, Goa, and Maharashtra asked the central government to reclassify some highways or highway stretches as "urban roads" to bypass the SC's order.
Kerala, Tamil Nadu, Arunachal Pradesh, Punjab, Telangana and Haryana petitioned the SC to reduce the 500-metre range.
All demands to modify the ruling have so far been rejected by India's SC, but states continue to try to find loopholes.
There have been opposition calls from over 50 business operators.
Aside from states, individuals and companies across the country have also protested against the ban.
Amitabh Kant, the CEO of the National Institution for Transforming India, a government-backed economics think tank, criticised the highway alcohol ban as bad for tourism.
Tourism creates jobs. Why kill it? Supreme Court's highway liquor ban verdict may hit 1 million jobs," he tweeted.
Some suppliers have also attacked the court order.
The obvious impact is that a number of outlets have to close," said Shekhar Ramamurthy, managing director of United Breweries, the country's largest beer maker. "When that happens, consumption comes down."
Shares of liquor companies such as United Spirits were down by as much as 5.7 percent on the BSE on Monday following the SC decision.
Lisa Srao, managing director, Brands Beverages, which sells Three Royals and Granton whisky, Rum 99 and Granton XO brandy expressed similar concerns. She added that the ban will not have the desired effect of reducing the prevalence of drink driving.
"Rulings such as these negatively impact the alcohol as well as hospitality industry dramatically," she said. " It will do little to deter offenders. There is a need to educate and create awareness about aspects of road safety and dangers of drunk driving."
Tavleen Singh, an Indian columnist and author said that the ban won't work.
Not only will it be bad for the country's job market, but  people who can't buy liquor on the road will just take alcohol with them before starting their car journey.
India needs 12 million new jobs a year. So I object when judges close jobs down. Determined drinkers carry liquor in their cars.

— Tavleen Singh (@tavleen_singh) 4 April 2017
So, what now?
The ban has only just come into force a matter of days ago but disruption is likely across India. Although there is a three-month implementation period, many highway alcohol vendors have already shut down.
Over a third of venues selling alcohol are located around national and state highways, with one liquor store every 1.5km meaning that those driving at 90mph pass one liquor store every minute.
As of last year, before the alcohol highway ban was introduced, about 20 percent of India's 1.2bn people lived in states where alcohol consumption was banned or restricted.
The Supreme Court has said it will continue to hear appeals against the order.