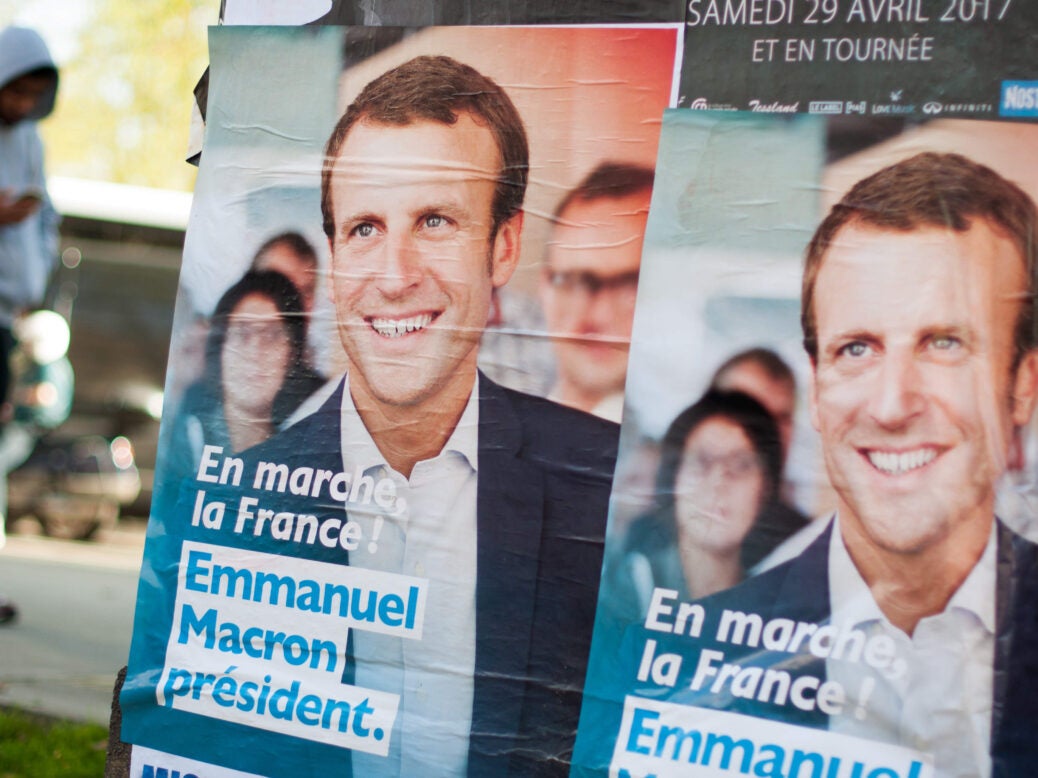 The independent centrist Emmanuel Macron is set to take on far-right leader of the National Front Marine Le Pen in the French presidential race.
Of the four main candidates hoping to get through to the next stage, Macron came out on top with a majority of 23.9 percent of the vote, ahead of Le Pen who garnered 21.5 percent.
The conservative Francois Fillon, embroiled in an ongoing corruption scandal, and the hard-left Jean-Luc Mélenchon, achieved just under 20 percent of the vote each.
Turnout was high — almost 79 percent of the French electorate participated.
But what do the two candidates, Macron and Le Pen, who will go head-to-head on 7 May, mean for the UK's upcoming Brexit negotiations?
A Macron presidency and Brexit
Macron, the youngest ever French presidential candidate in recent history at 39-years-old, is strongly pro the European Union.
His election manifesto used strong language to describe Brexit, denouncing the UK's departure from the EU as a "crime".
On a trip to London in February, Macron said that he wouldn't allow British prime minister Theresa May to secure any "undue advantages" from the Brexit process.
The "four freedoms"  of people, capital, goods and services guaranteed by the EU are, in Macron's view, indivisible.
He went so far as to say that he would try to lure "banks, talent, researchers, academics" from the UK to France.
In his view, a Canadian-style deal would be the most likely outcome post-Brexit. In other words, the UK is likely to suffer from reduced access to markets.
"I am attached to a strict approach to Brexit: I respect the British vote but the worst thing would be a sort of weak EU vis-a-vis the British," Macron said in an interview with Bloomberg in October last year.
"I don't want a tailor made approach where the British have the best of two worlds. That will be too big an incentive for others to leave and kill the European idea, which is based on shared responsibilities," he added.
A Le Pen presidency and Brexit
Le Pen, unlike Macron, is a eurosceptic.
Even before the Brexit vote, she was tweeting in support of Britain's potential departure from the EU.
"Le #Brexit serait une bonne nouvelle pour les Anglais, et cela pourrait démontrer qu'ensuite ils se portent mieux." #InvitéPol

— Marine Le Pen (@MLP_officiel) 19 April 2016
Her anti-migrant stance resembles that of the Leave campaign in the UK.
Le Pen's manifesto puts forward a policy for the "automatic" expulsion of illegal immigrants, while cutting legal immigration to 10,000 per year following an immediate total moratorium.
Her tone is highly nationalist, appealing to so-called patriots, and insisting her presidency is the only way to guarantee "the survival of France".
She will, no doubt, be much more willing to engage with May when it comes to negotiating beneficial terms for the UK after Brexit.
"There is no reason not to take the British decision in our stride and work with Great Britain in negotiations that will take place between two nations that have had long-standing trade relations for centuries," she told former UKIP leader Nigel Farage on LBC.
Her radical views on migration and proposals to target Muslims by shutting down a number of mosques have attracted criticism from both the economically left and right in France and abroad.
She has also courted controversy by denying her country was responsible for the roundup of over 13,000 Jews sent from Paris to Auschwitz in 1942.
Although Theresa May may welcome a partner in the coming Brexit negotiations, a Le Pen presidency would be a significant victory for the wave of populism that was begun by the UK's Brexit vote last year and continued by Donald Trump's election as US president.