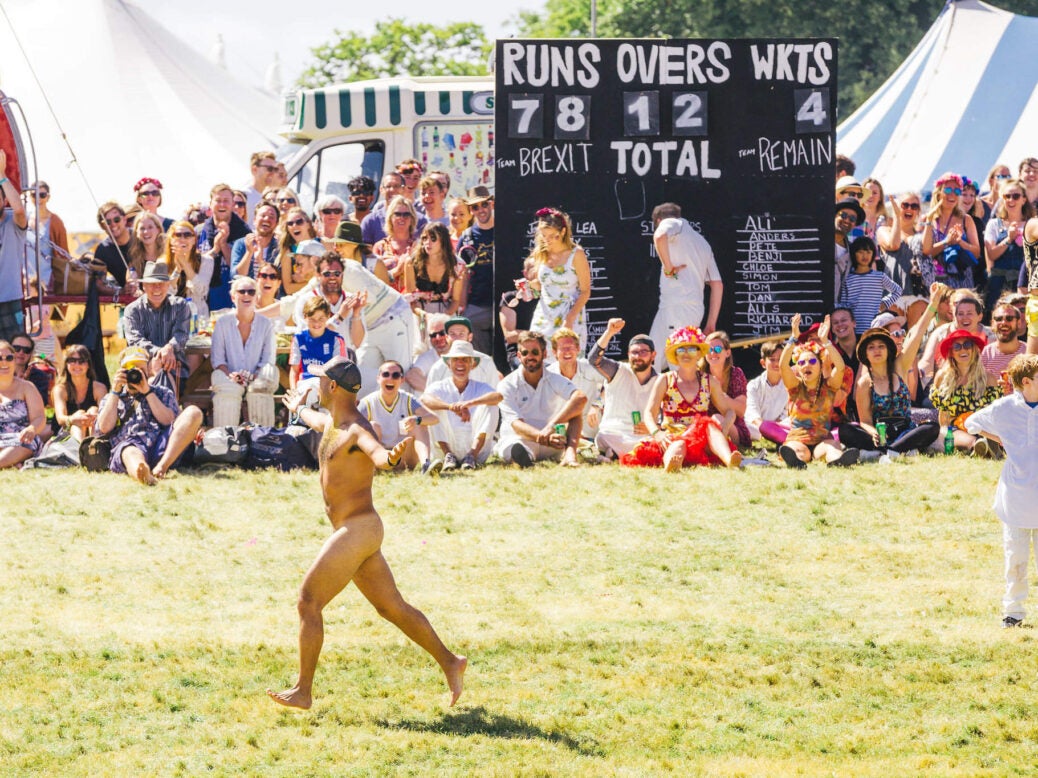 If you're going to Wilderness Festival this weekend (or if you're already there — it started yesterday) you might be feeling a little overwhelmed.
Especially if it's your first time in attendance.
Unlike Glastonbury, Reading, Leeds, or any of the other mainstream festivals, Wilderness isn't just about the music.
Sure, the music is all part of it (and as we'll explain in a sec, there's plenty of awesome acts) but this festival is so much more. With everything from yoga to fine-dining, crafts to boating, there's a lot going on.
We've scoured the Wilderness website to find some highlights that you absolutely must get yourself down to if you were lucky enough to get a ticket!
1. The music
With massive headline acts including Two Door Cinema Club, Grace Jones, and Bonobo, there's no doubt that this year will see Wilderness' best line-up yet.
They might be a little less well-known than the headliners at Leeds, Reading or Glastonbury, but Wilderness is a completely different experience, and these bands absolute fit the festival's kooky vibe. Not to be missed.
2. Hunter Gather Cook sessions
Ever wondered how you'd survive in an apocalypse? Would you be able to gather and cook your own food? If not, you might want to visit one of the Hunter Gather Cook sessions. The courses will teach you how to forage, prepare, and cook your own food found around the Cornbury Park area.
They'll also teach you to build shelters, start fires, and construct traps. If you've ever dreamed of being a real wilderness explorer, look no further!
3. The Wilderness Orchestra Presents…
This one is a real Wilderness Festival tradition. After a long weekend of music, mania, and madcap shenanigans, you need a proper send off, don't you? Look no further than the Wilderness Orchestra, a live band who play a set of live film scores, including that of Jurassic Park!
The orchestra have become a real institution at the festival and if you need the perfect wind down on Sunday night, there's no where else to be!
4. The Boating Lake
Say what you will about Wilderness Festival's size, but you'd never get the opportunity to spend a few hours rowing around a pristine, beautiful lake at any of the more 'major' festivals.
And that's exactly what we love about Wilderness!
You owe it to yourself to enjoy a bit of boating, even if it's only for a little bit, just so you can say that you sampled everything Wilderness has to offer!
5. Undercover: A Spy Stealth Mission
Of everything we've seen on the programme at Wilderness 2017, this one has got us most intrigued. Undercover is a large scale game which sees you and your fellow festival-goers cast as spies and given various missions to achieve.
The only trouble is that you don't know who is a friend and who is a foe. Will you manage to become a super sleuth or will you end up being double-oh-no-she-didn't?
6. The Mass Wedding
How many festivals offer you the chance to get married to your best friend? Or all of your friends at once? As far as we're aware, only Wilderness.
Pick out your best wedding gear, choose yourself a fancy hat and get down the aisle with a bit of help from Shesus & the Sistas and the Spiritual Playground gang. We have no idea whether this ceremony is legally binding or not, so keep your wits about you!
7. LoveSpecs Aztec Golf Disco
Everyone in London and Manchester knows that if you're into some crazy-golfing action, there's no where better to go than Junkyard Golf.
With a new location opening in Oxford really soon, Junkyard have teamed up with LoveSpecs, a charity initiative coming up with sustainable solutions to poverty in Malawi. It costs only a pound for you to adventure your way around an Aztec-Disco themed crazy golf course.
Those who perform well can win big prizes too with everything from T-shirts and visors to festival tickets on offer!
8. Banquet to your heart's content
Henry VIII may not have been a model husband, but that guy knew a thing or two about dining. The tradition of banqueting has kind of lost a lot of its impact in more recent centuries, but maybe TV shows like Game Of Thrones and festivals like Wilderness can bring it back into fashion!
Pack yourself onto a huge table with your fellow Wilderness explorers and tuck into one of four massive, themed banquets on each day, each presented by a different award-winning chef.
9. Explore some food stalls
If banqueting isn't your thing, don't panic. Wilderness also has tonnes of exciting food vendors around to fill you up with some delicious grub. With nearly sixty vendors to choose from, we couldn't possibly list them all.
That said, we definitely recommend checking out Lickalix (healthy natural ice lollies), The Duck Truck (rotisserie duck served in wraps and other servings), Chip Off The Block (cheesy chips), The Cheese Truck (grilled cheese sandwiches), and The Waffle Float (surely this needs no explanation?)
10. Letters Live
This incredible performance piece invites festival-goers to watch a dramatic reading of the powerful correspondence contained in old letters.
Past performances have included cast members such as Jude Law, Kylie Minogue, Benedict Cumberbatch, Olivia Coleman and many more. Who knows what famous cast members might show up!
11. Night-time revelry
Unlike some festivals, Wilderness really kicks into high-gear when the sun goes down.
With night-time parties like The Night Realm and The Carousel (which seems to be an actual carousel with music and performance acts aboard) you should definitely spend at least one day sleeping so you can experience the night life at some point!
12. Send a love note
After being sold by the government, many would argue that Royal Mail is a shadow of what it once was.
However, the posties at Wilderness are showing what's what. If you meet someone really hot and then manage to lose their phone number before the weekend is out, simply write (and decorate) a heartfelt love note, give the posties a general description of the person and where they might be found, and these hard-working guys and gals will do their utmost to track down your new love interest!
Whether you've sparked a new connection or just lost your bestie, these postal workers will stop at nothing to get your message delivered!
13. Do some yoga
Festivals are generally pretty raucous affairs but what sets Wilderness apart is its emphasis on mindfulness and relaxing. With an on-site spa and massages available on demand, there's plenty of relaxing options at the festival.
Still, if you want some relaxing tips you can take home with you, why not try a yoga class? There are 80 different ones on offer. With everything from paddle-board yoga to a 'yoga rave' everyone will be able to find something to suit them.
14. Be inspired
Aside from the music, Wilderness has managed to line-up an incredible array of guest speakers who'll be chatting about everything from mindfulness to Theresa May, Brexit to Trump, and much much more.
Will Young, Vince Cable, Jess Phillips MP, and dozens more will all be gracing the festival to educate and inspire. Why not get yourself down there and learn something new from a seriously inspirational speaker?
15. Make a souvenir
We started writing about a specific event but ended up being so interested in all of the crafting courses we decided we couldn't pick just one to highlight.
Down at Wilderness' Greencrafts Village, you can learn about everything from forging steel to whittling your own walking staff. If you want something unique and fun to take home with you, you absolutely have to get down there!
16. The Pimm's Croquet Club
What's a British summer without a nice glass of Pimms? And is there a more British past-time than a game of croquet?
The two worlds collide in the Pimm's Croquet Club where you can enjoy a game or two while steadily getting yourself more and more tipsy!
17. The Great British Brass Off
Two of Britain's brightest and brassiest brass bands are facing off against one another in a brassle (brass battle.)
Reigning champs The Brass Funkeys are going up against the New York Brass Band. Who will win? Only time will tell!
18. Join the Wilderness Choir
Ever fancied yourself as a singer? If so, you need sign up and join The Wilderness Choir.
You can join a orchestra, get led by a professional conductor, and then perform for the whole festival! Sounds pretty epic to us!
19. Explore
Even after scouring Wilderness' festival for hours we've barely even scratched the surface of what Wilderness has to offer.
So kick back, relax, and go for a wander: see what you can find! There's sure to be something for you!
The entire festival programme can be found on Wilderness Festival's website so we definitely recommend exploring and finding the perfect activities for you!