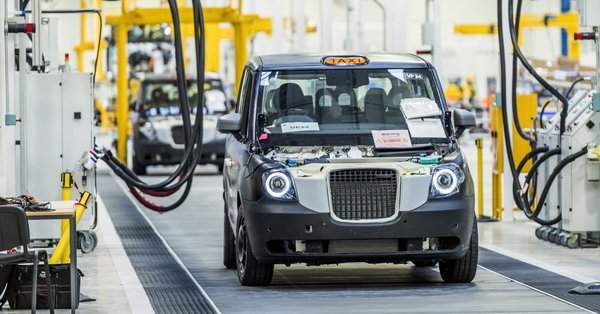 The first car plant in Britain for more than a decade opened in Coventry on Wednesday, creating more than 1,000 jobs.
Hopes are high that the new plant will boost the UK automotive industry amid Brexit uncertainty.
The plant will be home to the London Taxi Company's (LTC) new electric taxi, the TX5 and other hybrid technology vehicles. The facility will see more than 20,000 vehicles assembled a year according to the Department for Transport (DfT).
With £325m worth of investment from LTC's owner, Chinese company Zhejiang Geely Holding Group, as well as a £16.1m grant from the government through the regional growth fund, the TX5 will be ready to be sold globally by early 2018.
In London, the new electric taxis will go on sale in the final quarter of the year.
Greg Clark, the business secretary said the new facility, which will also be used for automotive research and development is a demonstration of the UK's economic resilience.
"Our iconic black cabs are famous across the world. The London Taxi Company's impressive new factory and R&D facility showcases the innovation that makes the UK a world leader in the development of new automotive technologies," he said. "Through our ambitious industrial strategy, we are committed to building on our strengths and taking advantage of the opportunities the new low-carbon economy provides."
The Coventry site is the first all-new car factory in the Midlands since 2003 and one of the biggest single Chinese investments in the region on record.
However, there are also signs that the UK car industry could experience a slump once Britain leaves the European Union.
The cost of assembling a car in Britain could increase by £2,370 in the event of a "hard Brexit," according to a report by PA Consulting Group as part of research into the impact of Brexit on the automotive industry.
Some car manufacturers would be forced abandon British factories altogether if 10 percent World Trade Organisation (WTO) tariffs are introduced, the report added.
Lawrence Jones, the founder and CEO of cloud-hosting provider UKFast disagrees that the UK car industry will come under strain or that the economy will suffer after Brexit.
He urges people in the UK to support British business as far as possible and that means hailing an iconic London cabbie instead of taking an Uber.
"We need to keep the pound in Britain and keep re-investing it. Take a black cab instead of taking an Uber. Don't give money to companies like Uber. They take their profits offshore and have very clever tax structures," he told Verdict.

"We buy lots of cars from European manufacturers so they need us as much as we need them. The rest of the world is very much wanting to do business with Britain. The new plant in Coventry shows that the Chinese still have faith in the British economy. Britain is strong. I don't care if Europe want to play hard ball with us. Bring it on."