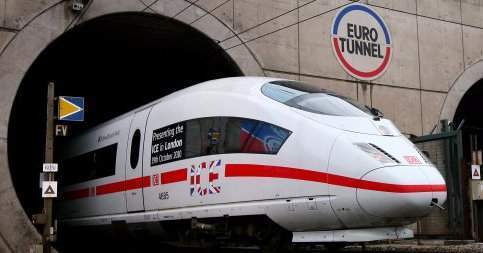 Direct trains from London St Pancras could take passengers all the way to Frankfurt, the fifth-largest city in Germany, within three years.
In a boost of confidence to the UK as it prepares to formally leave the European Union (EU), Deutsche Bahn, Germany's state rail operator, is considering proposals to run high-speed trains from London to Frankfurt via the Channel tunnel.
The 400-mile journey to Frankfurt would take about five hours.
Deutsche Bahn received a licence to run services to the German city in 2013, but proposals were suspended pending the delivery of a fleet of high-speed trains.
At the time, a company spokesman added that before plans went ahead, "the economic efficiency of the service has to be ensured."
Jacques Gounon, the chairman of Eurotunnel, the company which manages and operates the Channel Tunnel, said he was "quite sure" direct services to Frankfurt could be introduced by 2020.
Some members of the public took to Twitter to express their excitement.
@SewellTim Imagine if the train from London to Frankfurt is more reliably faster than the one to Brighton…

— Matilda (@TillyKlein) 2 March 2017
Eurostar, the cross-Channel rail operator, will  introduce a direct route to Amsterdam this autumn.
In July 2015, a staggering 1m people travelled on the Eurostar.